While many similar Gen Z reports focus on things like familiarity, awareness, and favorability, we felt strongly that there are other KPIs that should be considered.
Gen Zs remains one of the most important, and yet most elusive, groups for major brands today. With 2.5 billion of them around the world and the oldest of them now in their mid-20s and entering the workforce, Gen Zs continue to gain more influence and purchasing power—making it critical to really understand this cohort's motivations, attitudes, and behaviors.
To measure their resonance with Gen Zs, brands often rely on trackers that look into their favorability and popularity among young consumers. These trackers and rankings are popular for a reason: they are simple and easy to use.
At Rival Group (the parent company of Reach3 Insights and Rival Technologies), we've helped many brands across a wide range of industries engage Gen Zs for insights. These brands work with us because of our approach: mobile chat-based conversational research methods that engage people in-the-moment through the devices they use to connect with friends and family. And while the mobile revolution is not just a Gen Z thing, it is a channel that has 100% penetration among young consumers, according to Pew Research.
While engaging with hundreds of thousands of Gen Zs over the past 5 years, we've noticed that the most popular Gen Z brand trackers in the market lack several key components to make them really useful and actionable for business leaders.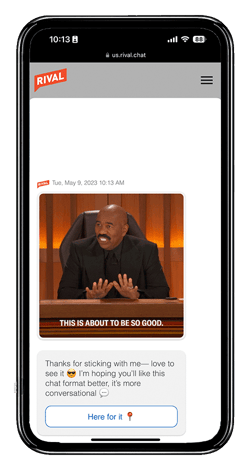 This gap in the market is why we created the Gen Z Brand Power Index. Using our conversational approach and mobile chat-based research technology from Rival, we recently engaged 2,250 16-to-25-year-olds in the US, capturing quant, qual, and video feedback on a wide range of brands across industries. Using these data, we created a proprietary composite score made up of several different KPIs that are important to Gen Z consumers.
Today, we released the inaugural Gen Z Brand Power Index. (You can request the mobile deliverable and see the top 50 brands here.) This research examines 354 brands from CPG, leisure, tech, media, restaurants, auto, health, insurance, retail, financial services, and food and beverages.
So, what makes this research different from other Gen Z brand trackers? Here are 3 things that set this approach apart:
1. More than just a popularity contest
While many similar Gen Z market research reports focus on things like familiarity, awareness, and favorability, we felt strongly that there are other KPIs that should be considered.
Indeed, this research includes consideration, shareability (how likely they are to talk to their peers about the brand), emotional connection (how connected they feel about the brand), and alignment with values.
That last component is particularly important as research has shown that Gen Zs are more likely to buy from brands that embody the same values they do. By looking at these KPIs, the Gen Z Brand Power Index provides a more holistic picture of how brands are doing among Gen Zs.
2. Quant, qual and video—captured through mobile chat
Many Gen Z surveys and brand trackers heavily rely on quant data. But often, context is lacking. While these polls tell you how popular your brand is, they fail to answer an important question: so what? Often, it's not even clear what's driving increases or decreases in your score.
Context is just as important as the quantitative score. It is from the qualitative feedback that we can understand the emotional drivers of the score and what you can tweak in your marketing or product strategy to improve your connection with Gen Zs.
Context is just as important as the quantitative score.
The channel that we used for Gen Z Brand Power Index is also notable. Many Gen Z brand studies rely on emails for distribution—an ironic fact given that these young consumers don't use this channel for communicating with friends or family members.
Our mobile chat-based tech allowed us to engage Gen Z participants via SMS and mobile. It also enabled us to seamlessly capture quant and qual data, as well as video feedback. As you can see in the initial report, video provides a richer understanding of the enduring power of brands like YouTube, Netflix, and Lays among young consumers. It is this combination of quant, qual, and video that truly makes the report compelling and actionable.
3. It goes deeper
Gen Z Brand Power Index is not just about a single score. We used data science and analytics to go deeper and uncover nuances that can help inform your marketing and product development strategies.
As we reveal in the first report, for example, there are some notable differences between younger Gen Zs and older Gen Zs. While YouTube and Netflix are still the top two brands, Lays jumps to third among younger Gen Z. Lays is a popular snack brand among Gen Z because it offers a wide range of flavors and varieties. Younger Gen Z values the convenience and affordability of snack foods and the fun and social aspects of the memories it creates while snacking with family and friends.
When we cut the data by gender, it gets more interesting. Among Gen Zs that identify as men, brands like Doritos, Gatorade, and Nike score higher than their overall average. Among women, Instagram, Target, and Disney score higher.
Given that 354 brands and almost a dozen industries were included, these examples are just the tip of the iceberg. Please reach out to our team if you'd like a deeper dive.
Understanding Gen Zs in 2023 and Beyond
At Rival Group, we're passionate about delivering better insights using new methodologies and approaches. We strongly believe that by considering what really matters to young consumers, providing deeper context, and using advanced analytics, Gen Z Brand Power Index will provide unparalleled guidance for marketers, product managers, and customer experience professionals.
If you're looking to engage Gen Zs, feel free to check out Brand Experience Predictor, a solution to measure and optimize your experiential marketing initiatives, and Community 2.0, an on-demand platform to engage your consumers on an ongoing basis.
Renee Khalili
Vice President, Reach3 Insights