While 62% of consumers know they can buy CPG products directly, 82% haven't shopped at these DTC sites.
When the pandemic hit, consumer shopping habits changed overnight—and online shopping was a big winner. CPG brands that already invested in digital transformation prior to COVID-19 and doubled down on direct-to-consumer (DTC) websites were in a good position to connect directly with customers and grow a new revenue stream. CPG giant Unilever, for example, shared that it is focusing on its DTC efforts in 2021, following a 61% growth in this channel in 2020.
There's a lot of compelling reasons why CPG brands need their own direct sales presence. For one, DTC websites provide a new revenue source to counteract declining product margins in retail stores. Brands may also feel the pinch as retailers themselves increase their private label offerings.
But perhaps the more compelling benefit of going direct is the ability to collect first-party data through a DTC website. This allows CPG brands—who have historically ceded the customer relationship to retailers—to instead capture and own critical demographic, behavioral and transaction data that can reveal a more holistic understanding of who their customer is.
While DTC is a lucrative area, it's uncharted territory for many CPG companies. Many Reach3 clients working in retail and CPG had questions about this mega-trend, so we wanted to dig deeper and find out about the biggest challenges and opportunities shaping the market—and, more importantly, what's next.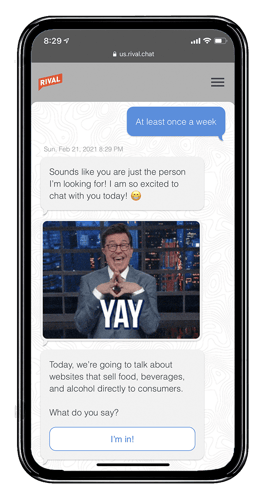 Through our proprietary TrendSpot solution, we used the mobile messaging-based market research platform from our sister company Rival Technologies, we engaged with 265 American consumers earlier this year to find out what's driving awareness to DTC sites and what consumers want in their online shopping experience.
Below are key takeaways from our research. To get access to the full results, including more comments from consumers, request access to our interactive deliverable.
How aware are consumers that CPG brands have their own e-commerce websites?
Our study looked at whether consumers are aware of the following DTC websites from major CPG brands:
snacks.com (by PepsiCo)
pantryshop.com (by PepsiCo)
buy.impossiblefoods.com (by Impossible Foods)
themacallan.com/en-us/shop (by Macallan Whiskey)
mybillie.com
harrys.com
objectivewellness.com (by Clorox)
While the majority of consumers (62%) know they can buy CPG products directly, 82% of consumers haven't shopped at these specific sites. Consumers were most aware of harrys.com, with over a quarter of consumers (28%) saying they've heard of the site. Further, only 42% of those surveyed knew about any of these sites, suggesting lack of awareness is still a barrier across the board.
The good news for CPG companies is that among Gen Zs and Millennials, awareness of DTC websites is higher.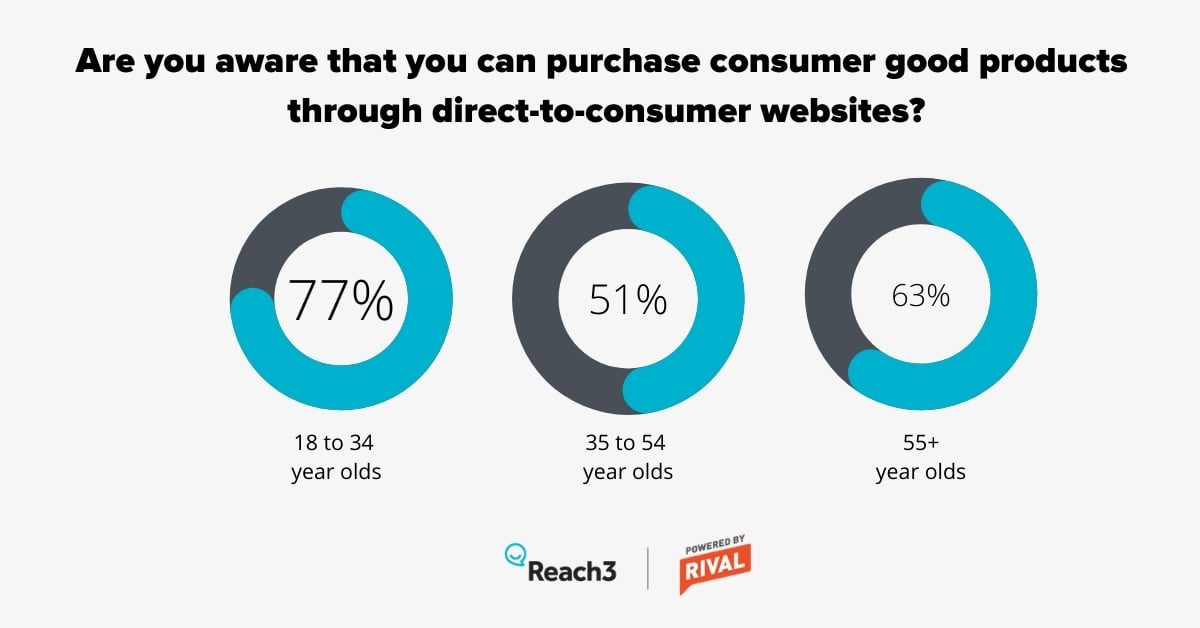 Many consumers said they'd be interested in shopping from DTC sites. This is particularly true for Pepsico's snacks.com and pantryshop.com. One potential reason for this high interest: our previous studies found consumers are snacking more regardless of how they're feeling during the pandemic.
Which marketing channels drive awareness?
Our study showed that when consumers do hear about DTC websites, it's primarily through social media or ads (TV or print).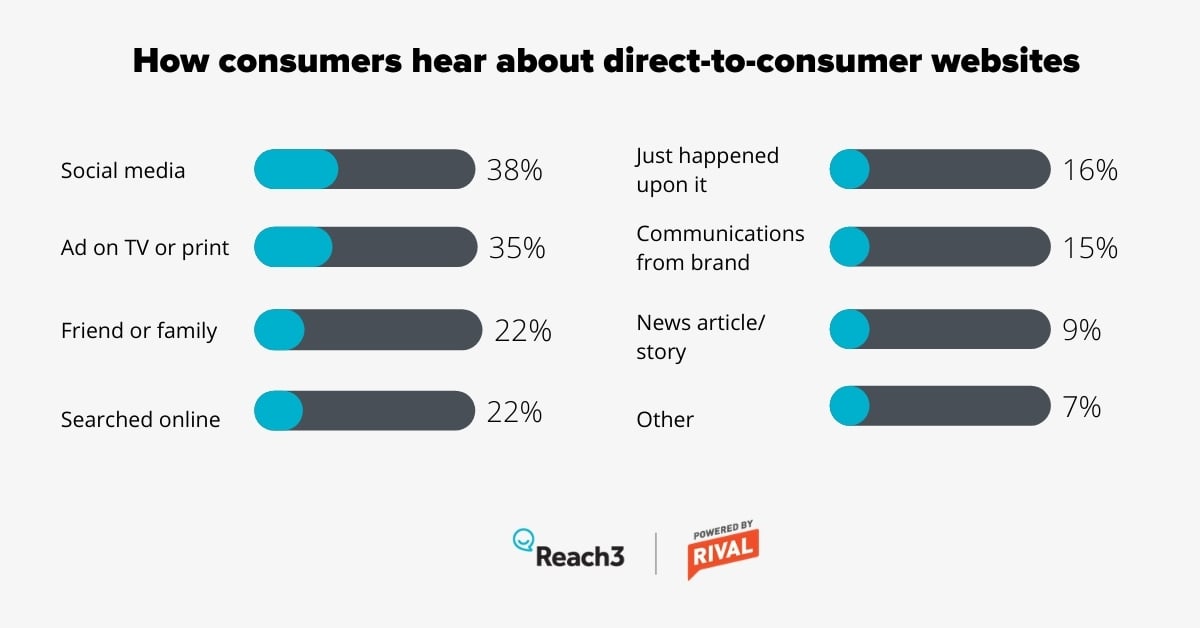 Word of mouth from family and friends is another factor; 22% of consumers said that's how they know about DTC websites. This presents a potential opportunity for the long-term viability of DTC websites. Brands can substantially increase their revenue without relying on ads if they can get current customers to talk about their websites.
Our findings suggest that for now, CPG companies should continue to invest in social media-based tactics to drive awareness of their e-commerce sites. One consideration CPG companies should focus on for the long-term is capturing first-party data.
For now, CPG companies should continue to invest in social media-based tactics to drive awareness.
As they build traffic for their websites, CPG companies need to convince shoppers to sign up for ongoing communication (via email, text or other channels) to foster that relationship. Gathering ongoing in-the-moment quant and qual feedback from DTC shoppers will also help CPG companies understand the end-to-end digital path-to-purchase and continuously optimize the user experience.
How DTC companies can attract and retain new shoppers?
Although most consumers in our study saw the shopping experience on DTC websites as positive—or at the very least expect it to be positive—consumers see some drawbacks to shopping directly from CPG brands versus going through a more traditional retailer
The biggest perceived drawbacks have to do with speed and shipping. "I have found direct-to-consumer websites tend to have higher prices than a plain grocery store," said one shopper, for example.
There's also the Amazon factor: consumers think the experience of buying on multiple DTC sites would be a lot more inconvenient than buying from a single e-commerce marketplace.
"I have found direct-to-consumer websites tend to have higher prices than a plain grocery store."
"It's a lot of accessing different web pages on sites to order a few items," explained one research participant. "It's kind of a hassle when you can just do one big order from Amazon or something."
So, what can CPG companies do to address these barriers? According to the shoppers we engaged in our study, offering attractive pricing is key.
DTC websites can attract new shoppers by offering more competitive pricing, including:
Lower base price for products
Free and fast shipping
Deals or special offers
That said, pricing is not everything. Hyper-personalization and exclusivity are two other viable strategies for DTC websites.
Regarding personalization, having a DTC website allows CPG brands to offer innovative e-commerce experiences where customers can create their own unique products. One example comes from the Sour Patch Kids website, where shoppers can create a custom mix of sour gummies they can then order.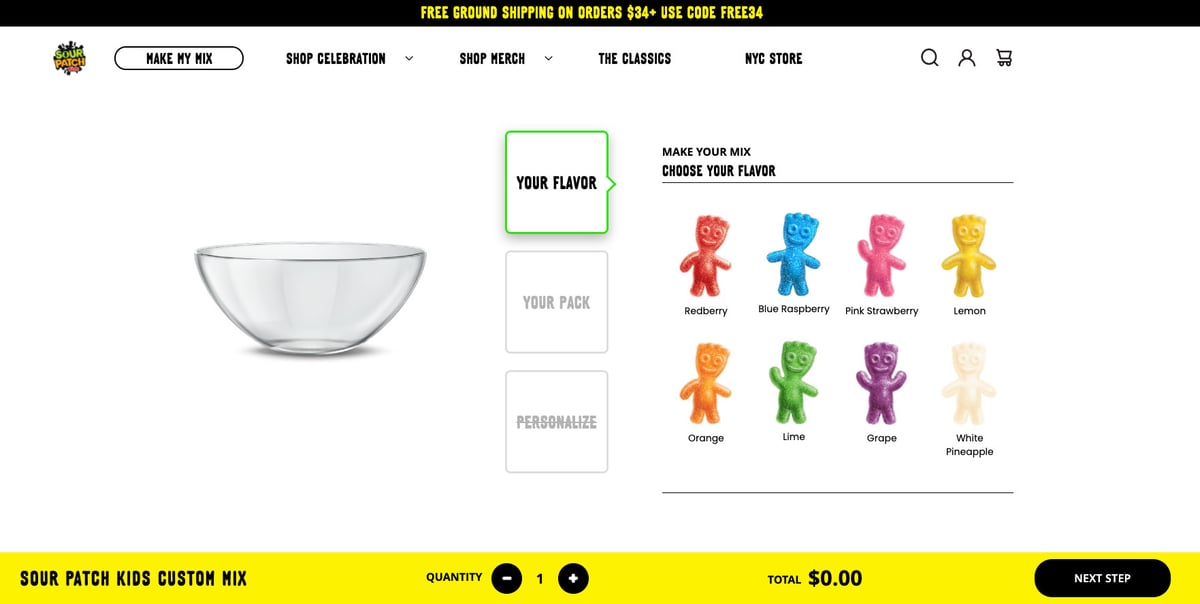 Another big opportunity is by offering exclusive or hard-to-find products.
Of course, the challenge for CPG brands it how to discover compelling products that shoppers would seek out. Getting ongoing customer insights and using innovative market research techniques is key, allowing brands to capture foresight on what's next in food, beverage, snacks and other CPG sub-verticals.
What's ahead for CPGs in DTC?
Since the consumer landscape is rapidly changing, business leaders need the most up-to-date insights to inform key decisions. To understand how to engage consumers and what can drive them to check out in a DTC setting, brands must continually get feedback on what products and digital shopping experiences consumers want and expect.
To learn more about this DTC study, check out the interactive deliverable here.
And if you'd like to chat more about the trends we're seeing now in the CPG space or need help capturing insights tied to your team's business goals, please reach out to our team.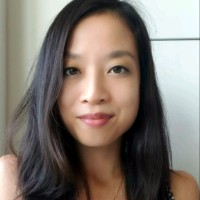 Christine Nguyen, PhD
Research Director