The pace and frequency at which consumer routines and sentiment have changed during COVID-19 demand an ongoing understanding of evolving snacking occasions, shopper motivations and barriers to purchase.
During the COVID-19 pandemic lockdown, snacking is one of several food and beverage industries seeing a massive increase in sales. Earlier this year, Mondelez said that quarantine is driving "unprecedented demand" for snacks. Another CPG giant, PepsiCo, recently shared that revenue from snacks is offsetting sluggish soda sales during the pandemic.
The increased appetite for snacks offers an opportunity for CPG brands to increase their market share and build long-term loyalty. But in order to do so, they have to understand the underlying motivations driving consumer demand for snacks during these times.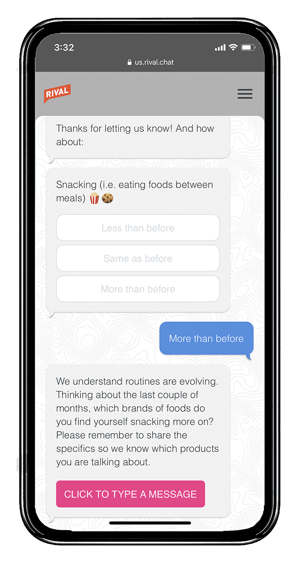 To help our CPG clients understand what's really going on in the snacking business, we recently analyzed the data we have from Consumer Closeness in the Age of Social Distancing—our complimentary research program with our sister company Rival Technologies tracking evolving consumer sentiment, behaviors and routines during COVID-19. In our analysis, we found that while snacking is indeed increasing, there are some important questions companies need to answer to capture the attention and business of shoppers.
Here are the most mouth-watering takeaways from our studies so far.
More snacking means more new products and brands
Roughly 50% of Americans and Canadians in our Mobile Community report snacking more in the wake of the crisis. This increase in snacking is consistent regardless of consumer sentiment: Americans who are feeling relatively positive through the pandemic are just as likely to snack more during the quarantine.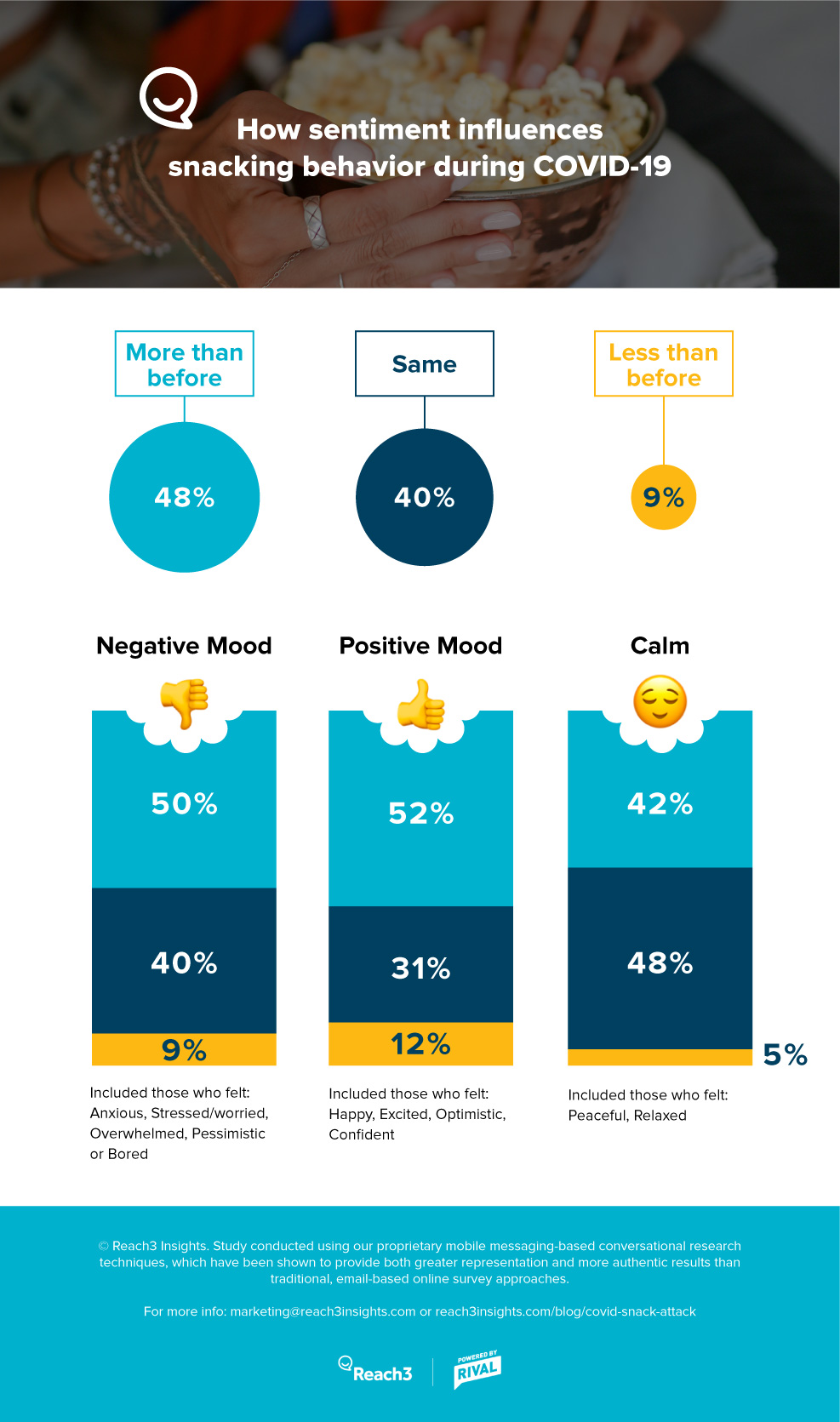 This growing appetite for snacks is leading to an exploration of new products and brands. Those who snack more are more likely to try new brands. For many, this behavior is driven by value: people are looking for less expensive alternatives. Indeed, consumers who have experienced partial or full income loss are more likely to seek cheaper snacks, buy smaller pack sizes, or purchase more private labels.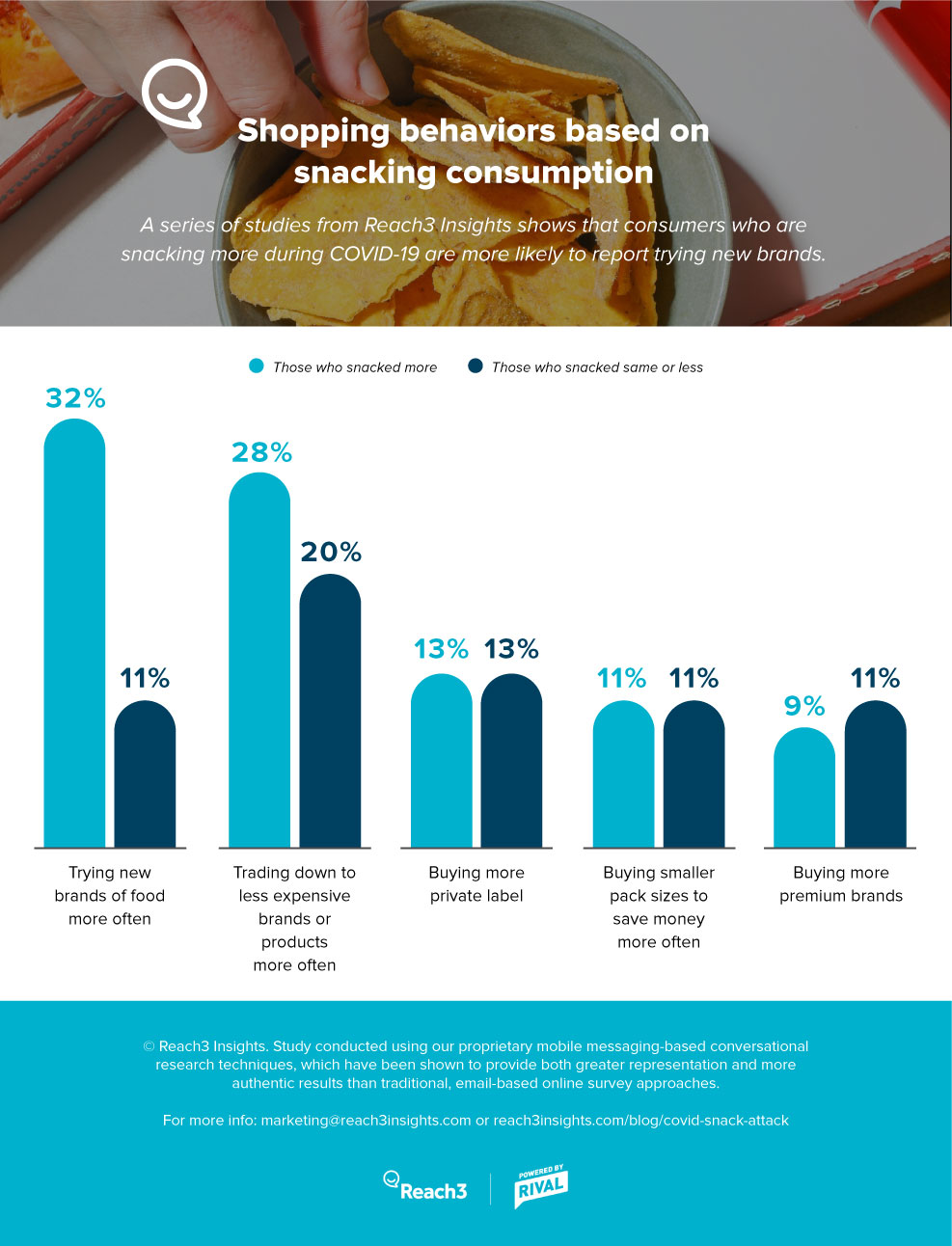 Facing uncertainty and disruption in their day-to-day lives, people are rethinking how they evaluate their purchases. People's willingness to switch brands demonstrates how the COVID-19 crisis is changing the consumer value equation. While our study shows that price is a significant consideration for many consumers, brands need to engage shoppers further to get a deeper understanding of all the factors influencing purchasing decisions. Through our immersive, in-the-moment mobile messaging-based research techniques, we can see that the occasions for snacking have changed, the relationships with brands are evolving, routines have been disrupted and the consumer confidence in the future is changing every day. This is an opportunity for snack brands to rethink the marketing strategy to stay relevant in shoppers' consideration sets—but earning their business requires insights on the new emotions, motivations and barriers that affect the complex and fragmented COVID-19 path to purchase.
Some consumer groups are more likely to increase snacking
While snacking has increased across the board, our research shows that some groups are more likely to snack more. Females are more likely than males to report snacking more, for instance, and younger consumers are also snacking more than older people.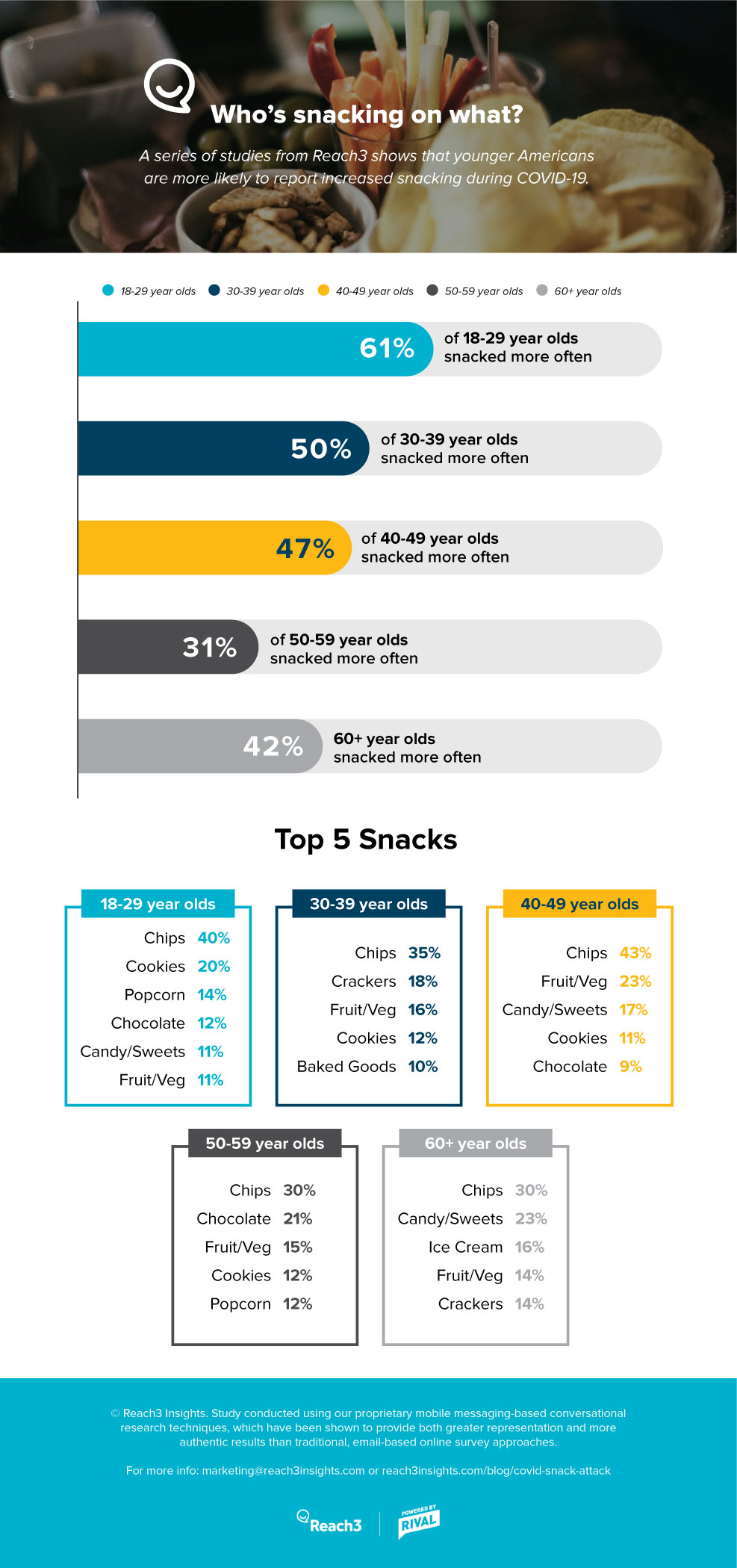 Interestingly, chips (or crisps, if you are in the UK) have become the go-to option for many consumers during quarantine—a notable phenomenon given that chips are usually positioned as a food for social occasions are being consumed in more intimate occasions. So, we question the positioning of many leading brands, is it prudent to depict social gatherings in commercials when people are buying chips to consume within the confines of the pandemic. Is it time to talk more about individual consumption occasions and gratification?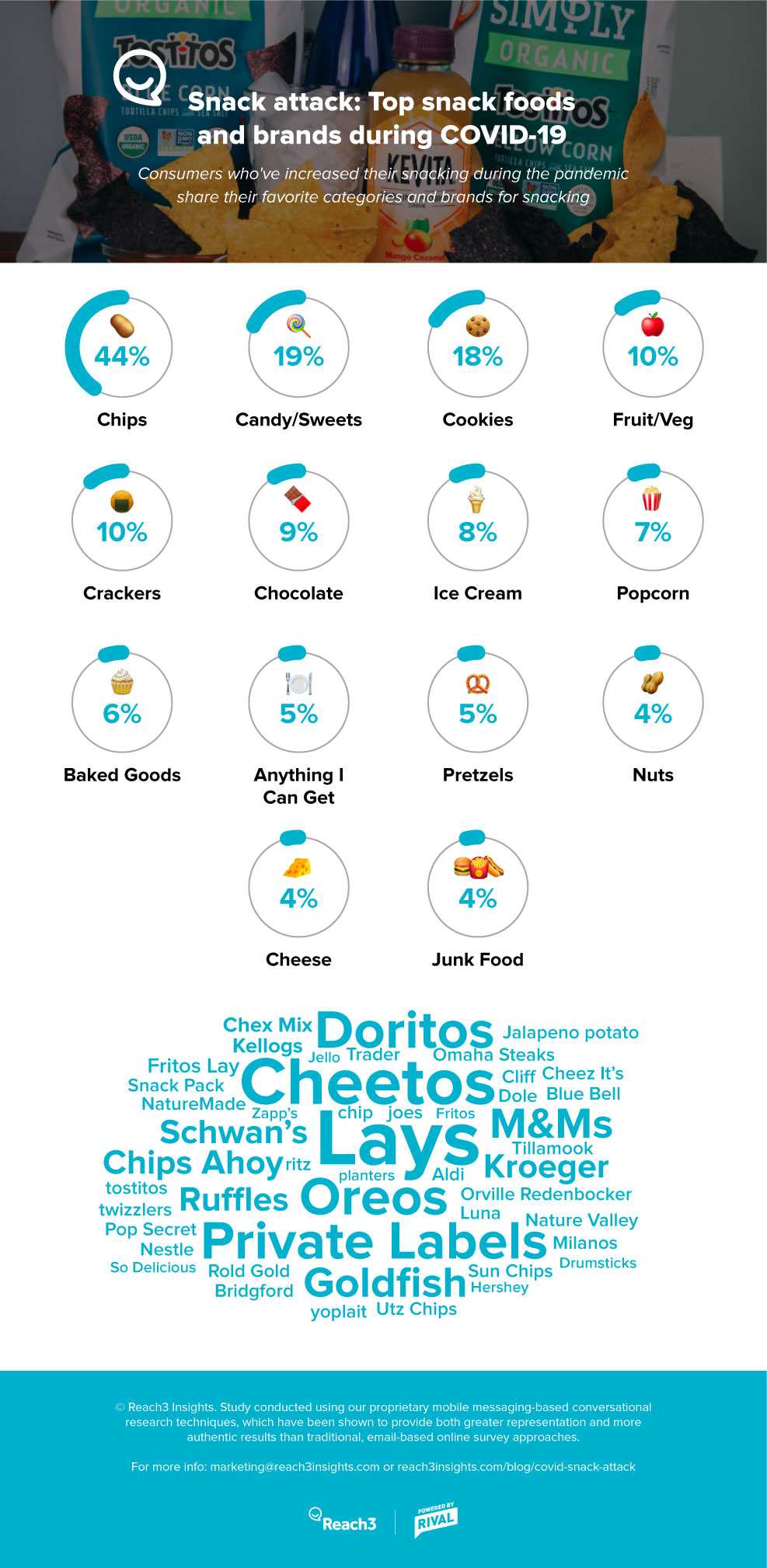 More than ever, companies need to evolve their consumer research techniques to better understand the context for how and why people are snacking. What are the new occasions and motivations driving consumers to get a bag of chips? Historical segmentation doesn't apply anymore given how the pandemic has upended everything. We'd also question heavy reliance on historical tracking data because of how much and how frequent things are changing for consumers in the midst of the pandemic.
Online: the new snack-shopping frontier
The boom of online grocery shopping since the pandemic means more people are getting their snacks online—a trend that could potentially be challenging for CPG brands. For one, triggers for impulse purchases are different online than in-store. Shopper insights teams need to work closely with their retail partners to better optimize ecommerce UX and UI.
Another potential issue facing CPG brands is the growth in many private label brands, which have become popular among consumers during COVID-19. As owners of these private label brands, retailers could potentially give these brands more visibility on their ecommerce sites. Improving brand awareness and recall will be critical for CPGs. Maintaining consumer closeness will be critical for snacking brands that want to optimize their pricing and marketing promotions throughout the pandemic.
Go back to basics
It's a good time for snacking companies now, but gaining long-term competitive advantage requires fresh, reliable and timely insights. This is not the time to rely on existing or old playbooks. The pace and frequency at which consumer routines and sentiment are changing demand nuanced and up-to-date understanding of snacking occasions, shopper motivations and barriers to purchase.
This is also not the time for old and antiquated methods of capturing feedback. With fear and uncertainty still very much a reality in people's lives, market research activities that are too clinical, too formal or too arduous to complete won't fly with consumers. A more conversational and human approach is required to convince people to participate and, perhaps more importantly, to open up about their real thoughts and feelings. And given the pace of change today, we have to rethink our reliance on email-based methods. Mobile-first technologies and solutions can be a great way to capturing in-the-moment insights during these challenging times.
If you'd like to talk more about the trends we're seeing in the snacking business or if you'd like to explore the new occasions, emotions and motivations driving snack purchases, please reach out to our team.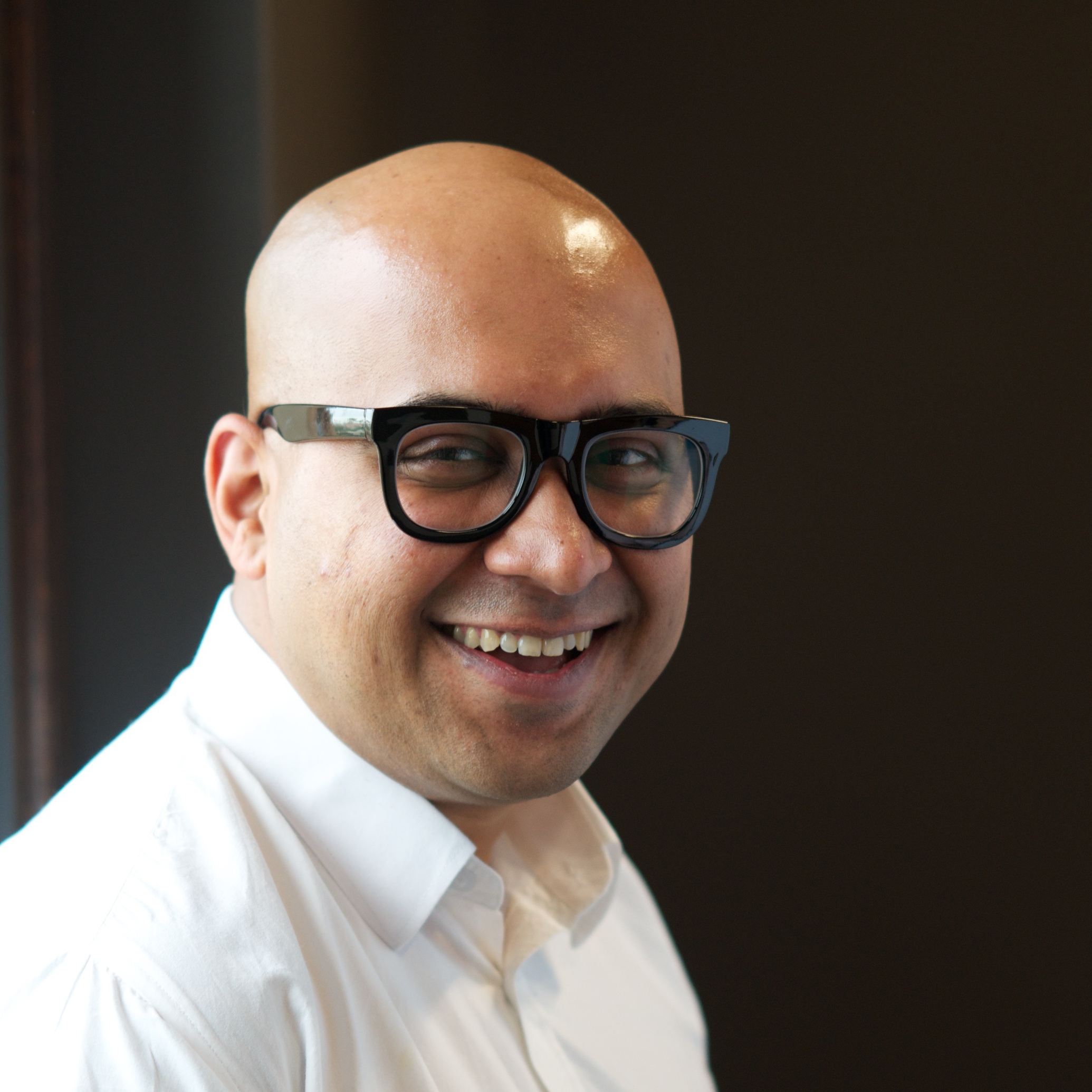 Bala Rajan
SVP, Reach3 Insights