Even after the pandemic, foot traffic during Black Friday may never recover to its former glory
In a year defined by so much change and uncertainty, is a tradition like Black Friday still relevant to shoppers?
Many retailers are grappling with this question as Thanksgiving—and the holiday shopping season that usually comes after it—approaches. With the COVID-19 crisis already changing so much in the consumer landscape, there's no doubt this year's Black Friday will be unlike anything we've seen before.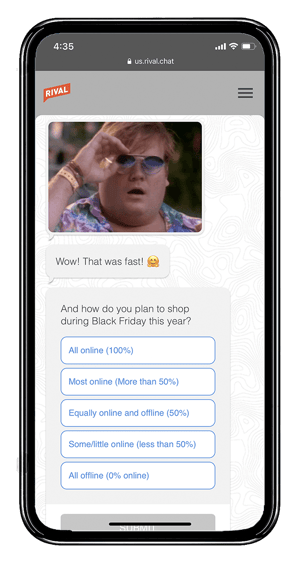 To help our retail clients navigate what's ahead, we recently engaged our own Mobile Community of American and Canadian consumers to understand shopper sentiments and expectations as we head to the holiday season. Reach3 Insights leveraged Rival's market research technology and our conversational, mobile messaging-based approach to engage with more than 500 people to find out how they're preparing for what is normally retail's busiest season.
Our research shows that massive shifts in consumer behaviors are set to create winners and losers this season. Below are some of our key findings. To access our interactive reports about this and how COVID-19 is impacting consumer behaviors, sign up for our program Consumer Closeness in the Age of Social Distancing.
Winner: Earlier—and much longer—promotions
This year, Black Friday promotions started noticeably early. Walmart, for example, is spreading its deals throughout November. Target has done something similar, rolling out holiday deals around Prime Day in October.
Black Friday is morphing into a much longer event—and shoppers like it that way. "The way I shopped during Black Friday has changed in the last few years, and that's because the sales have been extended," explained once participant. "They start earlier and end later. This has benefited me because it gives me more time to decide on what I want. I don't have to rush doing it all in one day."
Still, almost a third (29%) plan to do most of their shopping on November 27.
Black Friday is morphing into a much longer event—and shoppers like it that way.
A big motivation for shopping early is a practical one: getting items on time. Shoppers are less concerned this year about a Fear of Missing Out (FOMO) but are more concerned about the Reality of Missing Out (ROMO). With the significant uptick in online shopping since the start of the pandemic, many consumers are keenly aware that shipping will take longer this year and that they may not get their purchases on time if they hold off for too long.
Of course, extending the duration of promotions comes with risks. It reduces the urgency of purchases and dilutes the excitement of Black Friday altogether. A deeper understanding of motivations and barriers to purchase will be key as retailers try to find the right balance this Black Friday and in the years ahead.
Winner: Digital-ready retailers
The good news for the retail industry is that 74% of American consumers plan to do some holiday shopping this year—and 65% of them plan to partake in Black Friday in particular. Not surprising, online shopping is going to be the norm.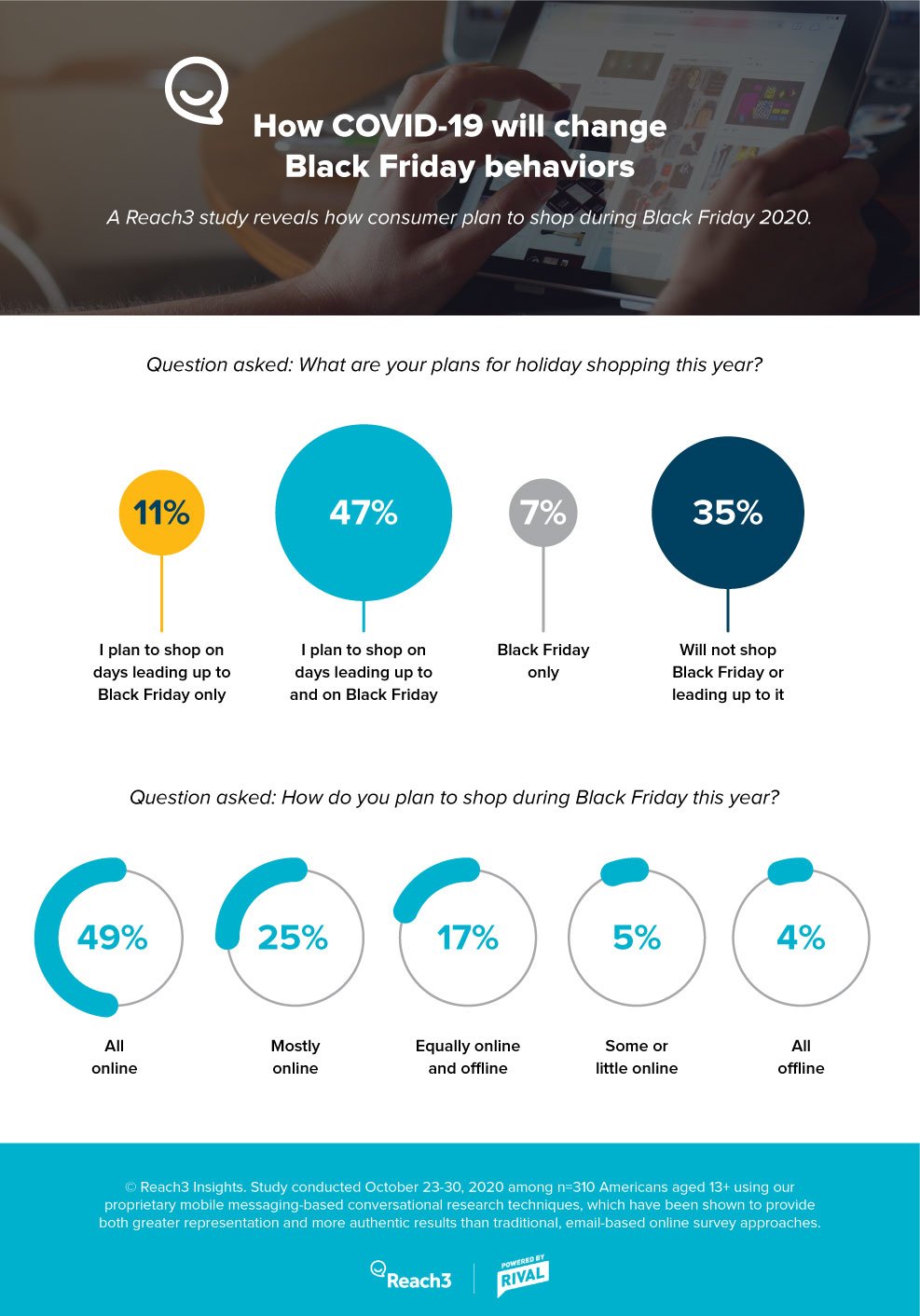 "For the last several years, I only shop online during Black Friday," said one shopper. "Especially this year due to the pandemic, I will only shop online."
This move to online shopping will create new behaviors that retailers need to pay close attention to. For example, given that it's easier to compare prices online, will shoppers visit more e-commerce sites to hunt for better deals? Will people plan ahead and go to online stores with specific purchases in mind, or will they be browsing and end up with impulse buys? Answering these questions with customer insights will be critical for retailers as they plan for the holiday season and beyond.
Winner: Toys, games, electronics and gaming consoles
While apparel typically tops Black Friday shopping lists, toys and games are also highly sought after this year. These are closely followed by personal electronics and video games and consoles—no surprise given the timely launch of Xbox and PlayStation 5.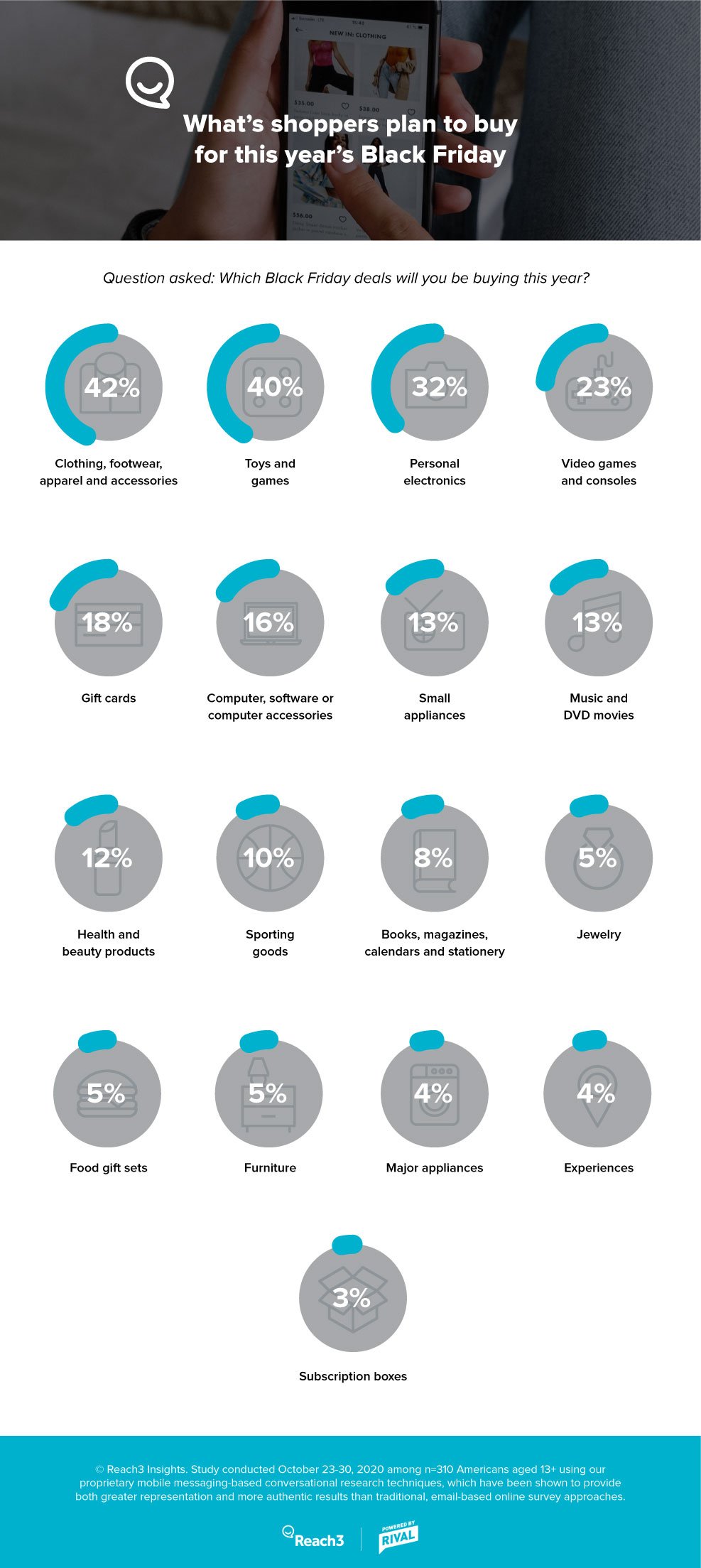 Loser: Brick-and-mortar stores (maybe forever)
While many people think of Black Friday as a fun tradition, some see it as a chaotic and stressful event. Our research shows that there's an increasing negative sentiment around the experience of going to stores during Black Friday.
"I will never do it again," said one shopper. "Especially this year, I would be much less tolerant of the obnoxious and rude and inconsiderate people that I would encounter. Don't want to expose myself to that environment."
While many people think of Black Friday as a fun tradition, some see it as a chaotic and stressful event.
Another participant shared, "People are crazy and the deals aren't that good usually to deal with that many people."
Responses like these suggest that even after the pandemic, foot traffic during Black Friday may never recover to its former glory. There's an opportunity for retailers to engage their community of customers now to understand what needs to be done to deliver a better in-store experience and salvage Black Friday's overall reputation.
Loser: So-so deals
The financial burden and uncertainty that emerged from COVID-19 has people looking for value. But even outside of the context of COVID-19, many shoppers already believe that Black Friday deals are not compelling or special enough.
"Shopping on Black Friday just isn't worth it anymore," a shopper shared. "Most retailers have some pretty good deals before and after."
Another shopper said that Black Friday offers "very few extremely good deals."
Retailers will need to work extra hard this year to wow shoppers with their Black Friday campaigns. Understanding customer expectations and the underlying motivations for purchase will be key to optimizing campaigns, the e-commerce user experience and other aspects of the customer experience.
Conclusion
With so much change happening in the consumer landscape, business leaders can't rely on existing playbooks. To win this holiday shopping season and beyond, it's important to get closer to consumers and develop a longitudinal understanding of evolving behaviors, routines and habits and the emotional connection people have with specific holidays.
Reach3 has experts in retail market research who can help you engage with consumers across key seasons, in-the-moment, via a conversational and authentic way to help drive future growth strategies. If you'd like to learn more, feel free to reach out to our team.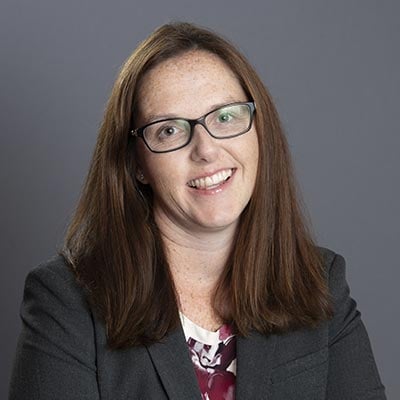 Dara St. Louis
SVP & Founding Partner, Reach3 Insights