The evolution of conversation requires the insight industry to adjust.
When I decided to join Reach3 Insights earlier this year, the biggest factor in my decision was the company's core belief in the power of conversation. Together with our sister company Rival Technologies, everyone at Reach3 fundamentally believe that conversations are crucial in uncovering the authentic thoughts and feelings of customers. This purpose spoke and rang true to me as a seasoned market researcher, but also—and perhaps more importantly—as a human.
Of course, the notion of conversations in research and insights is not new. In fact, the earliest forms of market research involved the painstaking activity of talking to people one by one in person. Over time, technology has made it easier and scalable to survey as many people as possible at once, but somewhere along the way, the research process became increasingly impersonal and clinical.
If there's one thing that the current COVID-19 crisis is teaching us, however, it is that technology can enable rather than hinder valuable conversations. While people are being asked to stay physically apart, they are connecting with friends and family over mobile messaging. Gen Z are connecting with other young people via TikTok, not just to talk about memes but also to pursue activism. Workers are using video conferencing to connect with their colleagues from home. Technology is helping many of us feel closer together at a time when we can't be physically together.
While people are being asked to stay physically apart, they are connecting with friends and family over mobile messaging.
The insights world needs to pay attention. There has never been a better time for us to embrace the basic benefits of organic human conversations. While qualitative research has utilized the power of conversation for decades—more so than the ubiquitous and sterile email survey-based quantitative techniques—it doesn't have to be this way. Both methods can, in fact, benefit from the Power of Conversation (at scale).
The key to doing so is to understand what's happening in the world of mobile messaging. As insights professionals, we need to understand the rules and rituals of this rapidly growing communications channel and use those rules for better insight generation and engagement with consumers.
The rise of messaging economy
A majority of the conversations today have evolved from a chat over coffee or around a fireplace to being had on some sort of mobile messaging app. That's because practically everyone is now using a mobile device: As of 2019, there are 5.2 billion unique mobile subscribers.
There has never been a better time for us to be more human and go back to appreciating the basic benefits of organic conversations.
While the frequency of having conversations through messaging apps vary across markets, the momentum globally is staggering. In fact, 78% of the world's smartphone users are using messaging services at least once every month. In my home country of Australia, close to 15 million use Facebook Messenger on a monthly basis, and 8 million use WhatsApp.
The messaging economy comes with new rules. For example, did you know that a full stop comes across as abrupt and unfriendly to younger people in an email or chat? While adults using messaging for scheduling or coordinating and leave in-depth conversations for face-to-face or phone calls, teens do things quite the opposite where they have lengthy conversations for hours at a time via messaging.
Consumers are also progressively messaging more visually, using emojis, video selfies and pictures. Hashtags, reaction GIFs, and ¯\_(ツ)_/¯ are also on the rise. I was amazed to learn that 56% of people have sent a message consisting only of emojis…I thought it was just my 5-year-old who did that, as she could not spell! For many, using more visuals in a messaging conversation qualifies as a great conversation as it's more genuine, free flowing and entertaining.
63% of consumers would switch to a company that offered text messaging as a communication channel
Then there's the exploding trend of messaging for business. One study found that 63% of consumers would switch to a company that offered text messaging as a communication channel. As we move into a world where everyone is time poor, messaging provides a way for customers to get in touch with businesses when it's convenient and via channels they already use.
The messaging economy has also made things even faster. Messaging offers immediacy in a way that other channels like email don't. About 90% of messages sent are read within 3 minutes of being sent.
How to harness the Power of Conversation in market research
The evolution of conversational technology requires the insight industry to adjust. There's a huge gap between the messaging culture that I've described above and the way market research is typically conducted. As our CEO Matt Kleinschmit discusses in his ebook, The Future of Insights is Conversational, traditional, email-based research approaches put people in "test taking mode" and inhibit people from sharing their true thoughts and feelings.
To be relevant in the era of mobile messaging, consider these thought-starters as you prepare for future success and learn to be a part of this changing "conversation sandpit."
Think "mobile only"
When it comes to having a mobile strategy, some researchers believe using mobile surveys is enough. But we have to go beyond that. When thinking about questions in a survey, being "mobile enabled" versus building primarily for mobile will make a big difference in delivering the best possible experience and getting people out of "test-taking mode."
Think about the expectations of customers who'll participate in your research. They want an experience that's comparable to what they'll get from other popular applications. We don't want research participants to be pinching and scrolling the screen to provide feedback on complex grids that are designed for larger screens. This need to be truly mobile-first is why our sister company, Rival Technologies, invests heavily in user experience, making sure that the respondent-facing interface of our chats looks and feels similar to many SMS and mobile messaging applications.
Talk like a human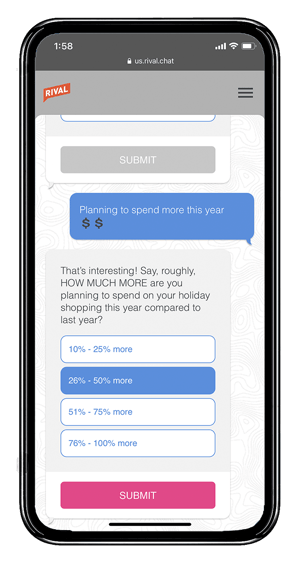 Since the whole notion around language is changing in the messaging world, we need to drop the lab-like approach. We need to sound more human and respect the medium of messaging and the rules of messaging-based conversations.
A more casual and simple language is required. There's no need for elaborate salutations, clichéd intros, or crafty signatures. Conversations on messages are quick and to the point—research activities should be the same. The awkwardness and inherent limitations of typing on a phone requires surveys to be short. Your customers are not going to think you're rude for not tapping out the novel-length version of the context. As a matter of fact, it will be awkward if you do. This medium requires the tone to be far less formal.
Blend the best of qual, quant and video in one go
In the past, quantitative and qualitative research approaches were structured differently for many reasons. The practitioners were different individuals, the methods were sequential to manage, and the resources and technology did not permit the blending of quant and qual in one experience.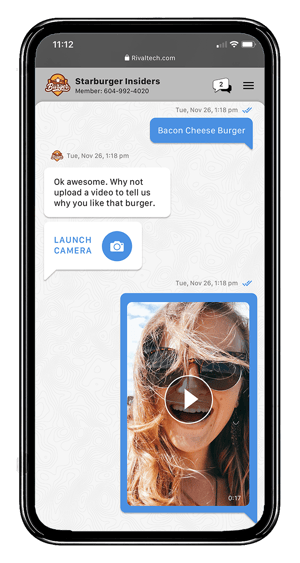 All that has changed where we can now have conversations at scale and deliver personalized experiences. Think about the best use of question types to a) make it a simpler experience for the participants and, b) generate the best quality results. Incorporate video, audio and pictures to elicit better quality responses and make the experience engaging for your consumers.
Using a conversational approach to capture both quantitative and qualitative inputs delivers richer insights. For example, in a recent study for a FMCG client, we got a more nuanced understanding of the motivations behind evolving breakfast behaviors by asking for a mix of quantitative inputs and emotive videos from research participants.
Be visual
Research activities don't need to be death by radio buttons. In fact, from our experience, visual exercises have better response rates than the ones that don't have visuals.
You can use photos and videos to complement almost any part of your study. For example, when asking people how they feel, you could ask them to choose the best image from a gallery rather than providing text options. If you need to provide context, you can add a video instead of a long text explanation. Of course, emojis can be used throughout as well to make the survey feel more like a conversation with a friend or a family member.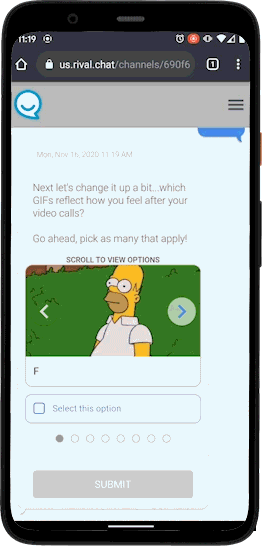 One effective way we've been using visuals is through emotional elicitation exercises. In a recent research on video conferencing, for example, rather than directly asking participants how video calls made them feel, we asked them to pick a GIF from a gallery that best represented their feelings. In the next question, we asked participants to explain why they chose the GIF, either via video or open text. This approach resulted to elaborate stories and anecdotes about people's frustrations around video conferencing—richer insights that would have been difficult to capture in a more traditional survey,
Build in instant feedback
We all are accustomed to getting instant feedback in everything we do. Technology today allows applications to create unique pathways and personalized experiences based on your preferences. So why shouldn't your survey or market research platform be able to do the same?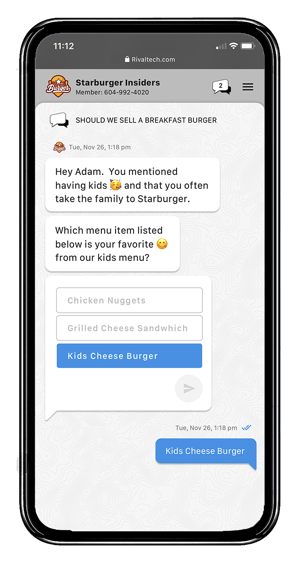 A conversation has a natural back-and-forth: when I ask you a question and you provide an answer, I'll provide some sort of feedback to your response before I ask another question. This can be mimicked in our research engagements as well. Don't just think about the questions you're going to ask—consider how you'd acknowledge people's responses as well. At Reach3 and Rival, we often call this process "chattifying" research. It's our cheeky way of referring to our way of making research more friendly, approachable and conversational.
The Power of Conversation delivers ROI
Making your research efforts more conversational is not only good for engagement and response rates—our work with a growing number of global brands is proving that this conversational, mobile messaging-based approach provides the deeper, richer insights companies need to drive better business outcomes. Check out our case studies and resources if you'd like to learn more.
How ready is your company to take on the opportunity presented by the messaging economy? Is it time to re-visit the approaches and technologies you're using to capture consumer insights? If you'd like to learn more about this new way of engaging with your customers, let's start the conversation today.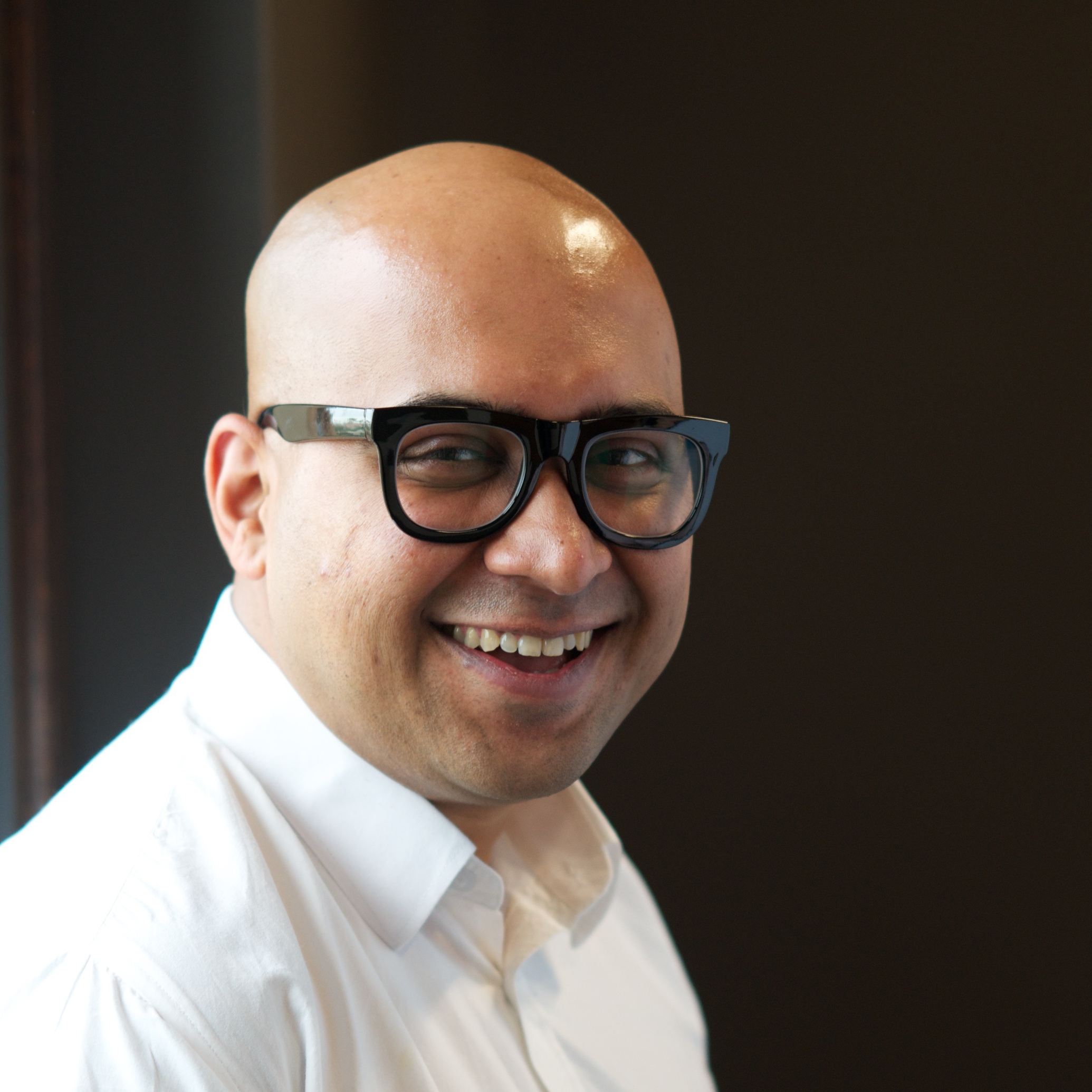 Bala Rajan
SVP, Reach3 Insights