72% of consumers indicate that seeing a product in the Metaverse would make them more likely to purchase in real life.
From real estate to high fashion, the business opportunities within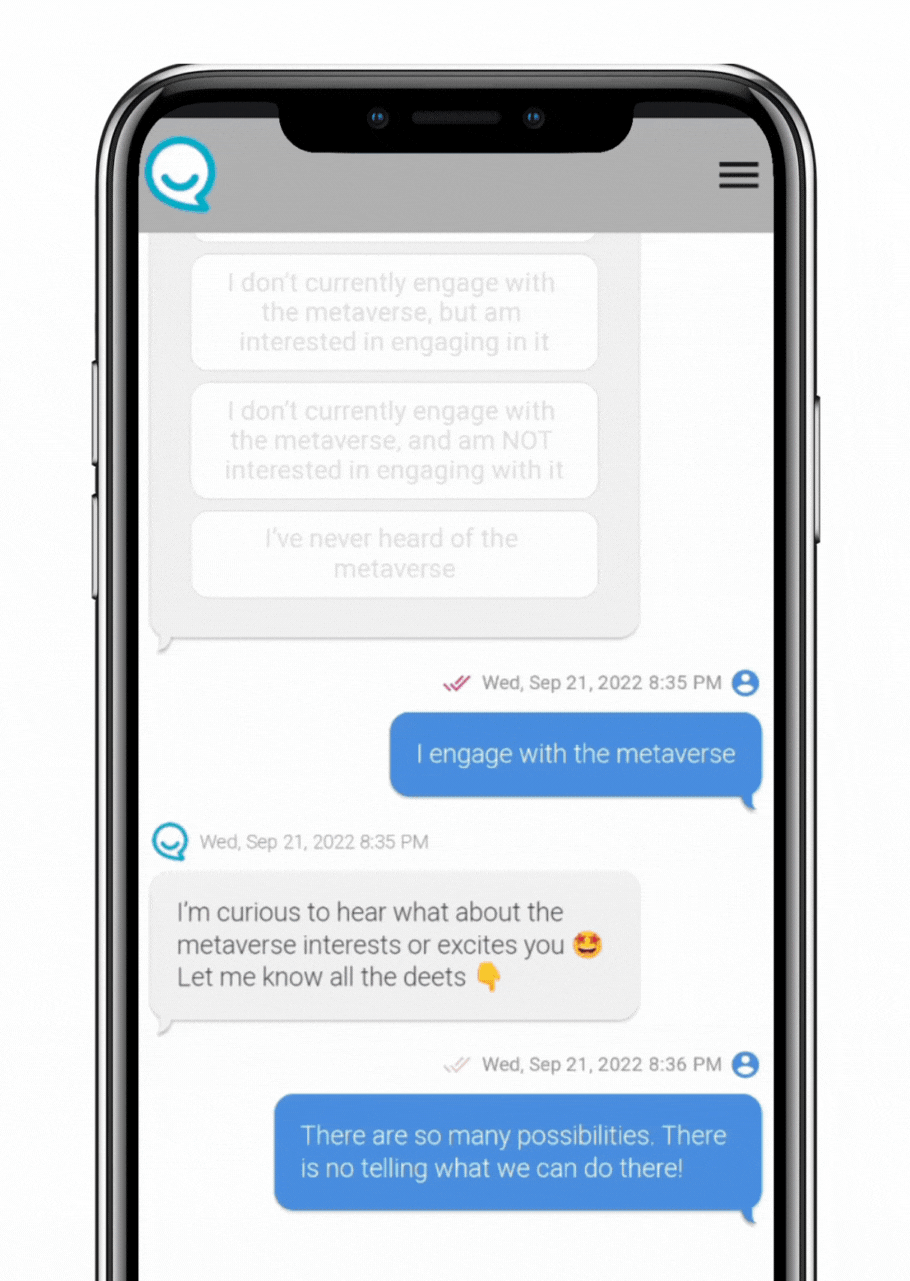 virtual platforms like the Metaverse command consumer curiosity and are limited only by our imaginations. In an effort to explore the potential use of the Metaverse for today's brands, we're leveraging our conversational-based approach and Rival's mobile messaging-based research platform to connect with U.S. adults who already engage with the Metaverse or are interested in it to better understand what they are most enthusiastic about. We've found that, while many U.S. consumers don't have a clear idea of the inner workings of the Metaverse, interest in the current and potential use of the platform is both palpable — and growing.
While excitement may be brewing among consumers, many brands and marketing teams are still unsure of the best strategy to truly leverage the potential within the platform. At Reach3, we're not only tracking trends in consumer sentiment around the Metaverse; we're also taking a close look at the impact and opportunities for brands on the platform and what their participation means to their target audience. Before building your avatar, here are some things to consider:
Your Most Engaged and Enthusiastic Customers Might be Waiting For You to Log On
A staggering 72% of our consumers indicate that seeing a product in the Metaverse would make them more likely to purchase said product in real life, with many noting that the ability to "try-before-you-buy" favorably impacts purchase intent:
"I think that the Metaverse could help me make decisions about food and beverage in a new and unique way by showing me different facets of products." – 35-39, Female
"Getting to try/check out new things without going to a brick and mortar store [...] sign me up!" — Male, 45-49
The business case for showcasing one's product on the platform is an easy one to make. But what is the value of simply being on the platform? And what activations can truly lead to IRL sales? Consumer sentiments around brands that participate in the Metaverse, regardless of the strategy within, are overwhelmingly positive; 57% of consumers describe companies with a presence in the Metaverse as "innovative"; 56% as "futuristic; and 51% as exciting — an overall 88% net positive. Similarly, 61% say seeing their favorite brand in the Metaverse would make them feel more positively about the brand.
"…seeing something that I like [...] particularly by [a] makeup brand or clothing brand [...] it makes it very interesting because I feel like they're trying to broaden their horizon to newer things." — Female, 35-39
"I think the Apple brand would be something that I enjoy watching on the Metaverse and I think it's something that would definitely change my perceptions about how I think about it." — Male, 30-34
"My favorite brand is Louis Vuitton. I think [being in the Metaverse] would make me think more positively of LV because they are staying with the times." Female, 30-34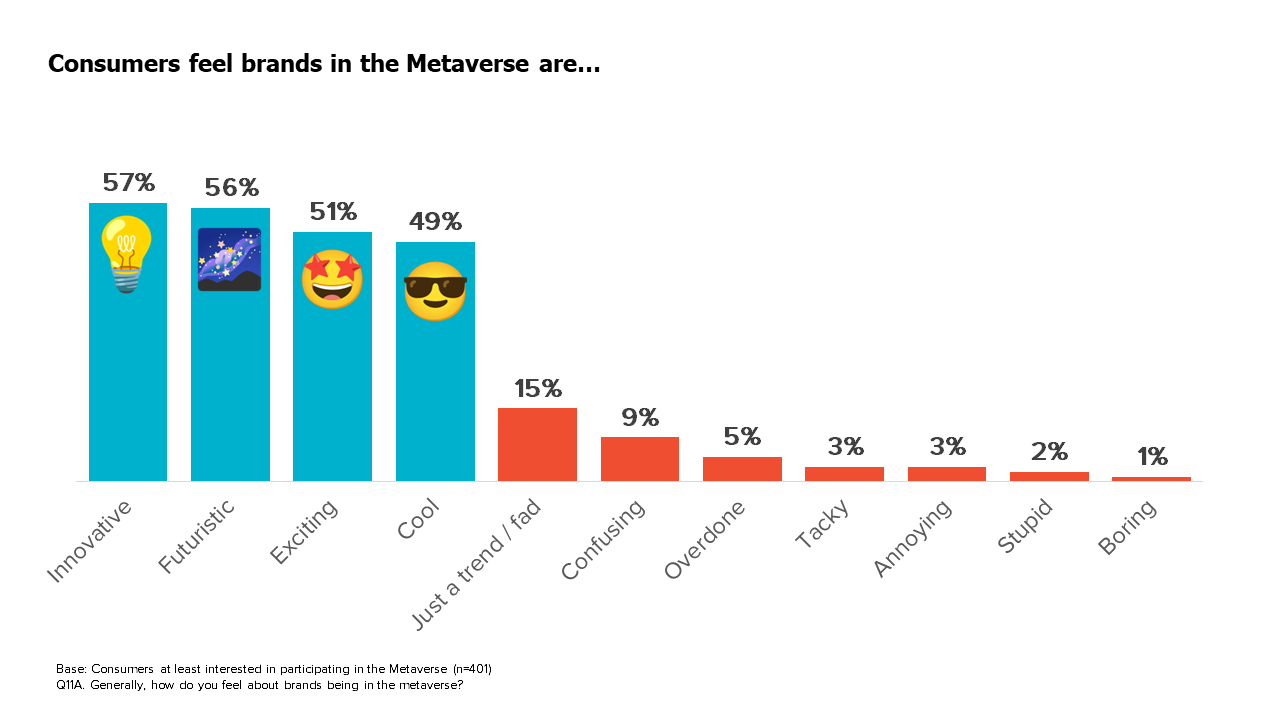 In an era where brand association and emotional response is more important than ever, putting your full weight behind platforms which elicit positive responses from your target audience is imperative to influencing consumer perception of your brand. Measuring and anticipating the needs of new customers when embarking on untrod ground will help businesses to better understand the path ahead and drive key loyalty metrics. The Metaverse also offers brands the opportunity to connect with new audiences who might not yet be familiar with their product — a win-win for Marketing teams and for brand invigoration.
The Positives of Metaverse Brand Activations (Probably) Outweigh the Negatives
When considering a marketing strategy for campaigns within the Metaverse, one must also consider the potential negative impacts of association of the platform with their brand. When Facebook rebranded as Meta, many felt there were more pressing issues the company should be addressing than its logo design. The Metaverse itself faces critique when it comes to issues of public safety and social engineering. And, while consumers are interested in the implications of the Metaverse at large, the actual experience of the platform still leaves something to be desired — despite the enthusiasm of Meta Founder Mark Zuckerberg surrounding the platform, the actual user experience of the space can feel cartoonish, at best.
With brand identity and aesthetic choice more integral to product success than ever before, smart companies will need to put thoughtful consideration into the perception of their products within the space as well as the graphic limitations of the platform. Thankfully, many of our consumers are optimistic about navigating the Metaverse despite the limitations:
"I like the virtual world and I am ready to interact more." — Male, 40-44
"As the Metaverse grows I find that it is becoming easier and easier for me to access it. What maybe once only certain people could access is now more readily available the more mainstream it becomes." — Female, 18-24
"It's gonna be very different to navigate around this new dimension people are creating." — Female, 45-49
One arena where brands can seek inspiration on how best to showcase their product via digital means is in the gaming space. Engaging with the next generation of trendsetters and entertainment seekers can help marketing teams adapt their visual approach to the consumer within the current framework allotted by Metaverse rendering technology. Thankfully, our research has found little downside to brands engaging with the Metaverse — while a few consider brand presence on the platform to be just a trend (15%) or "tacky" (3%), our consumers largely view brand participation in the space as a net positive (88%).
Explore The Virtual World (And It's Real-World Benefits)
While the Metaverse experience is still a bit rocky, Metaverse consumers are prepared to come along for the ride. It's up to ambitious branding and marketing professionals to take the first leap — and many have. Luxury brands, which have traditionally relied on the senses to appeal to consumers, have taken the Metaverse by storm. In 2021, fashion brand Balenciaga teamed up with Fortnite to bring digital versions of their real-life outfits to the open-world video game's virtual boutique. Players could not only wear and inventory the outfits, they could also enter real-life Balenciaga stores and the brand's website to purchase said outfits while unlocking the matching virtual outfit in the Fortnite game. Further blurring the lines between digital activation and in-person experience, the Balenciaga team created 3D billboard experiences in global hubs to promote the campaign. In the same year Gucci similarly partnered with Roblox to bring a "virtual Gucci Garden" to life in the space, exposing the brand to a new audience and demographic.
If these brands can find new and exciting ways to engage Metaverse consumers, the possibilities for brands in other spaces are endless. Focusing on consumer experience in the Metaverse will help brands bridge online engagement to IRL sales. While the look and feel of the platform may not yet match the enthusiasm of its users, brands can still leverage the space to communicate that they are innovative and future-focused while getting users excited about new products and ideas. Honing in on the right solution for your product or campaign shouldn't hold you back from venturing into the wild world of virtual platforms; the consumers of the future are waiting with open minds (and open wallets).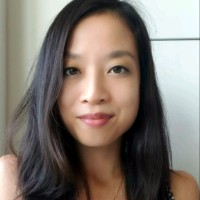 Christine Nguyen, PhD
Research Director