American consumers see the Metaverse as a new and exciting way to engage with their world, and brands can leverage experiences in the Metaverse as a way to engage with their consumers in this space.
In addition to the consumers who are already participating in the Metaverse, there is a growing population of people who are interested in diving into this new world but have yet to take the leap. These folks are quickly becoming an opportunity for brands to attract the next wave of Metaverse customers.
At Reach3, we wanted to explore some of the potential for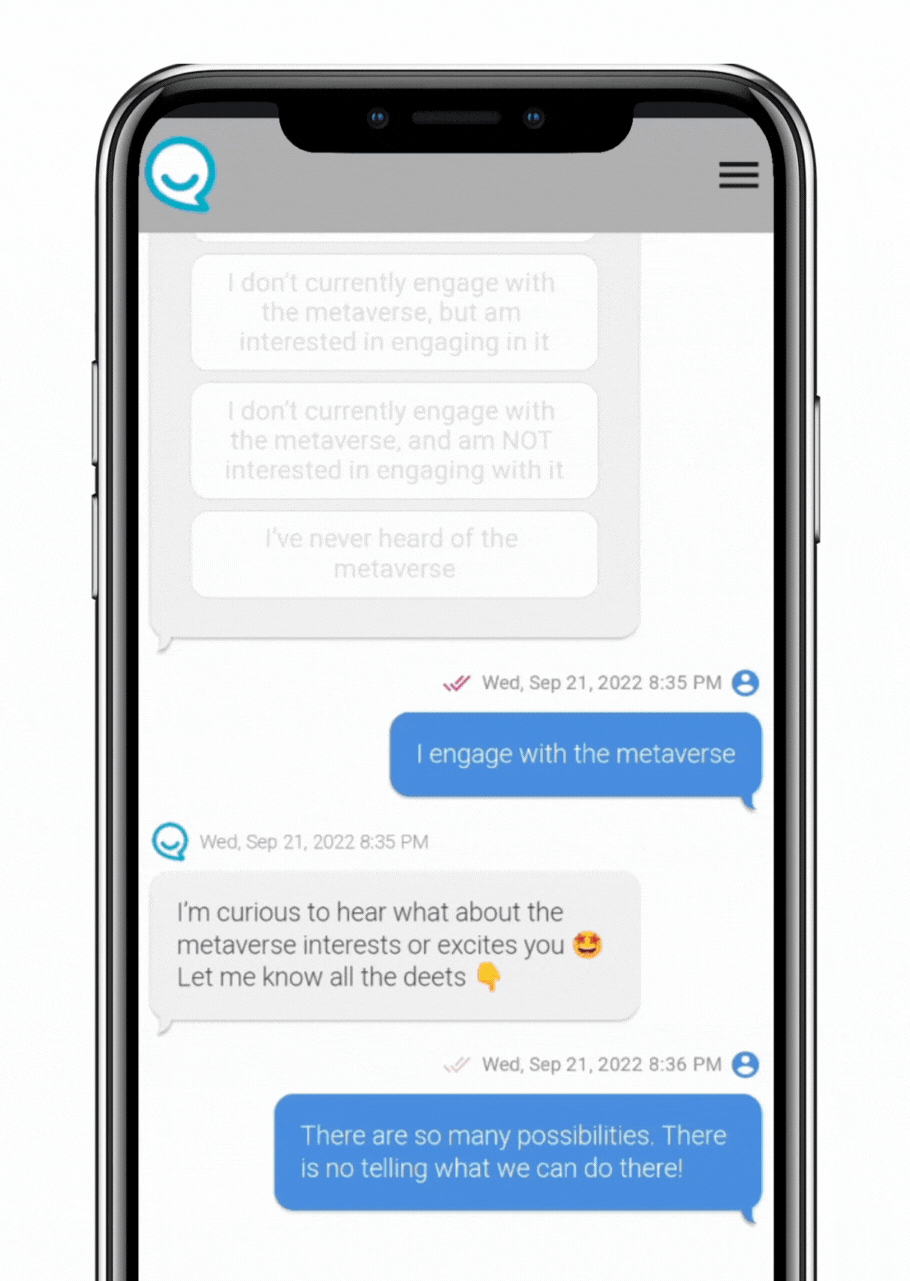 brands within the Metaverse. Leveraging our conversational-based approach and Rival Technologies' mobile messaging-based research platform, we chatted with U.S. adults who already engage with the Metaverse or are interested in it to better understand what they are most enthusiastic about. Though the Metaverse is still a bit fuzzy in many consumers' minds, they are increasingly excited about the possibilities.
"Seems like could be a fun way to interact with friends and family that may not be able to see in person as well as meet new people, but also feel might be fine line crossing some privacy" – Male, 25-29
"I feel like it's super brainy and way beyond what I currently understand but I'm still super intrigued." – Female, 18-24
"It looks like video games, [but] it's about to suck someone into it. I think of the Metaverse as getting literally so immersed into the online world that you actually feel like you're literally inside of it." – Female, 18-24
"[The Metaverse is] a digital playground that can be quite entertaining and enveloping." – Male, 18-24
Based on our initial research, it's clear where the opportunity lies for brands to attract new consumers to the Metaverse: Experiences. From travel to shopping, live events to education and training, American consumers see the Metaverse as a new and exciting way to engage with their world, and brands can leverage experiences as a way to engage with their consumers in this space.
The Best Experiences Link Futuristic and Realistic Use Cases through Accessibility
Overall, music, travel/tourism and shopping/retail are the three "buckets" of activities/experiences that people are most excited about in an AR/VR world, with 68% showing interest in music, 58% in travel/tourism and 53% in shopping/stores.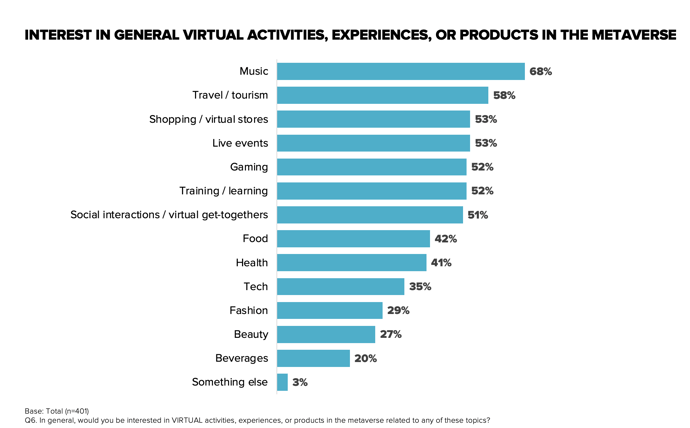 But look beneath the surface and you'll see important differences; some experiences may more effectively reach certain consumers.
One noteworthy pattern is that older generations seem more interested in travel and tourism experiences in the Metaverse. The Metaverse offers opportunities to experience the world when those experiences might be physically or logistically in-accessible, otherwise. For example – experiencing what it might be like to skydive or climb Mount Everest.
It puts me in places I could not normally go or do.- Male, 55+
Just reminds me of being online and seeing everything that you can see and experience what's going on in places that you may not have access to. – Female, 40-44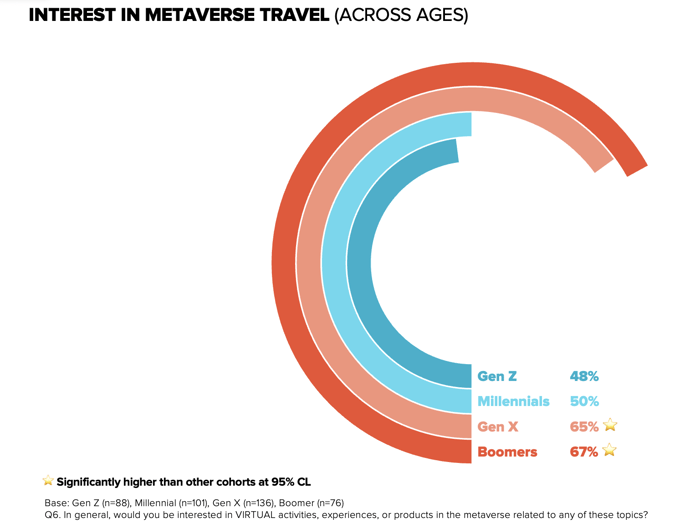 Gen Z is more interested in fashion and beauty in the Metaverse (vs. other age cohorts). This generation of shoppers increasingly care about what they wear in online spaces, and brands can meet their expectations by providing opportunities to experiment with virtual fashion that does not exist in the real world.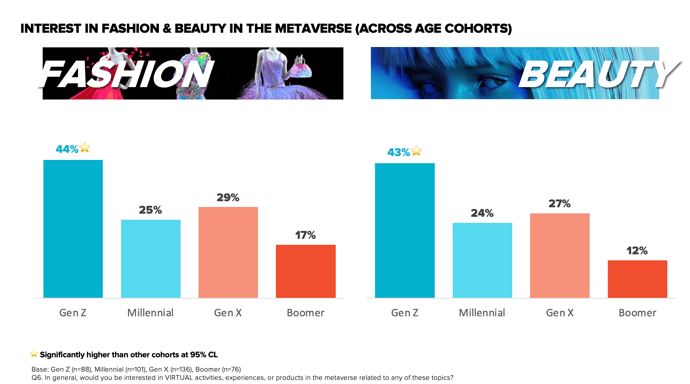 Take, for example, the Queens of the Metaverse digital drag fashion show hosted by Meta ahead of London Fashion Week. Christie Lau, a non-binary digital designer featured in the show shared how within the virtual fashion world, creativity is limitless. They explained, "We can design things without real world physics...You're making your own world in which your design exists. That's incredibly powerful."
Similarly, the democratization of virtual fashion can be seen as an opportunity for brands to expand their target customer base. Fashion Week is typically seen as an event rooted in exclusivity with a carefully curated guest list. Metaverse Fashion Week on the other hand, (which took place in March of this year) was sponsored by Vogue, yet branded as an experience where "Everyone is a V.I.P." and can be invited to sit front row at the show.
And as our shopping habits and preferences continue to evolve, it will be interesting to see how the Metaverse might fit into the new path to purchase (more on that in the next installment of our Metaverse blog series).
Experiences are a Bridge Between the Metaverse & the Real World
The Metaverse is inherently about transcending worlds. Brands looking to capture the next Metaverse consumer will need to translate experiences into activations that feel both new and futuristic, as well as tangible. Take Coca-Cola's Dreamworld, for example. In August 2022, Coke released a new flavor, Dreamworld, which is meant to allow customers to taste a dream. According to the brand, Coke Dreamworld "bottles up the technicolor tastes and surrealism of the subconscious" driving buyers to their website for a chance to purchase this futuristic soft drink. But Coca-Cola didn't stop there. As part of the music festival Tomorrowland, they brought Dreamworld into the Metaverse with an augmented reality music experience, complete with avatar DJs, games, and Dreamworld inspired outfits that consumers can wear in the Metaverse.
To these consumers – experiences are more valuable than digital goods. Whether attending a virtual fashion show with friends, having an AR experience supplement an in-person event, or allowing consumers to travel the globe and have experiences that go beyond their physical location or limitations – the Metaverse is a place where consumers are excited to play, but also have an expectation of being able to bring a part of the Metaverse back to the physical world.
We're only able to capture these insights because of our immersive, mobile messaging-based research approaches that engage people in a fashion that seems natural & organic to the topic. Learn more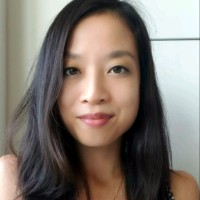 Christine Nguyen, PhD
Research Director