"Canned seltzers are good, easy to take with you to an event, won't break in a cooler, and taste good."
You've heard it all before —"Ain't no laws when you're drinking Claws", "White Claw Summer", and "low cal, high buzz." T-shirts, drink koozies, wall hangings, flags, and an endless supply of hard seltzer memes have dominated the past few years. So, what is it about this fizzy beverage that has created such a distinct drinking culture and how long will the seltzer craze last?
To answer these questions, Reach3 Insights leveraged Rival Technologies' mobile messaging-based research platform to engage with Gen-Z and Millennial drinkers (legal drinking ages, 21-39). Read below for highlights of what we found or check out the full mobile deliverable here.
Hard seltzers are in fact still "in" this summer
"Better for you" drinks are among the top BevAlc trends for this summer, making hard seltzers a great solution for those who are seeking to partake in summer festivities, while also being mindful of their health and wellness. Reinforcing the appeal of seltzer, Vizzy Hard Seltzer (80%) and Corona Hard Seltzer (72%) are among the top brands Gen-Z and Millennial LDA consumers are looking forward to drinking as the weather warms up.
Among the LDA consumers we chatted with, many attribute hard seltzers' continued popularity this summer to the fact that they're a low calorie and low carb option for those looking to lose some "pandemic weight" or just lead a healthier lifestyle after spending so much time at home over the past year.
One person we spoke to explains, "I think that spiked seltzers will continue to have a popular streak this upcoming summer! They are flavorful, generally low-calorie, and make you feel better about what you're drinking."
Hard seltzer is a go-to drink for all types of occasions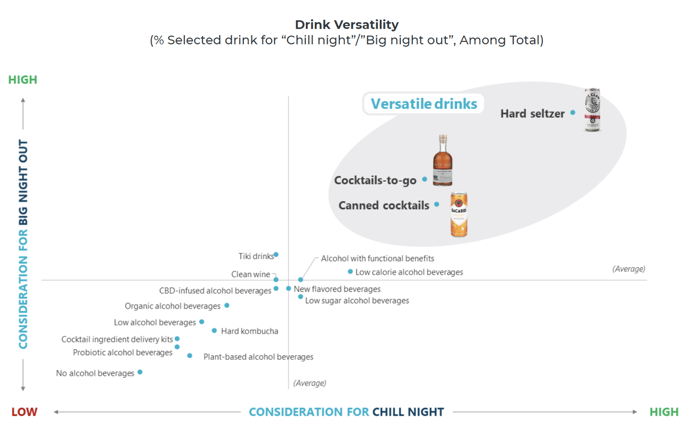 When asked what type of products LDA consumers are likely to drink in different social situations, hard seltzer and canned cocktails consistently rose to the top as versatile and appealing choices.
In addition to health-conscious motivations, consumers also see practical benefits to hard seltzer and canned cocktails in terms of transportation and on-the-go consumption. Aligning with these practical benefits, when asked what factors influence their alcoholic beverage purchasing decisions, consumers told us that convenience (45%), pack size (32%) and portability (27%) are top of mind.
As one consumer stated, "Canned seltzers are good, easy to take with you to an event, won't break in a cooler, and taste good."
Are we approaching critical mass when it comes to seltzers?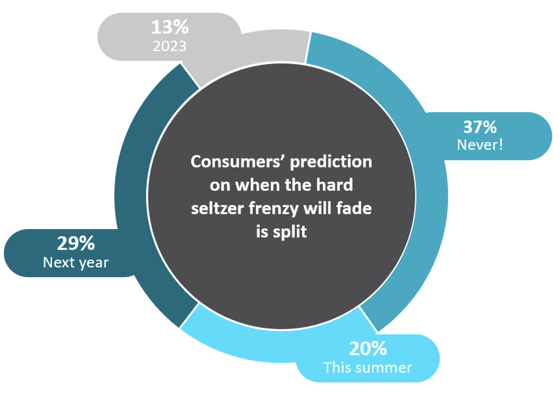 The number of hard seltzers available to American consumers has exploded in recent years with at least 65 different seltzer brands on the market, up from 26 brands in 2019 and 10 brands in 2018. In fact, many familiar beer brands now have their logos on seltzer cans—including (but not limited to) AB InBev, Molson Coors, Constellation Brands, and Boston Beer Co., Pabst Blue Ribbon, and Heineken.
Miller Genuine Draft is one example of a big-name beer brand that is not jumping on the hard seltzer bandwagon. On May 13, 2021, the brand attempted to launch a hard seltzer—literally. Instead of creating their own seltzer variant like so many of their competitors, they allowed consumers to recommend a rival company's seltzer that would be rocket-launched skyward during a live-streamed event.
In the event promotions, Miller positioned itself as "a real beer's beer", highlighting its aversion to the hard seltzer craze. Ironically, the rocket blew up right before it was supposed to launch, but Miller's point was difficult to miss.
Although consumers are less certain about when the hard seltzer craze will fade, most think hard seltzers will last at least through next year, and 4 in 10 say the hype will never fade.
However, canned cocktails and other ready-to-drink beverages are also becoming increasingly available and may be poised to threaten hard seltzer's overwhelming popularity by delivering on similar consumer needs (convenience, portability and 'better for you' benefits).
One consumer we chatted with explained, "I think people will be drinking canned cocktails and hard seltzer the most. These types of drinks are refreshing and convenient." Another said, "Pre-canned cocktails are the easy way to have a cocktail without the extra steps."
So, will canned cocktails overtake hard seltzers in popularity? Or will something new be the next big thing? While the long-term future of hard seltzer is still up in the air, we can be sure of one thing—the frenzy isn't finished yet. Crack open a can of your favorite hard seltzer and enjoy yet another "hard seltzer summer" by the pool.
Interested in learning more about how we used our mobile-based conversational platform to bring you these BevAlc industry insights? Reach out to our team!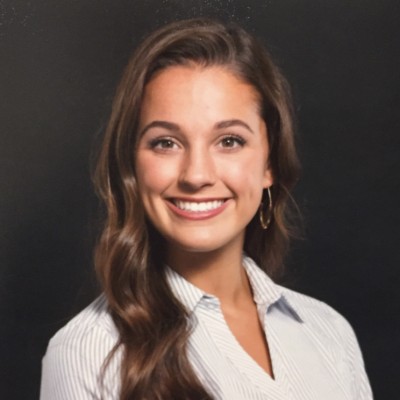 Sophia Cataldo
Client Services