10% of streaming subscribers now feel like there are too many streaming video services in the market
The COVID-19 pandemic has both intensified and expanded the ongoing streaming war. As millions of people find themselves suddenly stuck at home, the demand for streaming services such as Netflix, Amazon Prime Video and Disney+ has, as one would expect, skyrocketed.
But which streaming services are gaining the most viewers during this crisis? And more importantly, why are people choosing these services over others?
These are some of the questions we aimed to answer in the latest edition of our ongoing research on streaming. Last year, the Technology division of Reach3 Insights conducted a couple of studies exploring how streaming was changing consumer behaviors and the impact of new entrants (Disney+ and Apple TV+) to the streaming landscape.
When the coronavirus crisis escalated, many tech and media clients of ours reached out wanting to understand what's happening. To that end, we launched an in-depth, follow-up study in April 2020 to see what has changed in the OTT video subscription world and to look at the impact of social distancing in particular. We used software from our sister company, Rival Technologies, to engage 350 US-based consumers using mobile messaging-based conversational chat surveys to capture quant and qual data about the shifting attitudes and behaviors of streamers.
We're making the interactive report from this study available to marketers and C-suite executives from media brands. As a preview, here are three notable takeaways from the study.
Escapism and control are big motivating factors
As one would expect, consumption of streaming services has gone up significantly since the lockdown. In fact, on average, people are now watching 15.6 hours of streaming content per month—a 25% increase from our October 2019 study. In addition, 25% of consumers now have four streaming services or more, which is 2.5 times higher than what we saw in our October research.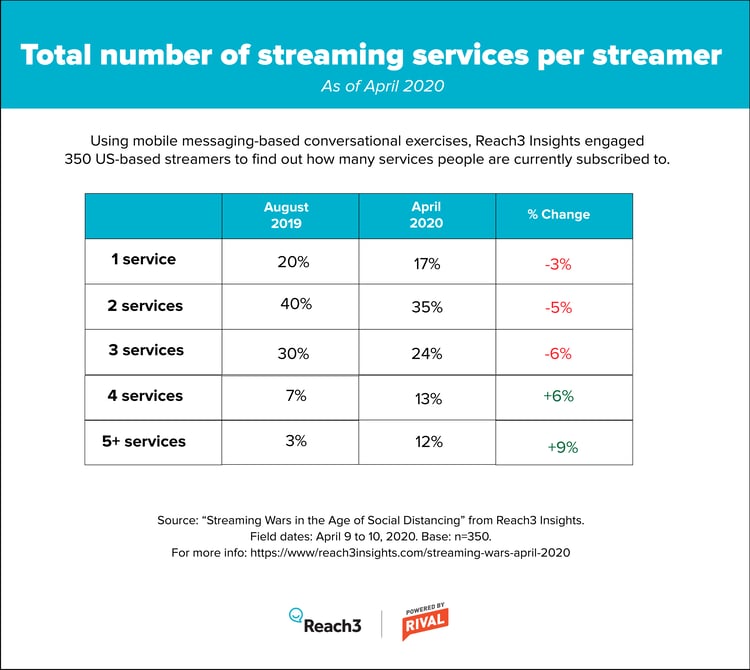 Over the past month, 58% of streamers have been watching streaming programming more often than before—a number that's higher for households with children.
We found that the biggest reason people are using streaming services more is for escapism. This is evident in the top genres that people are tuning into: 47% of streamers report watching comedy, 42% are watching action or adventure, and 38% are tuning in to thrillers.
Another big factor is control. Viewers told us that being able to control what you watch and when to watch feels good at a time of so much uncertainty.
Apple TV+ and Disney+'s entrance has expanded the market but did not hurt incumbents
A key question we wanted to answer in our October 2019 research was whether Disney+ and Apple TV+ would hurt Netflix, Amazon or Hulu. At that time, we predicted that the new entrants would not make a big dent on the business of the incumbents since very few people were concerned about having too many options in the market.
80% of streamers in the US have Netflix
Our new research confirms that prediction. For the most part, the old players have maintained their market share: 80% of streamers in the US have Netflix, 61% have Amazon Prime Video and 50% have Hulu.
This is not to say that Disney+ and Apple TV+ have not been successes in their own rights. Disney+'s The Mandalorian created a lot of buzz and resulted in a lot of memes. Apple TV+'s The Morning Show picked up award nominations, including a Screen Actors Guild win for Jennifer Aniston. That said, our research shows that Disney+ is outperforming Apple TV+ in terms of customer satisfaction.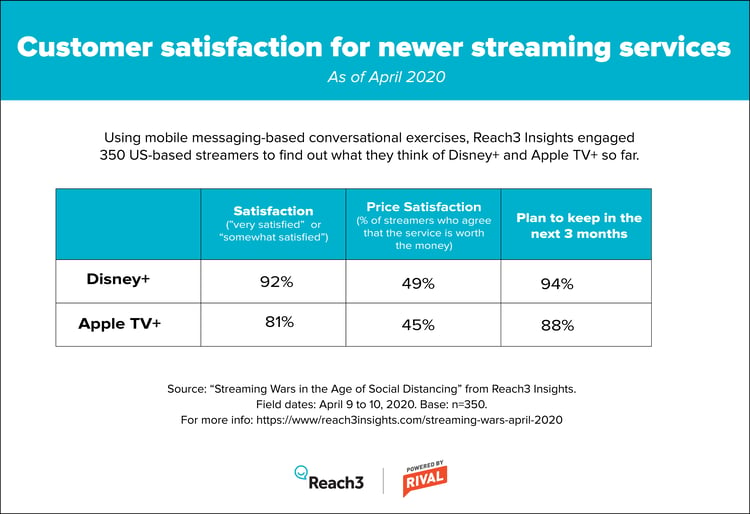 The real test for Disney and Apple is still about to come. Both of these companies relied on very generous free trials to get people in. So what happens once these trials are over? To prepare, both companies will need to engage consumers now and find the drivers of satisfaction and repeat business.
Upcomers face an uphill battle
The next generation of streaming services are now preparing to enter the market. Quibi launched on April 6, with an interesting value proposition: new, movie-quality episodes daily, each 10 minutes or less. Unlike most streaming services, Quibi has an option for ad-supported pricing. HBO Max is expected to launch in May, and NBCU's Peacock is coming in July.
Our data shows that these three new services are facing an uphill battle to climb. For one, despite some awareness around these services, a relatively smaller percentage plan to subscribe. Moreover, only a small majority plan to cancel an existing service to make room for a new streaming subscription.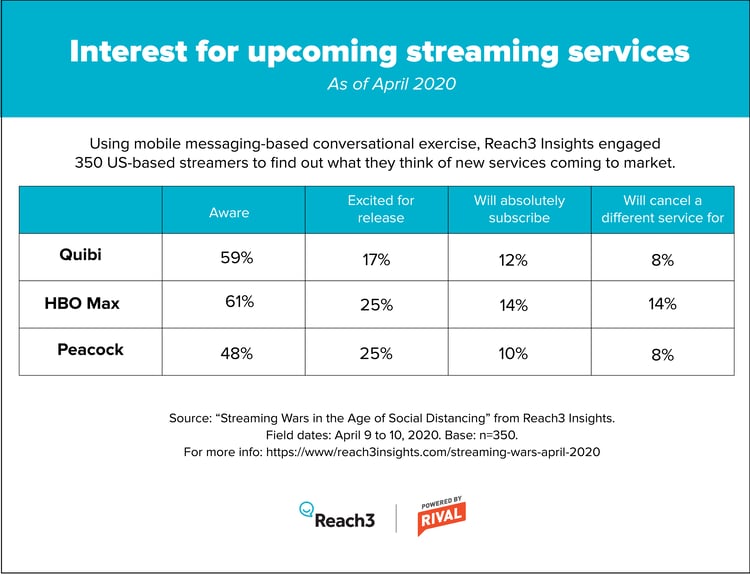 Perhaps the bigger threat facing these upcoming challengers is market saturation: 10% of streaming subscribers now feel like there are too many streaming video services in the market. This number is significant as it's double the percentage of people who agreed back in October 2019.
Capturing ongoing insights from consumers will be critical for newer players as they find their unique positioning in the market.
To succeed, Quibi, HBO Max and Peacock could copy from Apple's and Disney's playbook and try aggressive trial programs. This strategy may work for a while, but given that other services have already built their customer base, it may be hard to convince people to make room for another subscription. Capturing ongoing insights from consumers will be critical for newer players as they find their unique positioning in the market and improve their marketing programs.
Get the full detail
Reach3 is making the results from this study available to senior marketers and C-level executives in technology and media and entertainment for free. We created an interactive deliverable that combines quantitative and qualitative data from the study.
To request the report, please sign up here: https://www.reach3insights.com/streaming-wars-april-2020
A bit more about Reach3's methodology:
Reach3 Insights
conducts scientifically validated consumer research
via modern mobile messaging networks instead of email to maximize both the representativeness and richness of insights.
This method captures stream-of-consciousness attitudes, opinions and feedback via conversational qualitative and quantitative research techniques
leveraging immersive chat, video, photos & videos that
a
reveal both decision dynamics and underlying emotions. The result produces insights that are equal to, if not more accurate than
traditional survey responses provided by unengaged respondents.
Reach3 Insights
results represent a range of ages, genders and geographies and are projectable to the U.S. population.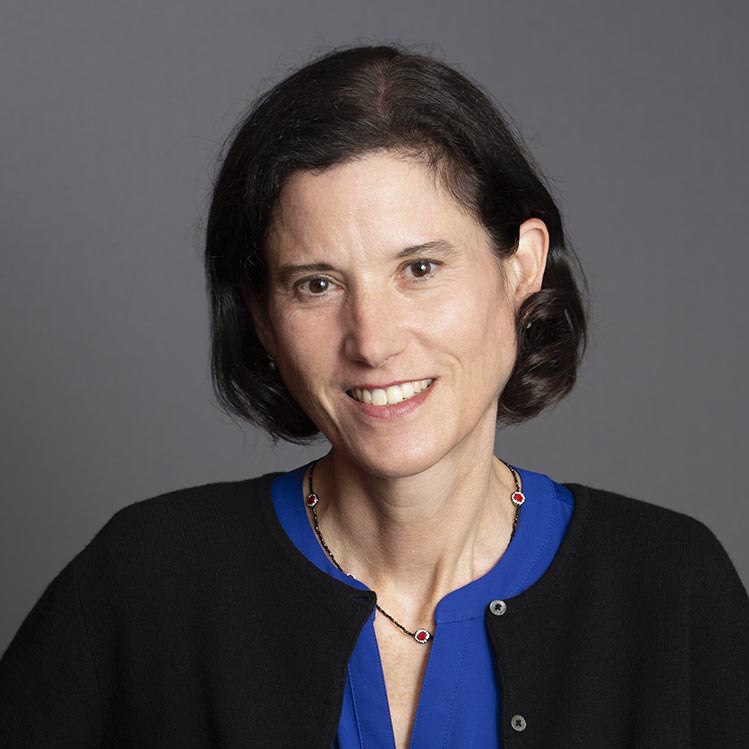 Leigh Admirand
SVP, Reach3 Insights