While you might think people are more hesitant about AI when brands have access to their sensitive info, over half of consumers feel positive about financial companies using AI.
We published a series of blog posts that explore the impact AI has had on everything from overall consumer sentiment to AI at school and work, and retail and shopping. In this blog post, we explore how AI is impacting the financial world—specifically banks, payment apps, and other types of financial services.
So let's deep dive into the perceptions of AI in finance, unraveling the diverse array of feelings—both positive and negative—that consumers have about this groundbreaking topic. If you're curious on understanding the perception of users anchored by use cases, check back our future blog posts coming soon.
Using our conversational approach and leveraging Rival's mobile-first market research platform, we engaged nearly 650 Americans aged 15 to 60. To participate, participants must have been using at least one financial service, either a traditional bank/payment service (e.g., Capital One, Wells Fargo Bank, Visa, Mastercard, etc.) and/or an online financial service (e.g., PayPal, CashApp, Venmo, Robinhood, etc.).
For this study, we used the broadest definition of AI; including everything from machine learning to NLP and Generative AI.
Second to tech and media, nearly half of consumers believe that banks/financial service companies currently use AI
Not surprisingly, Tech (68%) and Media (66%) companies are most associated with using AI in their products and services, but just about half of US consumers believe Banking/Financial Services (46%) are using AI. Financial Services is slightly higher than Manufacturing, Retail and Healthcare companies. For Financial Services, awareness is higher with older people (age 41-60) than among younger folks.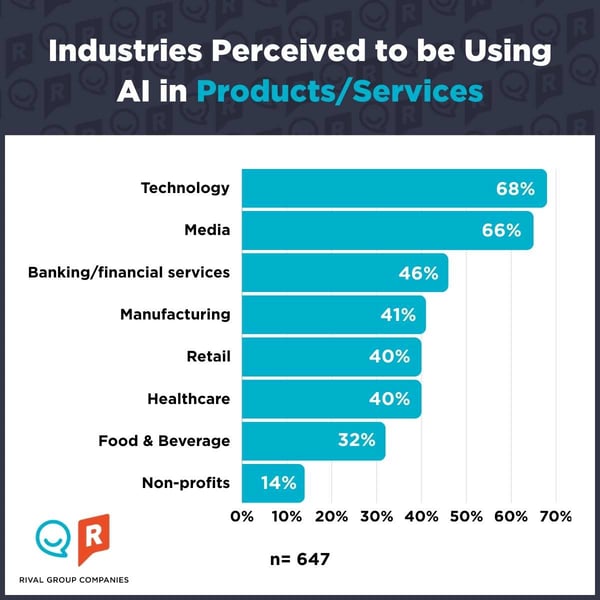 Views of AI in financial services are positive, but transparency is key when implementing AI in these products and services
While you might think people are more hesitant about AI when it comes to brands with access to their sensitive info, over half (55%) of consumers feel positive about financial companies using AI and only a handful (12%) have a negative outlook. A majority (84%) trust AI to quickly answer questions and/or perform calculations correctly.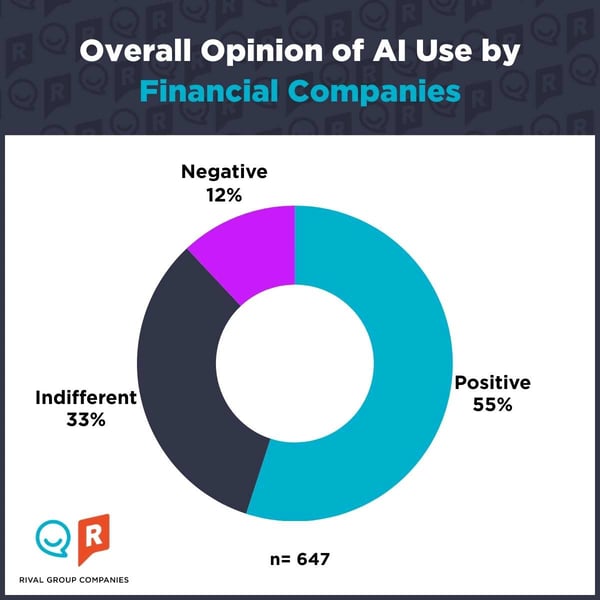 "I am feeling fairly optimistic about financial companies using AI in their products or services. I think it is a great way to leave grueling, repetitive customer service jobs to technology and open up more for jobs that need a human touch."
—Male, Gen Z
More than half (56%) of consumers care and want to know if and how their financial institution is using AI in their products and services (adults aged 21-60 care the most, 60%) but only 46% of consumers have even considered that financial companies are currently using it in financial services.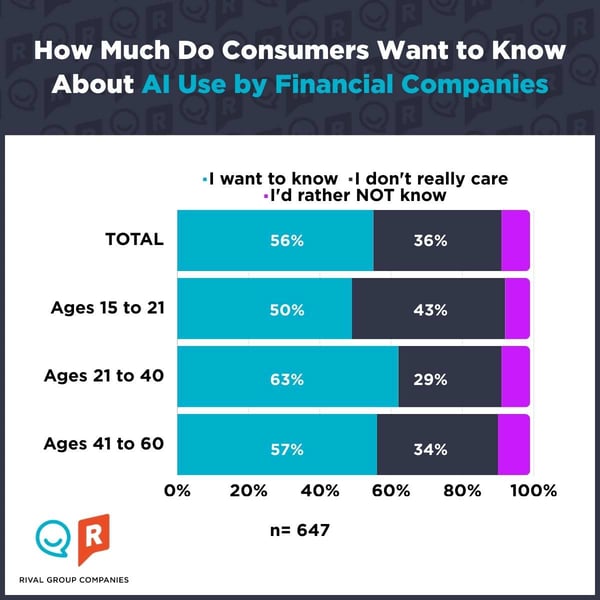 And adoption of AI in the industry is happening. According to a survey by the World Economic Forum (PDF), a majority (85%) of all financial services companies are currently using some form of AI, with Non-Traditional Financial Service providers (FinTechs) being slightly ahead of Traditional Banks (Incumbents) in AI adoption.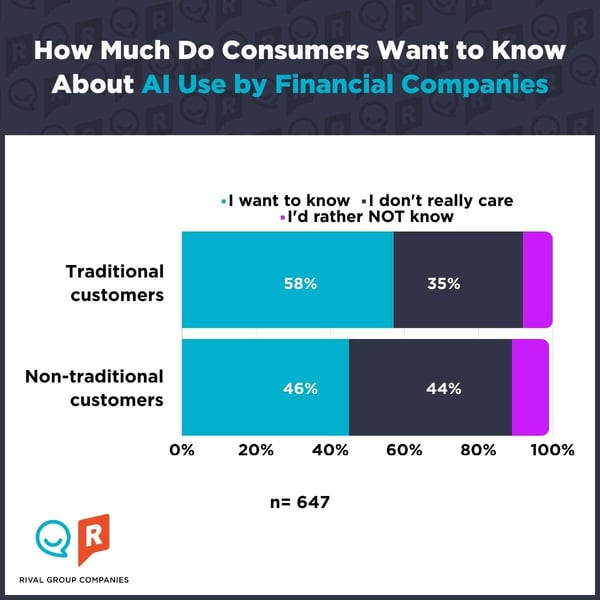 There seems to be a gap between what consumers want to know and what financial institutions are doing or telling them. Most consumers are cautiously optimistic about using AI in the banking sector. Taking steps to close the perception gap could be a benefit to consumers and shift perceptions about an industry that is typically viewed as more traditional and slower with innovation (54%).
Optimism with some hesitation: How one millennial feels about the use of AI in the financial services industry
Non-traditional online banks and payment apps are more suited for AI usage than traditional banks
Consumers feel that certain financial organization types are better suited for AI than others. For example, online banks (e.g., Synchrony, BMO, etc.) and payment apps (e.g., Venmo, CashApp, etc.) are deemed most appropriate, especially among younger audiences (ages 15-20). This is likely because these companies already stray away from traditional perceptions of banks and are more closely related to technology.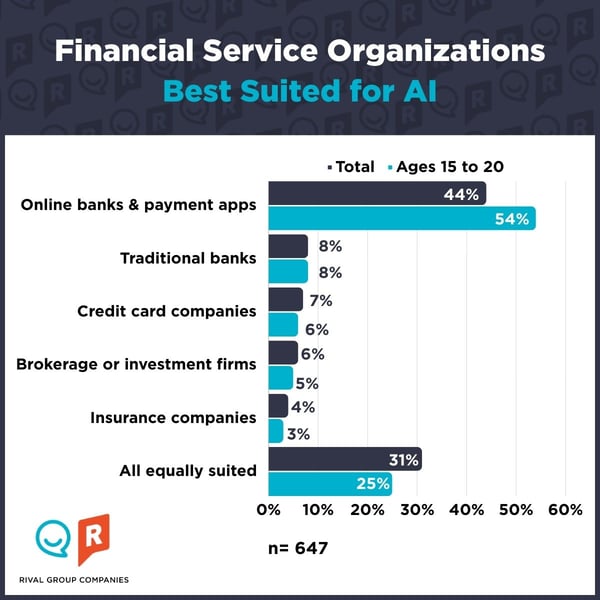 Consumers' optimism about the use of AI in the financial sector, when implemented with transparency and awareness, can increase positive perceptions of a brand as well as interest in learning more and trying new services/apps. While most are expecting non-traditional financial companies to spearhead AI in the sector, consumers are open to AI being used in all types of organizations, traditional or not, so long as there are no surprises.
In part two of this blog series, we will dig into how the finance industry is actively integrating AI into its services and how that impacts public perception. We explore the emotions that the use of AI evokes when applied in the financial world.
This research just scratches the surface of AI's impact on financial services
If you're looking for more strategic insights into the strategic implications of AI in your industry let's chat. We have experts in the tech and financial services industries who can help you navigate what's ahead.
Reach out to our team and see how we can work together. 
Ingrid Castillo
Research Associate, Reach3 Insights