What this association data tells me is that no killer brand exists. Not yet, at least. And this means there is a huge opportunity for brands to stake their claim in the AI space if they have a strategic reason to do so
On the tech team here at Reach3, we do monthly Pecha Kucha presentations (1 topic, 20 slides, 20 seconds per slide). I recently presented on generative AI tools and took my team through the history of AI and the different types that exist today. Halfway through, I revealed that I asked ChatGPT to write my Pecha Kucha for me, and I had been presenting that script verbatim —jaws dropped!
My colleague, Leigh, started digging into this last week, looking at what people think about these AI tools today (see our last blog article). Now, what does this mean for the brands/companies working on their own AI tools or incorporating the technology into their products and services?

We used our chat approach to talk with 600 consumers from across the US, aged 13-59. Through our conversational insights approach using the mobile messaging-based Rival Platform, we heard about how consumers feel about OpenAI/ChatGPT, future impacts, and top brands associated with these new tools.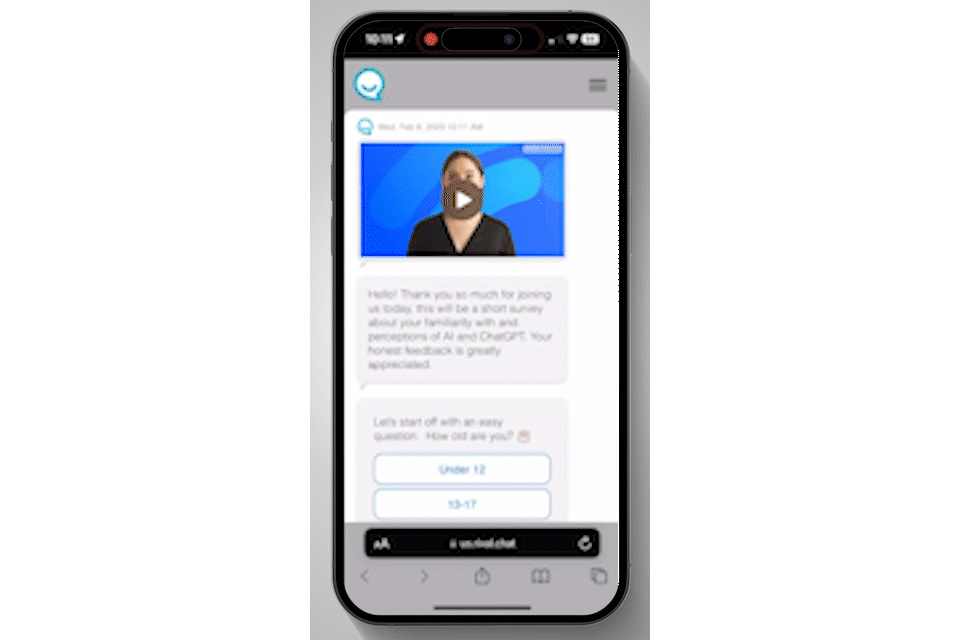 Brands/Companies Most Associated with AI/ChatGPT (and others) Today
It comes as no surprise that the brands most associated with AI are among the biggest names in tech and social media. Who will most successfully maintain this association? Who will emerge as the new kid on the AI block?

Our research shows that Google is the top brand associated with AI. However, can they maintain this edge with fierce competition from other tech/media giants? OpenAI and ChatGPT have been publicly available since November 2022, while Google has only shared a demo and CEO Sundar Pichai's announcement they'll have something similar soon. It's possible that other Google products like Assistant, Translate, and Lens have helped buoy Google's associations with AI. While different than ChatGPT, those products do use AI behind the scenes. Or it could simply be a situation where perception can be reality, and people connect Google with leading edge tech, regardless of what it is.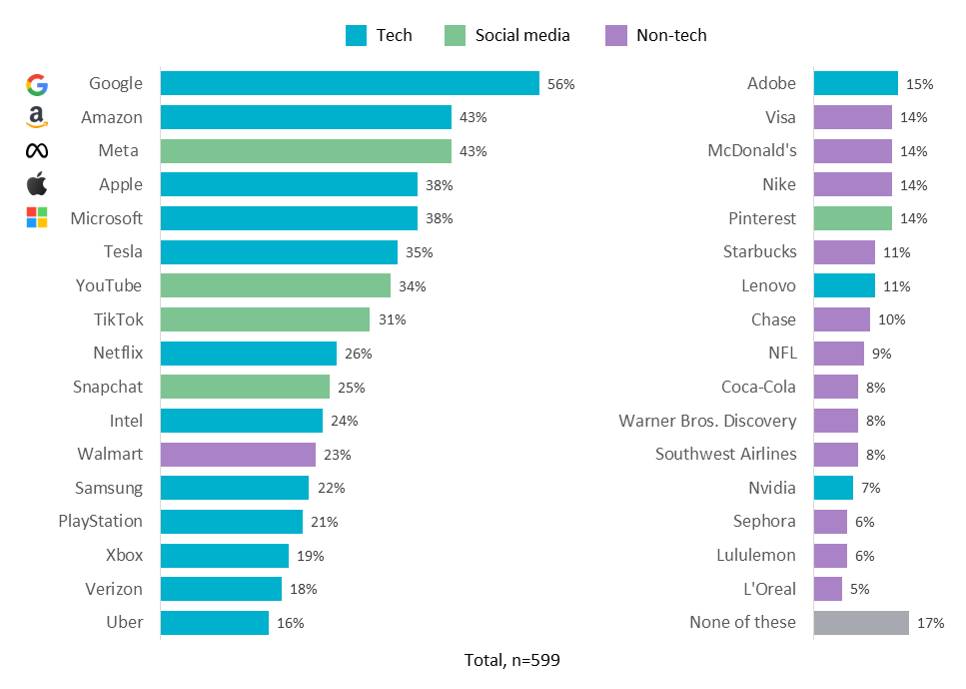 Many elite-tier tech brands are at the top of the list of brands people associate with AI: brands like Google, Amazon, Meta, and Apple. Microsoft is up there as well, and it will be interesting to watch how its association with AI will change with its massive $10 billion investment in OpenAI. But ultimately, what this association data tells me is that no killer brand exists. Not yet, at least. And this means there is a huge opportunity for brands to stake their claim in the AI space if they have a strategic reason to do so.

Related, in our prior blog post, we found that there are many potential usages for AI/ChatGPT-like tools, but no one application has emerged yet as the most relevant to consumers.

The brands mentioned above already have the advantage of being associated with technology in general, but what about non-tech brands? The first one on our list is Walmart, with 23% associating it with AI. We then must go down to #20 on our list to find the next non-tech company, where Visa, McDonald's, and Nike are all tied (14%). The reality is all brands can and will implement AI in some form. Many are already doing so in the research, development, and operations of their business, even though those things aren't nearly as public facing as chat tools, social media, and search engines. And it's almost certain that these brands will introduce consumer-facing AI implementations sooner rather than later.

You might be thinking to yourself, "This is so true. I've already heard execs here at my company asking how we integrate and take advantage of AI." You and everyone else I imagine! So how do you make sure that your implementation of AI is done in a smart way that benefits your business but also is done in a way your consumers will appreciate and get value from? Simple — you talk about it with them.
Opportunity exists to educate, develop, and market an easy-to-use tool from a trusted brand
If you are one of these companies or brands, we can help you talk to your consumers. One way to do this is through a co-creation mobile community with key consumer cohorts, where you can learn about how consumers are adopting and using AI tools, while also collaborating with them on new product and feature enhancements (check out an example case study). These learnings can then be used to uncover what consumers need to understand about AI and circumvent potential barriers, clearing the way for your brand to enter the market with a simple usage targeted to a larger population. Now is the time to be thinking about how your brand can leverage AI and have those conversations with consumers as AI becomes better and more prevalent in our everyday lives.
We're only able to capture these insights because of our immersive, mobile chat-based research approaches that engage people in a fashion that seems natural & organic to the topic.
At Reach3 Insights/Rival Technologies, we've been using chat and conversational approaches to talk with people for 4½ years! We get this.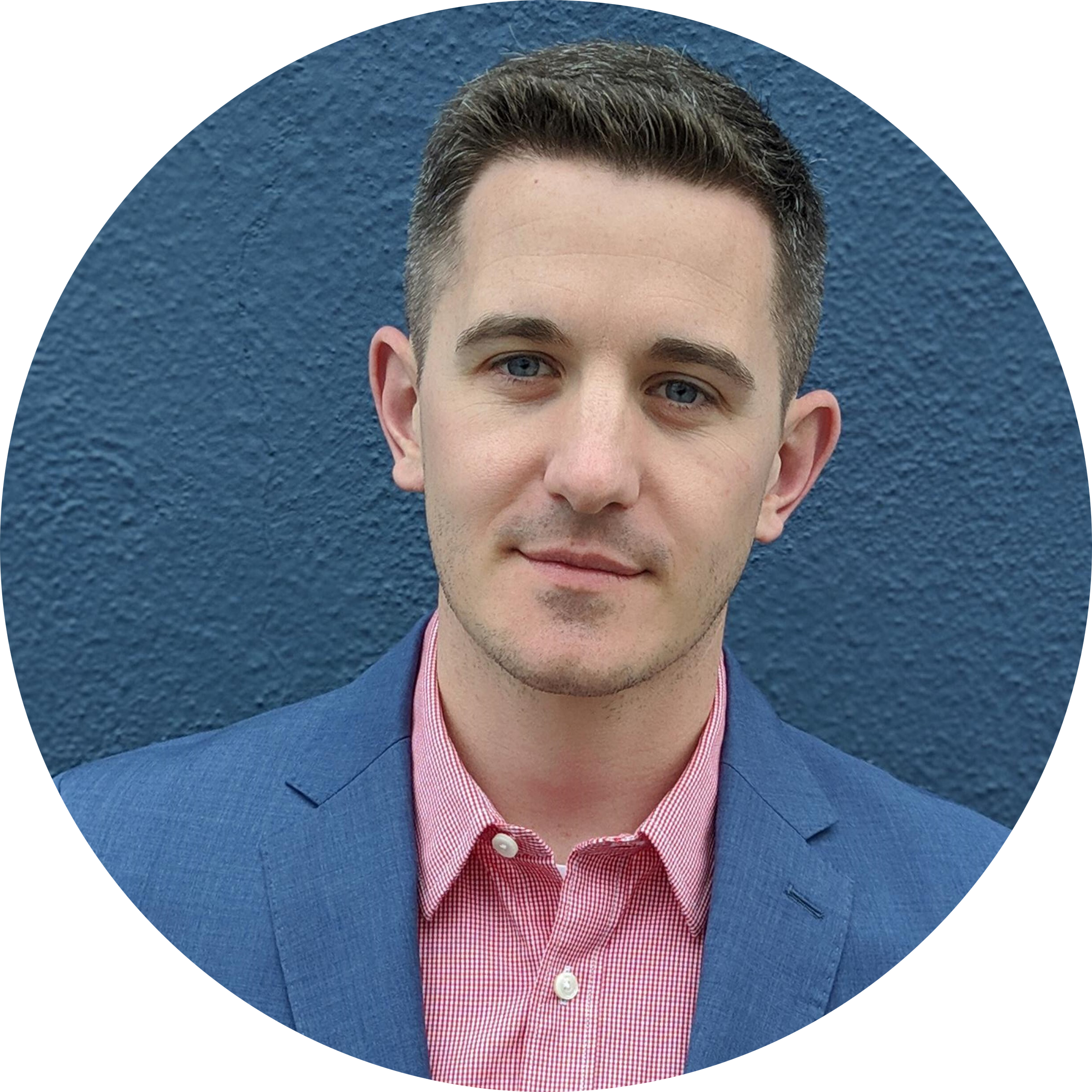 Jared Streeto
Research Director, Reach3 Insights