The message from this research is clear – the most influential segment of the American marketplace is on board with brand experiences. And a large number of others are ready to follow suit.
On a range of important dimensions, consumers are far more excited by brand experiences than traditional advertising. They consider brand experiences to be more likeable, unique and exciting. This is not a niche audience we are talking about: 80% of Americans have engaged (18%) or are interested in engaging (62%) with brand experiences, and this interest is high across all age cohorts.
These are just some of the key findings from recent research by Reach3 Insights and The Keller Advisory Group. The conclusion for marketers is clear and compelling: if brand experiences are not part of your marketing mix, they should be!
But wait . . . there's more.
I have now dug deeper into the data and discovered that the group that is the most engaged with brand experiences is the segment that many marketers most covet – consumer influentials (or what Reach3 and I have dubbed InfluenXials). These are not the paid influencers with huge followings on YouTube or Instagram, but everyday influencers - the ones who organically share recommendations with friends and family. They do so sometimes online and other times offline, but either way their recommendations are highly valued.
When it comes to brand experiences, these InfluenXials are:
Twice as likely as others to have participated already in brand experiences (29% vs. 15% for the rest of the public). And those that haven't, want to, with 94% of InfluenXials either having participated or wanting to participate in brand experiences.
Nearly half (43%) "love" the idea of brand experiences. That's 3 times the rest of the public. A whopping 90% love or like the idea.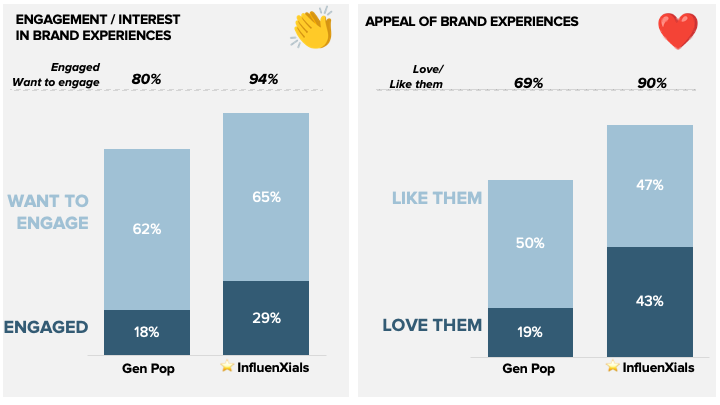 In head-to-head comparisons between brand experiences versus traditional ads, InfluenXials prefer experiences every time, often by margins of 7:1 or even greater. They associate brand experiences with excitement, uniqueness, memorability, likelihood to share and emotional connection.
And whereas the rest of the public was split evenly on which is more relevant (experiences vs. ads), InfluenXials find brand experiences to be more relevant by a margin of 49% to 19%.
Brand experiences win out as well in motivating brand trial. 50% of InfluenXials say brand experiences are more motivating vs traditional advertising when it comes to promoting trial or purchase of a brand.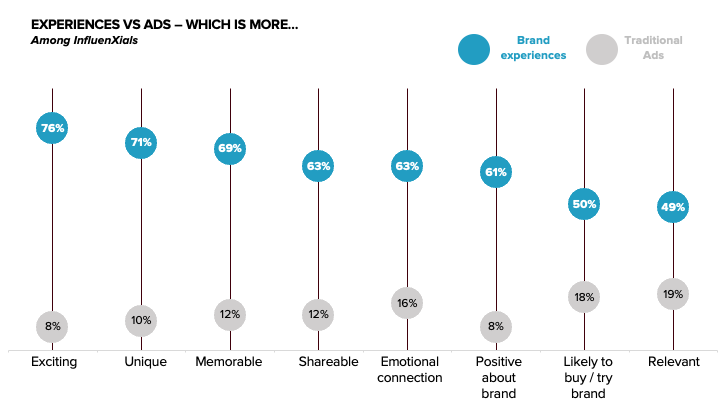 The importance of consumer influencers embracing brand experiences is severalfold:
They are early adopters and trend setters. The fact that they are three times as likely to say they love experiences and twice as likely to have already participated suggests that other consumers will be following their lead and the participation in brand experiences will grow. A groundswell is building that should be nurtured.
They share and talk about what they love, and they love brand experiences. Asked about various attributes of brand experiences, the biggest gap between influencers and others is their likelihood to share or talk about them – they are 22 pts higher on this attribute. This is where the power of word-of-mouth kicks in.
What types of experiences do InfluenXials value most highly?
They can be in person experiences, virtual experiences, or experiences that are tied to advertising thereby making the ads more valuable. Here are a few examples:
P

hygital (physical + digital) experiences: In the lead-up to this year's Super Bowl, Pepsi gave away 10 million Pepsi Zeros to people who texted 'FREE PEPSI' during the playoffs. In our testing before it launched, this performed very well: Consumers told us they would want to participate in this experience, share about it, and that it would have a positive impact on their impression of Pepsi.

In-person experiences should not be neglected. Also during this year's Super Bowl, Lowe's hosted a Home Team Experience, an NFL-themed park where visitors could play interactive games, get autographs from star players, and visit the NFL shop. If available to them, consumers told us they would be likely to attend this experience and share about it.
What about AR experiences? Back in 2020, Visa sponsored the HeroMirror – an experience that allowed fans to have an AR photo session and create unique moments with the NFL's biggest stars. In some recent testing, we learned this experience still resonates, and in particular is highly shareable.
What is exciting is that there is now a way for marketers to pretest their ideas for experiential brand activations before they go to market. I have been working closely with Reach3 to develop the Brand Experience Predictor (BXP), an innovative solution to predict the performance of experiential brand activations. By pre-testing experiential activations, brands can identify and invest in the ideas that are most likely to engage consumers, create buzz, and support the brand.
Every marketer I know of wants to create excitement, build emotional connections between their brand and consumers, become part of the national conversation and yes, drive brand trial. The message from this research is clear – the most influential segment of the American marketplace is on board with brand experiences. And a large number of others are ready to follow suit. Let's give them what they want in order to reap the benefit of their excitement and advocacy.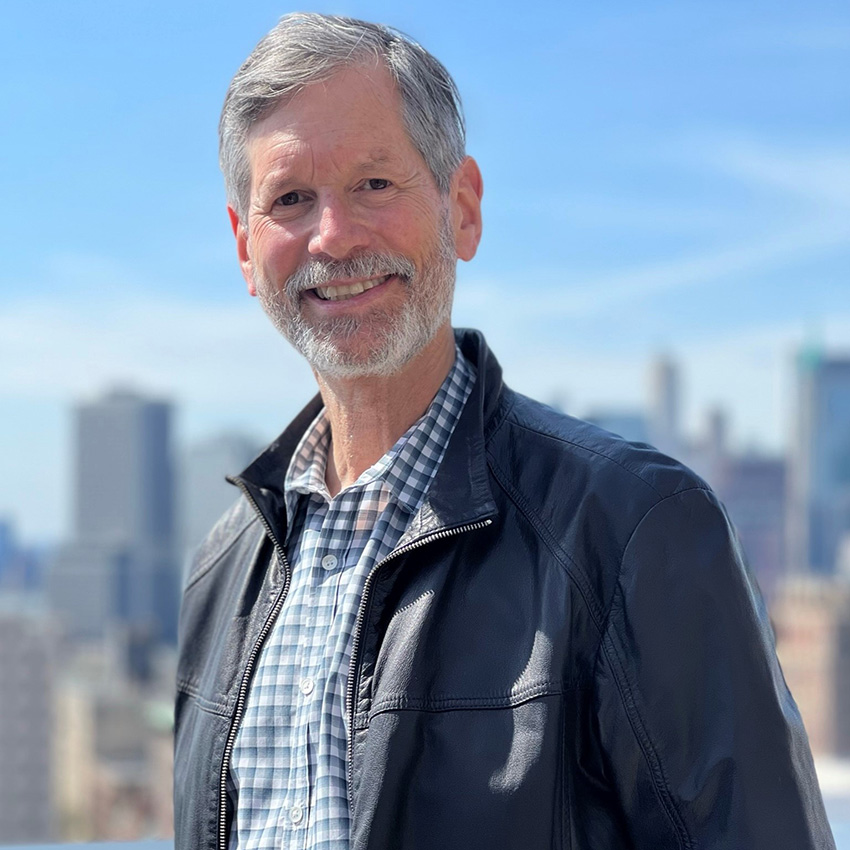 Ed Keller
The Keller Advisory Group