Consumption of Netflix, Amazon Prime Video and other streaming services increase 25% amid COVID-19
April 22, 2020 – Reach3 Insights today released updated research showing the impact of the COVID-19 pandemic to the ongoing streaming wars.
The study, conducted between April 9 to 10, 2020, found that people on average are now watching 15.6 hours of streaming content per month—a 25% increase from a similar study completed in October 2019. In addition, 25% of consumers now have four streaming services or more, 2.5 times higher than numbers from October's research.
"With stay-at-home orders in place across the US, American viewers are turning to streaming services for escapism and to de-stress and pass the time," said Leigh Admirand, SVP and Founding Partner at Reach3. "Our research shows that comedy, crime, and action/adventure movies are the most popular genres at this moment."
"Having control is also a big factor. Viewers told us that being able to control what you watch and when you watch feels good at a time of so much uncertainty."
The study is part of a longitudinal study from Reach3 tracking shifting audience behaviors in the rapidly expanding streaming wars. This new research found that established services are maintaining market share: 80% of streamers in the US have Netflix, 61% have Amazon Prime Video and 50% have Hulu.
Increasing demand is helping newcomers in streaming, with 42% of streamers saying they now have Disney+ (a substantial 35% increase from October 2019), and 17% now having a subscription with Apple TV+. However, data shows relatively low intent to subscribe for upcomers such as Quibi, HBO Max, and NBCU's Peacock.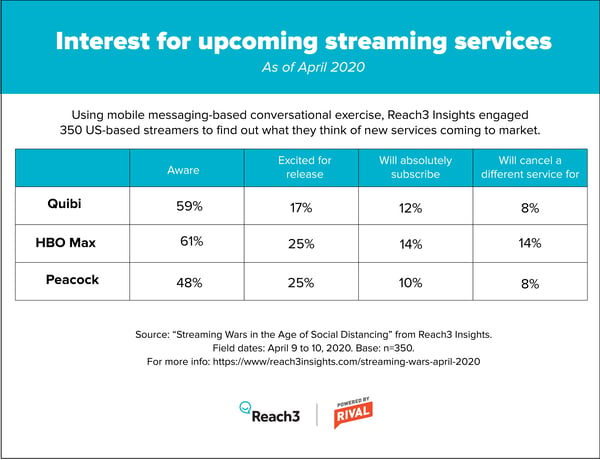 The increasing number of streaming services is starting to result in consumer fatigue, the study suggests. Ten percent of streaming subscribers think there are too many services in the market today; in October 2019, only five percent agreed with the same statement.
Overall, 58% of streamers report watching more streaming programming more often than before the lockdown.
"All the research we've done across media, tech, retail and CPG in the past month suggests that the pandemic is resulting in significant and long-lasting shifts in consumer behavior," Matt Kleinschmit, Reach3 CEO & Founder, said. "To better serve consumers at this time, companies can't rely on data from a few weeks ago, let alone a few months ago. This is the time to engage and get closer to consumers to understand the underlying emotions and factors driving their decisions."
Reach3's research used software from sister company Rival Technologies and leveraged immersive research approaches to capture in-the-moment insights via mobile messaging apps rather than email. Reach3 is making the results from this study available to senior marketers and C-level executives in technology and media and entertainment for free: https://www.reach3insights.com/streaming-wars-april-2020
About Reach3 Insights
Reach3 Insights is a full-service research consultancy that develops scalable, conversational insight solutions for today's modern, agile enterprise. Led by CEO Matt Kleinschmit, the company uses immersive, in-the-moment research designs and dynamic digital storytelling to deliver deep experiential insights that inspire action. Reach3 is part of Reid Campbell Group and a sister company to Rival Technologies, a tech company developing chat, voice and video solutions that integrate into messaging platforms and technologies that people actively use on a daily basis. For more information, visit reach3insights.com.
Media Enquiries:
Interview opportunities with Matt Kleinschmit, Founder and CEO of Reach3 Insights, and Leigh Admirand, SVP & Founding Partner, are available upon request.
Official logos are available here.
Kelvin Claveria
Director of Marketing
media@rivaltech.com
1-604-351-1052