Of those who started using a fitness app in the last year, 75% plan to continue doing so post-pandemic.
COVID-19 has caused 2021 to be the year of change. Changes to work, home life, and (although we try not to think about it) our waistlines. Depending on who you ask, you'll get a very different answer. For some, the pandemic has been the perfect excuse to let it all hang out, whereas for others the extra time was a golden opportunity to take their health into their own hands. Let's take a look at some of the overarching trends of how people managed their weight.
Successes, challenges, and motivators… oh my!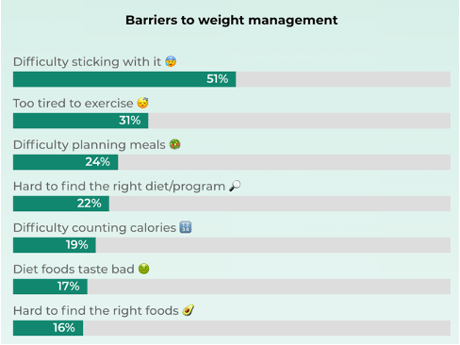 Managing your weight through changes to your diet, exercise and lifestyle isn't easy. In fact, 80% of the people we talked to considered weight management to be difficult.

When asked about the main challenges preventing them from achieving their goals, the top three blockers were difficulty sticking with it (51%), too tired to exercise (31%), and difficulty planning meals (24%). But that isn't stopping people from trying; more than half (57%) put in an effort to manage their weight last year, while 51% currently have a weight management goal in place.
To get a better idea about what motivates people in spite of these very real challenges, it comes down to the desire to improve their health and well-being. Key motivators include wanting to improve health and feel better (50%), looking a certain way (32%), fitting into certain clothes (25%) or receiving a medical recommendation (13%). No matter how you slice it, motivators play an important role in keeping people on track with their weight management goals!
How social media is helping
With gyms and other community-based activities staying closed most of the year due to physical distancing measures, people have been turning to technology to fill the gaps. So far, it seems like social media takes the (health-conscious) cake. 59% of weight managers have used social media to help them achieve or maintain their weight-related goals, with the most popular platform being YouTube (28%).

When we dug a little deeper into what these health-conscious folks were looking for, the top five reasons were: instructional videos (45%), new content (39%), recipes (39%), free content (39%), and motivational posts (35%).
Where fitness apps play a role
Another popular tool for staying on top of exercise and nutrition management is fitness apps, with 62% of people using them to support their weight management. Among these health-conscious people, more than half (56%) started using an app during the pandemic. Of those who started using a fitness app in the last year, 75% plan to continue doing so post-pandemic. Regarding what types of apps people used, it's split virtually evenly (between 22-25%) across Fitness Trackers, Exercise Instruction, Recipes and Nutrition Trackers.

Although not explicitly stated, it seems that people gravitate towards free content for weight management, with 71% using a free app or a non-paid account. In contrast, only 13% made a one-time payment and 16% use a subscription-based service.
What's this all about?
Connected Health is an ongoing Reach3 initiative that leverages agile conversational methods to provide you with pulse insights into how consumers are connecting with their health in different ways now and in the future. From Digital Health to Sleep Trends, this series will cover a variety of topics!
If you want to read all reports in the series for free, click the button below!
If you have questions about these themes or other Health, Wellness & Beauty topics, feel free to submit them through the same link we'll do our best to include them in our next chat.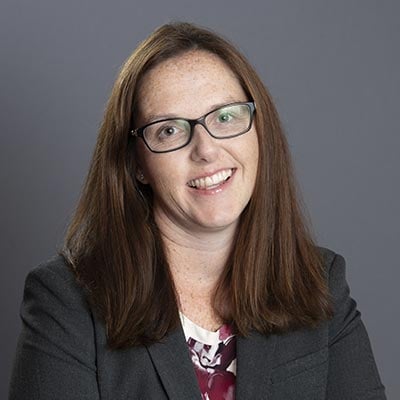 Dara St. Louis
SVP & Founding Partner, Reach3 Insights