We need to re-evaluate and innovate everything we do.
Let me paint you a picture 🎨…
It's Wednesday evening. Consumer A — let's call him Greg — got home from work a couple hours ago, had dinner and is now deciding whether or not to go through his personal email before getting ready for bed. On the one hand, Greg thinks about how much time he has already spent on email at work that day; on the other, he thinks about how much he hates having a cluttered inbox, and with the amount of email he receives from various brands, blogs and websites, Greg ultimately decides to "get it over with" — less to deal with tomorrow, he figures.
Greg sits down on his couch, turns on Netflix, then turns half his attention to his smartphone…because, if I forgot to mention this, it's 2018 in this scenario.
173 new emails.
"Not bad!", he thinks.
Greg proceeds to skim through it all, allocating his attention to Netflix and some text messages as well. But in about 5 minutes, he's managed to delete 170 emails and flag 1 coupon he might want to utilize, leaving him with 2 invitations to participate in traditional marketing research surveys: 1 from his primary grocery store and another from a consumer research panel he's a member of.
Greg clicks into the survey from his research panel and it starts out OK, but about 5 minutes in he finds the questions to be repetitive. What's more, he's struggling to answer the questions because the grids and lists do not fit on his smartphone's screen without scrolling. Annoyed, he abandons the survey thinking the points he'd receive for completing aren't worth this much frustration.
Next up, and his last email for night…oh, wait — 2 more emails just came in. Delete. Delete. Ok, now, his last email for the night: the survey invite from his favorite grocery store. Let's see how this goes…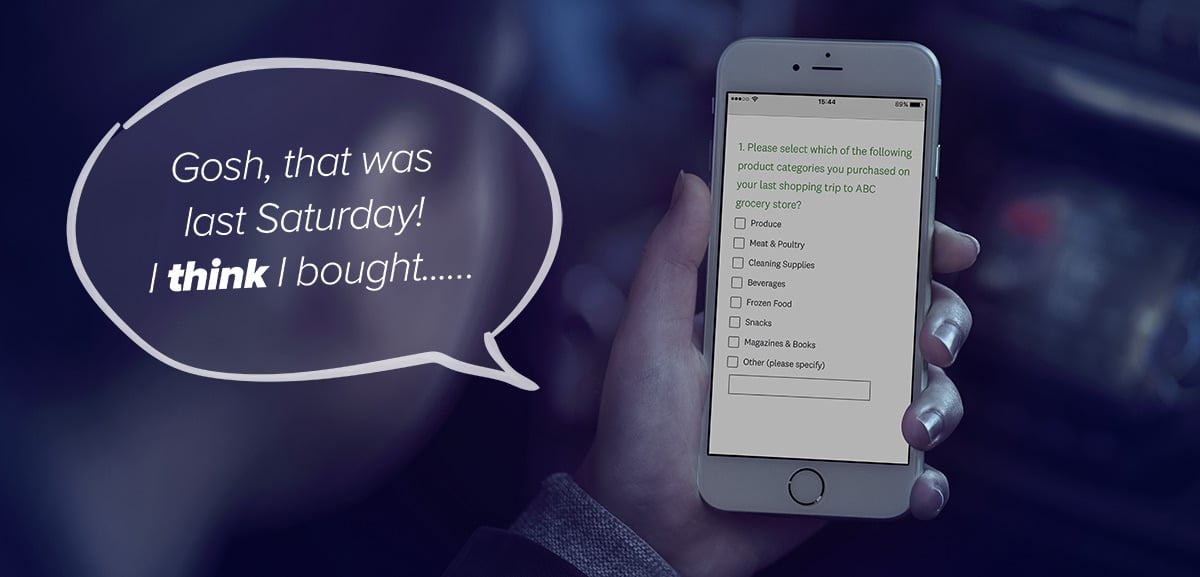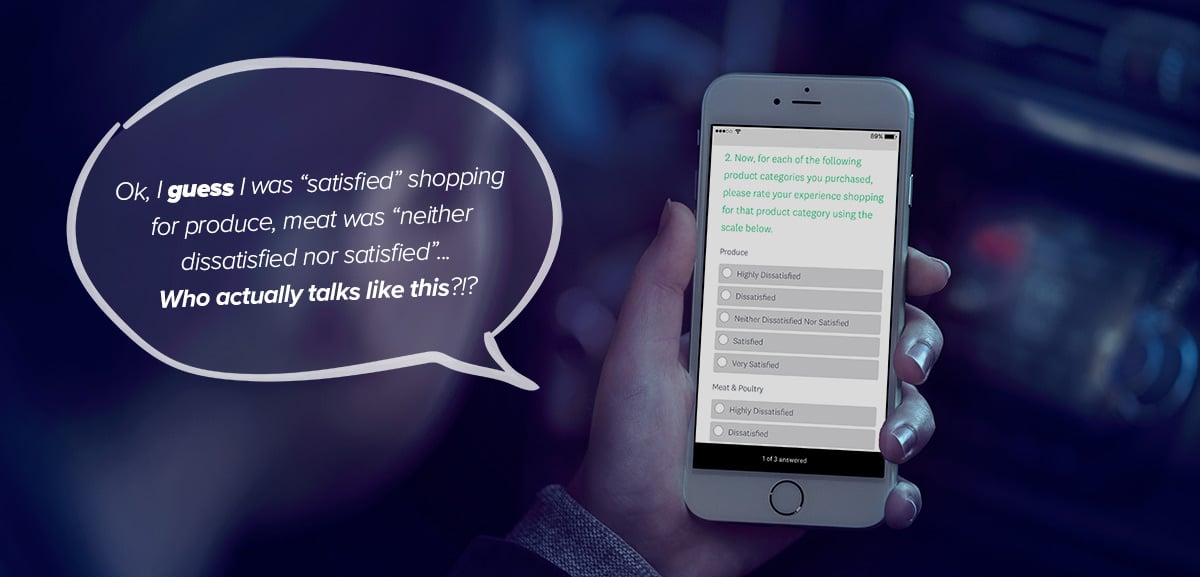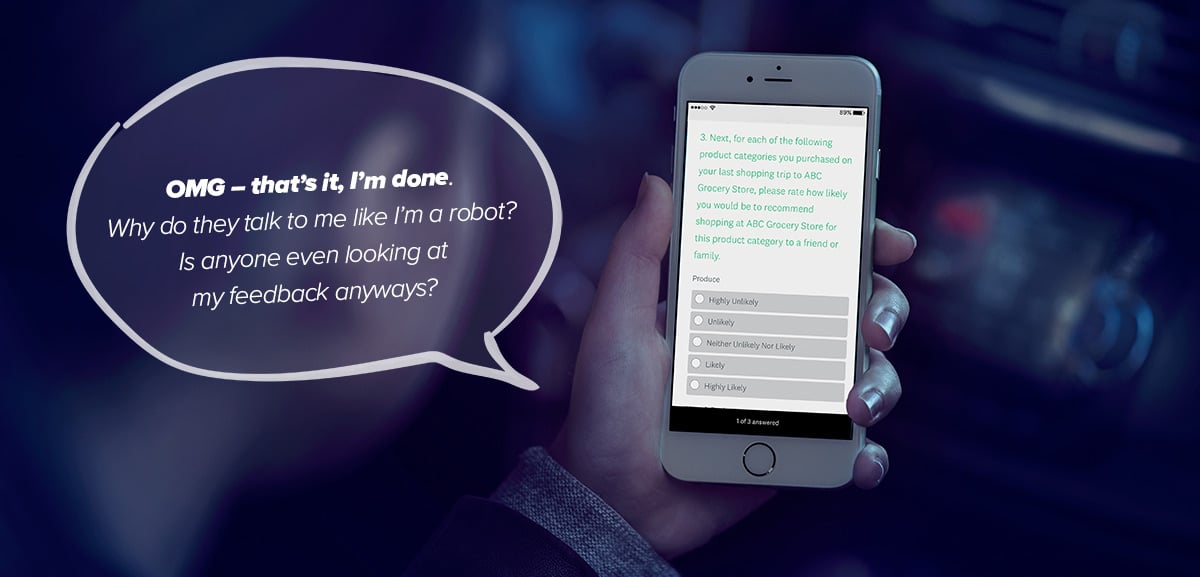 Frustrated, Greg closes out of the survey and his email for the evening (before another dreaded one comes in). He spends the next hour shifting his attention between Instagram, Facebook, Netflix and some text messages. Then, after brushing his teeth and getting ready for bed, he checks his Instagram and Facebook accounts one more time, then tries to fall asleep.
End scene. 🎬
Now, if you're involved in marketing research or consumer insights in any professional capacity, that scenario was likely a bit difficult to read. And that's a good thing because as insights professionals, we can no longer turn a blind eye to the realities we create for consumers who are trying to give feedback. Instead, we need to re-evaluate and innovate everything we do — from the means in which we contact consumers (goodbye, email), to the ways we communicate with/solicit feedback from them (hello conversational), all the way through to the methods and channels with which we disseminate our findings and insights throughout our client's organizations.
As I mentioned in a previous article, this much-needed re-evaluation and innovation is exactly why I joined Reach3 Insights. The time to rethink research is now, and that's exactly what we're doing at Reach3. We're challenging ourselves, our partners and our clients to catch up with the 3rd wave of market research, which sets research studies up for success via more natural, in-the-moment and engaging mobile exercises, which in turn reduces overthinking, guesswork and system 2 responses from consumers trying to give feedback.
Want to learn how? Give me a call, send me an email or preferably, a text message (it's almost 2019 after all), and I'd be happy to show you how our solutions are changing consumer research for the better and creating more successful business outcomes for our clients.
Or, stay tuned for my next blog post, which will paint you a picture of Consumer B – Rachel – who has a much more positive feedback experience that leads to better data, and ultimately, more authentic, actionable insights for the brand trying to learn from her.
Looking forward to our conversation! 😎
​​​​​​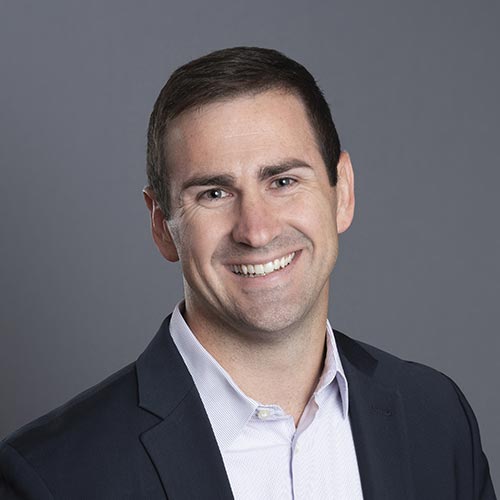 Jon Dore
Vice President & Founding Partner, Reach3 Insights