The real issue many companies face when it comes to insight-gathering has to do with the status quo.
To stay ahead in today's competitive landscape, companies need to have accurate insights and data about their customers. That's a fact. Insights-driven companies are outpacing their competition, according to Forrester. It has never been more critical to have an accurate read on the attitudes, preferences, emotions and experiences of your customers.
Getting accurate data and insights is a huge industry. According to the Interactive Advertising Bureau, companies spent $19.2 billion on third-party data and solutions in 2018 alone. Despite this huge spending, most companies aren't meeting customer expectations. Forrester's Customer Experience Index, an annual report on how well companies are meeting expectations, shows that brands aren't keeping up with consumers.
The challenges of engaging with modern consumers
If customer centricity has never been more important, then why are companies not meeting customer expectations?
Lack of technology is not the problem. The marketing and market research technology landscape is vast and continues to grow. There is a software solution for every business problem imaginable.
The real issue many companies face when it comes to insight-gathering has to do with the status quo. Companies continue to rely on traditional channels to generate insights, but consumer audiences are becoming increasingly difficult to reach in these channels.
In particular, we're grappling with over-reliance on email surveys—a big issue given that email has become a very saturated channel. In any given day, there are 244 billion emails sent. However, only 23% of emails from businesses are read. Email overload is a problem for 74% of consumers, one 2017 study found.
This is a big problem for a research industry that is almost exclusively reliant on email to engage consumers in research. It's time to rethink. More than ever, we need to examine if the way we engage with consumers aligns with how people actually talk to each other. We need to reach people where they are rather than asking them to go to channels that are convenient for us.
The solution is to adopt more conversational approaches—to turn the traditional research experience on its head and aim for an experience that more closely mirrors human conversations. A conversational approach provides tangible business improvements and benefits both consumers and companies.
Providing a more engaging experience
The first step in adopting a conversational approach is to revisit how we're reaching people. Email fatigue is a real issue for many people. Many younger consumers are not really on emails—they maintain an email account just so they can use apps and social networks.
On the other hand, messaging platforms have become more ubiquitous. Studies show that the most popular messaging apps have surpassed the top social networks. Messaging has become the new killer app—something that consumers use on a day-to-day basis.
These platforms not only provide a new way of reaching consumers—in fact, these apps open completely new ways of engagement. While surveys sent via emails tend to be too clinical and formal, surveys that are native to Facebook Messenger and SMS feel more casual and fun. We're not talking about traditional surveys pasted in a smaller screen size. These surveys—we call them "chat surveys," of simply "chats"—are a complete reimagining of the quantitative & qualitative research experience.
Research on research on chat surveys shows that this new way of engaging with consumers can drastically improve the respondent experience. A study conducted by Jennifer Reid, Senior Methodologist at Rival Technologies, shows that 63% of respondents thought chats are "much more" enjoyable than traditional surveys. People also thought chats are more fun.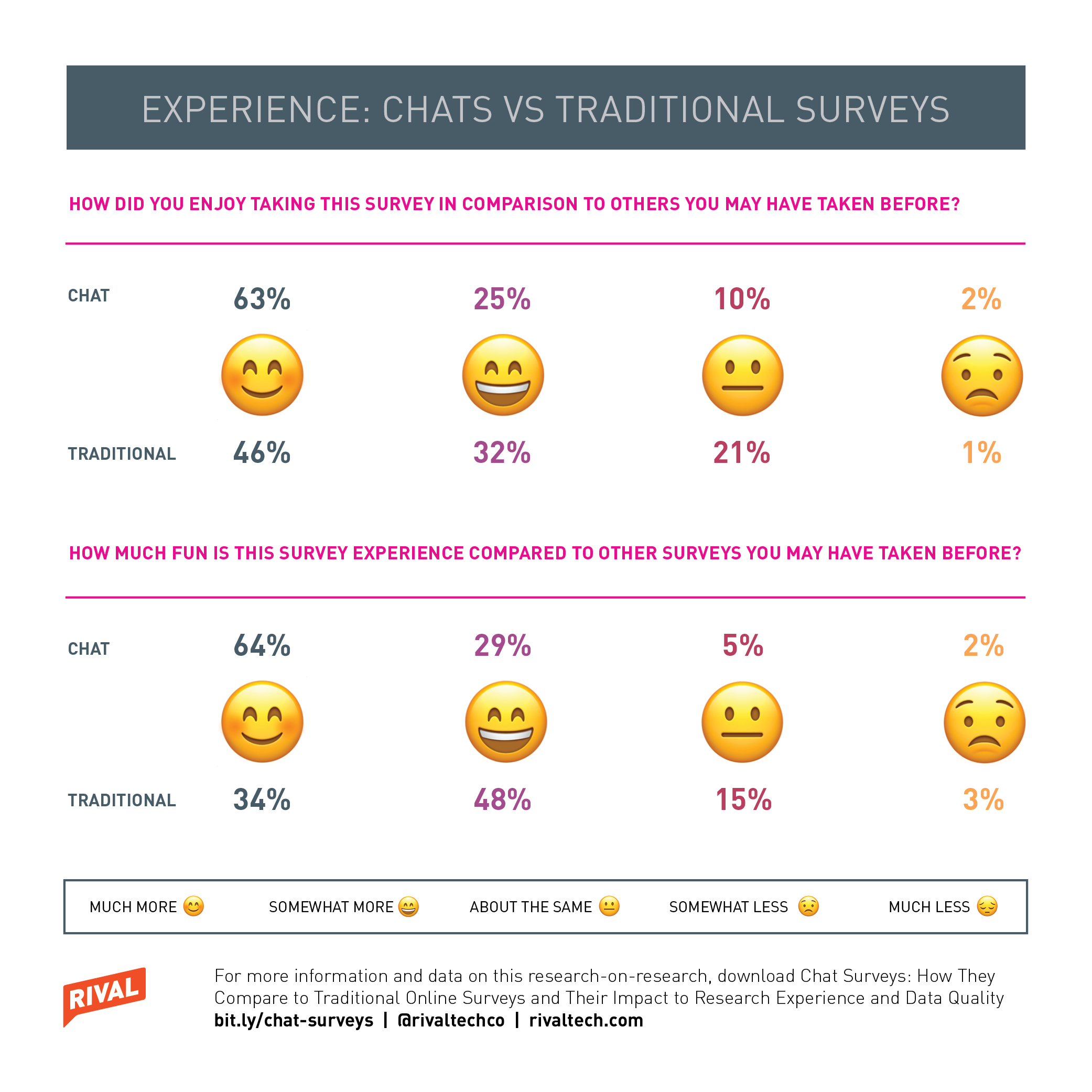 When asked what they liked about chats, respondents point out that the experience felt a lot more conversational, closely resembling an interaction with a friend rather than an interrogation with a brand.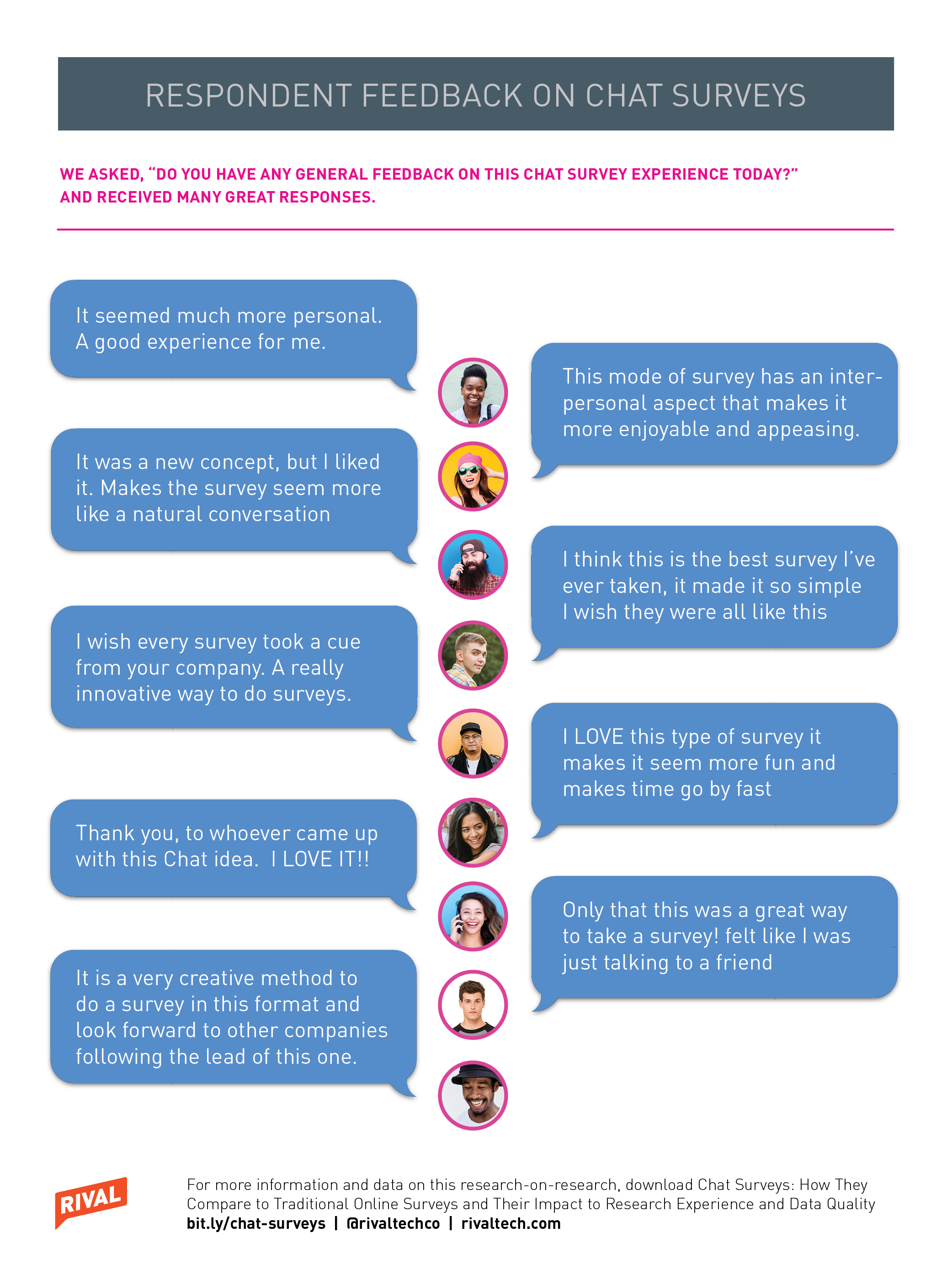 Getting people out of "research mode"
One common concern about traditional surveys is they they don't provide authentic insights. Since people are in "research mode," the theory goes, they're not really providing their unfiltered thoughts and feelings. There's a legitimate concern that people are using System 2 type of decision making when answering surveys rather than the automatic and unconscious System 1.
Conversational approaches help address this concern. Chats feel like conversations and can be pushed in the moment, while people are still doing the activities we wish to examine. This lack of reliance on recall as well as the conversational experience help to get people out of research mode.
At Reach3 Insights, we're planning on doing more research on research on this topic, but one I'd say for now is that our work with a broad range of CPG, media and tech companies so far shows great promise in getting very candid feedback from respondents, unfiltered and in-the-moment.
Capturing deeper, richer insights
While projectionable (quantitative) results are consistent between chat and traditional surveys, we find that chat surveys elicit more robust and detailed explanatory (qualitative) feedback. This is likely a result of the significantly better experience facilitated by chats, as well as the chat's flexibility to receive several different forms of unstructured feedback. With chats, respondents can choose to answer open-ended questions with text, video or audio. In contrast, most traditional surveys only allow for text responses.
In one study, we saw a 700% increase in average length of open-end responses in a chat survey compared to a traditional survey. This was facilitated in large part by the chat's ability to accept multi-media video and voice uploads, which are more natural mechanisms for respondents to explain their thoughts and feelings.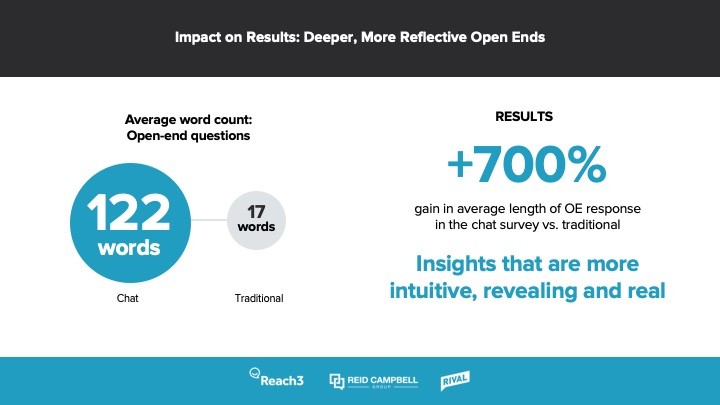 The net result? Insights that are more intuitive, revealing and real, which also help contextualize and humanize quantitative findings.
At first glance these results may seem unbelievable, but when you consider chats' ability to get people out of research mode and provide their stream-of-consciousness thoughts/feelings without rationalization nor over-reliance on recall, the drastic improvement makes a lot of sense and underscores how much consumers are willing to share when you break down the walls of traditional research and treat them like the human beings they are.
Conclusion
There has never been a bigger appetite to capture "human data"—real-time and authentic insights on consumer attitudes, emotions and preferences. The research industry has the expertise to provide these insights and deliver real value to companies. But in order for us to do so, we must put traditional approaches under the microscope and embrace new ways.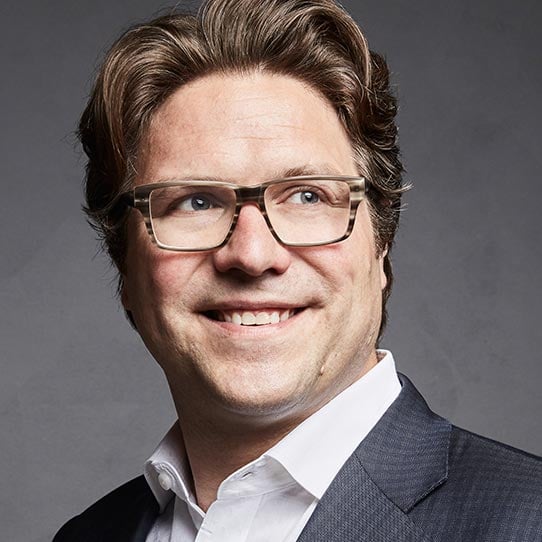 Matt Kleinschmit
CEO and Founder, Reach3 Insights