Some Gen Zs might see your efforts as desperate.
Generation Z is now officially the next consumer powerhouse. According to Bloomberg, the post-millennial generation is set to surpass other cohorts in 2019. Accounting for 32% of the global population, Gen Z's global buying power is pegged at $143 billion—a number that will only go up in the next few decades.
In addition to their increasing purchasing power, Gen Zs have the potential to influence both their peers and older generations. Ninety-eight percent of consumers in this group own a smartphone, according to a 2018 study. As the first digital natives, Gen Zs can help create online buzz for the restaurants they love.
That said, the influence of Gen Z consumers isn't exclusively online—many of them also shape their family decisions offline. In one study, 61% of parents with kids between the ages of 12 to 17 said their children request grocery items by brand name. Having an accurate and up-to-date understanding of the preferences of Gen Z consumers can provide the insights you need to build buzz among Gen Zs as well as the older generations that they actively influence.
It's early days, but some restaurants are already going after Gen Zs. Here are some examples and the notable lessons from each of them.
Do it for the 'Gram
For many Gen Zs, if it's not on Instagram, it didn't really happen. Realizing this reality, many restaurants are re-examining all aspects of the customer experience—from their menus to the design of their locations, to the tone they use online.
Many restaurants are re-examining all aspects of the customer experience.
As recently noted by AdWeek, established casual restaurants have recently released Instagram-worthy menu items in the hopes of attracting younger consumers. Olive Garden, for instance, rolled out an edible bowl made of pizza crust with a cheese, meat and sauce filling. TGI Fridays, recognizing Gen Z's appetite for healthier food alternatives and to talk about it online, became the first chain in the U.S. to put Beyond Meat burger in its menu.
Others are looking beyond their menu to win Instagram feeds. IHOP, for example, have employed stunts to generate online buzz, including its much-talked-about iHOB campaign. Another Gen Z favorite, Taco Bell, teamed up with Forever 21 to roll out a fun collection of bodysuits.
Of course, creating campaigns that target the Instagram generation comes with risks. For one, you could look like you're trying too hard to be cool. Some Gen Zs might see your efforts as desperate. To get things right, it's crucial to get a deeper understanding of your Gen Z customers' attitudes and preferences and involve them as you roll out these campaigns.
Leverage technology
Given how much time Gen Zs spend on their phones, investing in innovation is a no-brainer for many restaurants. IHOP is worth mentioning again here. Recently the company improved its to-go mobile ordering, but it also enhanced its packaging to make sure that pancakes get to customers warm.
Pizza chain Domino's have also rolled out many buzzworthy innovations. Last year, the company announced an integration with Snapchat's AR technology, giving customers the opportunity to order food after interacting with a branded lens. Also in 2018, the company created 150,000 hotspots—locations that don't have a traditional address, such as parks, sports fields and beaches—to make it easier for people to order wherever they are. All of these innovations seem to be working for Domino's; according to QSR Magazine, more than 60% of the company's revenue comes from digital orders.
While it's important to invest in technology, knowing which technologies will actually attract Gen Zs is tricky. Restaurants need to engage Gen Z consumers in ongoing conversations to be in tune with what people want and expect from restaurant technologies.
Work with influencers
The concept of "celebrity" is changing among Gen Z. As a recent study from Reach3 Insights show, teens and tweens today consider online celebrities just as influential mainstream actors and musicians. Recognizing this trend, some restaurants are investing in influencer marketing to generate buzz about Gen Zs.
The concept of "celebrity" is changing among Gen Z.
One example comes from Abuelo's, a chain of Mexican restaurants with 36 locations in the U.S. As the company's CMO, Renae Scott, revealed in a recent interview with Mobile Marketer, the company sees a high ROI from working with social media influencers.
"A lot of the influencer marketing that we do is geared toward Instagram and Facebook users, more so because 'foodie' influencers are able to share their experiences through visuals rather than a short tweet," Scott said. "It can take a lot of time to monitor individual pages and research the best influencers to target. However, the rewards fully outweigh the challenges. We've worked with some amazing people who have not only posted about their experiences at Abuelo's, but continue to be brand advocates to their followers. If they have a great experience and love the food, they continue to share their recommendations and also become a loyal customer."
Rethinking your research approach for Gen Z
Using traditional research methods won't work if you want to really understand the attitudes, emotions and opinions of Gen Z consumers. Part of this is because, as I mentioned above, these younger people are truly the first digital natives. Many of the technologies Gen Zs use to talk to their friends and family—Facebook Messenger, SMS, social media, etc.—don't jive with traditional research.
Given that virtually all of them have a smartphone, going mobile-first is absolutely critical when talking to Gen Z. In fact, it's not enough to have a mobile-friendly survey: to deliver a better user experience, your approach should work seamlessly with the most common mobile apps, including SMS, social media and messaging. A 2018 study we did at Reach3 Insights found that sending chatbot-powered surveys via Instagram (rather than sending a survey via email) was an effective way of engaging Gen Z consumers for research. This makes sense since not only is Instagram very popular—it is also a channel that's inherently mobile-first.
Also, if you're not asking Gen Zs for videos and photos, you're missing out on rich insights. Younger people are used to communicating with different media types. For your team, selfie videos and photos can help provide qualitative data that's hard to capture with text alone. Rather than asking them to describe their typical meal, for instance, wouldn't it make more sense to ask them for a photo?
If you're not asking Gen Zs for videos and photos, you're missing out on rich insights.
Finally, to get to the hearts and minds of Gen Z consumers, try to get them out of "research mode." This can be as simple as re-examining your questions so they feel less like a survey and more like a conversation. You can get a more authentic, unfiltered view of Gen Z's perspectives if the experience doesn't feel clinical and "research-y."
I have no doubt that food and beverage companies will invest millions of dollars in doing Gen Z insights in the next decade. To get ahead of your competition, now's the time to rethink your approach and create a research experience that meets the expectations of this important and highly influential generation.
If you'd like to learn more about using immersive and conversational techniques to engage Gen Z consumers, contact us at Reach3 Insights for more information.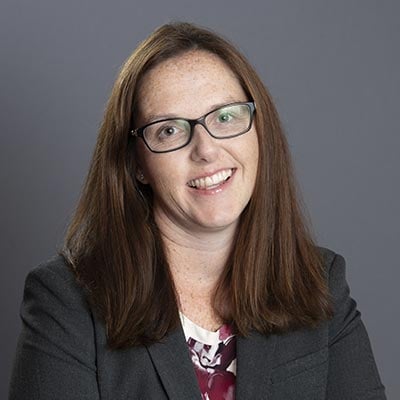 Dara St. Louis
SVP & Founding Partner, Reach3 Insights