Modern insight professionals need to understand, in real time, how emotions and context are influencing consumer behaviors in the moment—not after the fact.
Note: This is the first article in a series of blog posts from our CEO & Founder, Matt Kleinschmit, exploring the principles of conversational research design. To get notified of new content from this series and for more best practices for market research and insight professionals, subscribe to our blog.

It used to be that market researchers could comfortably live in the past: Design a smart survey, ask participants to complete it, wait a couple weeks for results to roll in, then offer some (hopefully) compelling insights.
But this traditional approach requires a bunch of things to happen concurrently. The questions have to solicit a robust response, since you only have one kick at the can. You have to make sure you're reaching the right people, at the right time, and in the right place. And most importantly: You have to hope people are actually remembering and recording their true behaviors in that survey.
There has been lots of academic research that shows a significant gap between claimed and actual behavior—especially behavior with a social bias. Take drinking: a study by Sharyn Rundle-Thiele at Griffith University in Australia showed 70 percent more males were observed drinking alcohol "at risky or high-risk levels" and 49 percent more females were observed drinking at those levels compared to their claimed behavior.
That shouldn't surprise anyone: as Rundle-Thiele points out, "alcohol, drugs, cigarettes, and fast-foods all represent examples of business sectors where the gap between claimed and actual behavior is expected to be large." And the same is true for more virtuous activities: a study of German consumers, by market researchers GfK, found that only 15% of people who said they bought organic foods on a monthly basis actually did.
Sometimes, when asked to recall what they did, consumers fudge the facts. But often they simply misremember what happened the night or week before. That is the inherent problem of recall bias—recollections are never complete, even when they're honest—and why research techniques are most effective when behavior is fresh.
Sometimes, when asked to recall what they did, consumers fudge the facts.
This need for in-the-moment insights was one of the reasons we were approached by Jägermeister, the iconic maker of its namesake digestif. The company is best-known for its Jägerbomb—a combo of Jäger and energy drink (often Red Bull) that's a staple of late-night escapades everywhere. But Jägermeister was keen to explore new opportunities for how the drink might be consumed—and the occasions it might be consumed in.
Byron Sharp, a professor of marketing science at the University of South Australia and author of the book How Brands Grow, has made the argument that brands have two levers to pull when people are making quick-purchase decisions: one, to be physically available; and two, to be mentally available. When consumers are looking to buy a drink, the brand not only has to be on the menu or behind the bar; it also has to be well-known, in that consumer's mind, for meeting a particular purpose or occasion.
For Jäger, much of the brand identity was tied up (mentally speaking) in the group-night-out ritual: stepping up to the bar and ordering a round of Jägerbombs for the gang. But little was understood about how individuals might respond to the brand on their own, and in a different context. Could it be used in a cocktail? What about a coffee-based drink? In what other ways could Jäger be top of mind?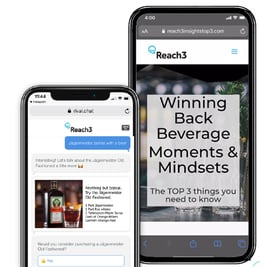 Using our mobile-messaging research platform, we assumed the role of quantitative ethnographers, engaging legal-age drinkers in a variety of contexts. At home. At the bar. At the restaurant. We engaged a mix of millennials, baby boomers and Gen Xers, using conversational insight techniques that included an initial chat survey, with selfie videos of their experiences, and a follow-up text notification that asked for reactions to potential new brand positioning and drink concepts.
In the past, an ethnographer might have gone into somebody's home, spending hours watching a family as they made dinner, served drinks and did they dishes. It's the best way to get a handle on authentic consumer behavior—but also very expensive and labor intrusive. With a mobile messaging-based market research technology, we were able to use photos and videos to do much the same thing—providing rich insights on the emotional and contextual drivers of consumer behavior, but at a far greater scale.
Jägermeister was able to identify several new brand positionings that resonated strongly with a variety of demographic groups.
And we achieved this by reaching consumers where they make those quick-purchase decisions—ultimately providing our client with better foresight for their brand. By the end of our engagement, Jägermeister was able to identify several new brand positionings that resonated strongly with a variety of demographic groups, bring several new Jäger products to market, and introduce new contemporary packaging too.
Whether you're ordering a gin and tonic or a cold brew and Jäger, it's ultimately an emotional and intuitive choice. For researchers to understand and respond to something that immediate, they have to be in the game with consumers—as they're about to place that order, not after they've settled their bill.
If you'd like to learn more about using our conversational, mobile messaging-based approach to get real-time customer feedback, please reach out to our team.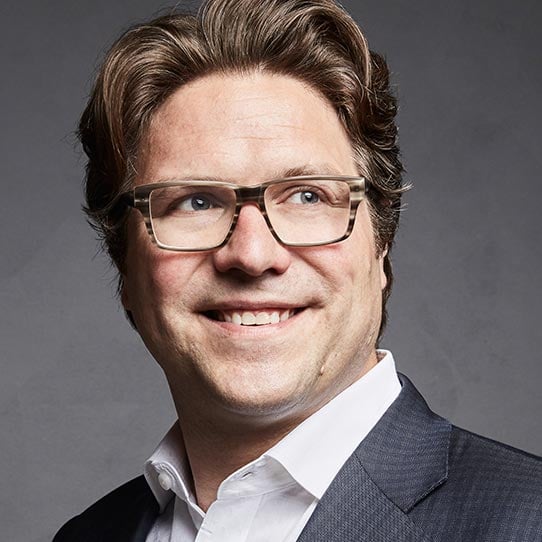 Matt Kleinschmit
CEO and Founder, Reach3 Insights