Only 9% of Gen Zs plan on doing their shopping last minute this year.
With many of them now entering the job market, Generation Z—the 72 million people born between 1996 and 2010—is set to make a big impact this holiday shopping season. But to win the business of these young consumers, retailers need to deeply understand them.
Getting to know Gen Zs is critical because they are influential. As the first true digital natives, Gen Z consumers not only influence their friends and family — through their active participation on social media, they also reach many people online.
So, what makes Gen Zs tick? At Reach3 Insights, we work with many Fortune 500 retailers who are interested in understanding these shoppers, so we were curious about the holiday habits, attitudes and preferences of Gen Z consumers. Using software from our sister company Rival Technologies, we put together a super quick study just before Black Friday and engaged more than 750 consumers from the United States in a conversational quantitative and qualitative survey.
We uncovered some interesting facts about Gen Z shoppers — and discovered some surprises. These findings are useful for retailers looking for competitive edge in what is going to be a short holiday shopping season. Below, we share some highlights from the study and what they mean for retailers.
It's all about cash
When asked what kind of gifts they'd like to receive this holiday season, 73% of Gen Zs said they're hoping for cash. This is higher compared to Millennials (67%) or the general population (a sample size that includes all age ranges) where 58% wanted cash.
However, when asked what kind of gifts they plan on giving, only 25% of Gen Zs said they plan on giving away money. This could be because money gifts are less personal, or perhaps Gen Z consumers simply don't have the funds that their older counterparts do.
What this means for retailers: Plan a long-game approach and think beyond the holidays. With Gen Zs requesting cash from their loved ones, they'll likely have money to spend after the holiday season. How does your promotional schedule look in January? Do you already have plans in place to ensure you are top of mind among young shoppers after the New Year? These are good questions to answer now.
Gen Zs don't necessarily want experiences as gifts
There's a lot of buzz in the media about Gen Zs wanting experiences over material things. But we found that at least when it comes to gifts, experiences aren't on top of wish lists.
32% of Gen Zs said they'd like to receive experiences as gifts.
In our study, 32% of Gen Zs said they'd like to receive experiences as gifts. As we discussed above, money is what most Gen Zs are hoping for, followed by clothing/apparel (64%) and gift cards (55%). Millennials are more likely to want experiences: 41% of them said they'd be keen to get gifts such as dinner and a movie, escape rooms, etc.
Gen Zs are also less likely to give experiences—only 21% plan on doing so. Millennials (24%) are slightly more likely to give away experiences.
What this means for retailers: If you're in the business of selling experiences, now's the time to do research to find out why experiences aren't as attractive to Gen Zs. What are the barriers? Is it simply that Gen Zs prefer buying experiences for themselves? There's a lot to unpack here, and consumer insights can help provide clarity.
Looking online for inspiration
Gen Zs are truly the first digital generation – and so it's not a surprise that they rely heavily on online sources to get ideas on what to buy. A majority (54%) of Gen Z shoppers get most or all of their holiday shopping inspiration online; an additional 29% look at both online and offline.
In contrast, Millennials are slightly less likely to get all of their inspiration online, but are more likely to check out both offline and online channels.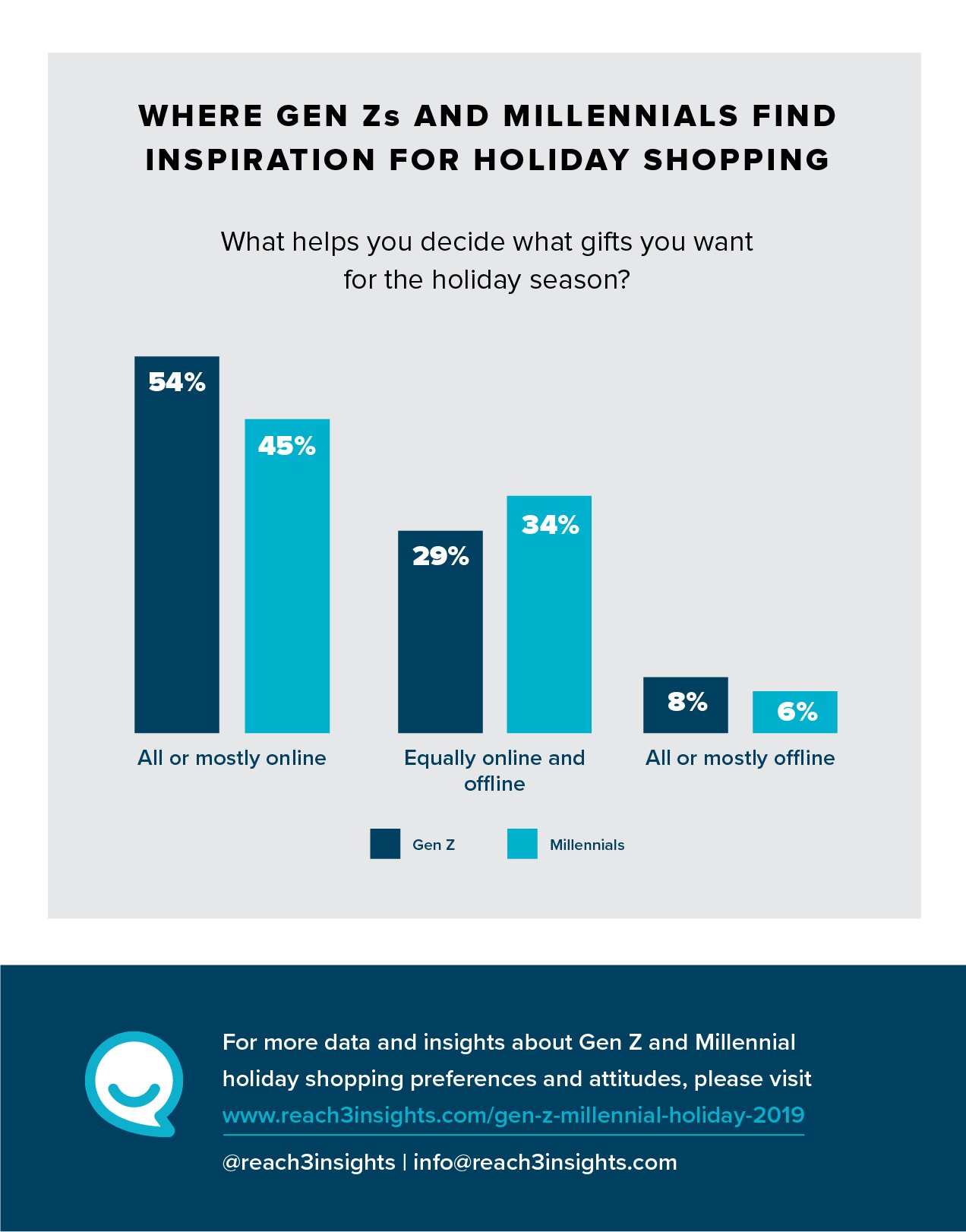 What this means for retailers: Invest in online advertising – but do your research to make sure you're investing in the right online channels. We have some recommendations below.
TV is still an important channel to reach Gen Zs
Essential as digital advertising may be, the reality is that retailers can't completely ignore TV yet. In fact, we found that even among young consumers, TV still holds some influence.
When asked about the offline channels that inspire their purchases, almost 50% of Gen Zs and of Millennials pick television. Roughly a third of both cohorts also say that TV inspires their decoration ideas.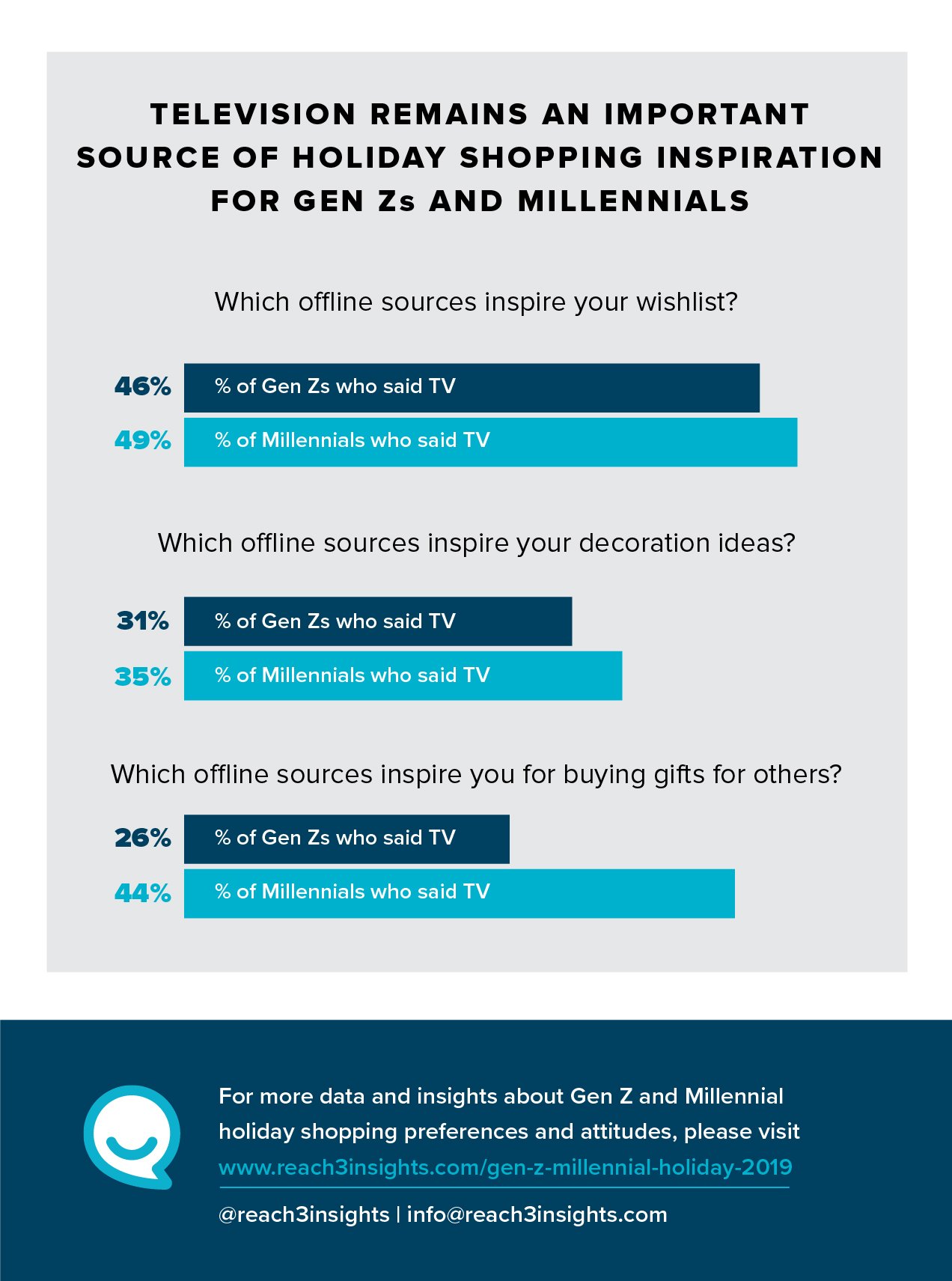 What this means for retailers: Don't eliminate TV from your marketing budget yet. Figure out which shows your target audience watch. Invest in creative ad testing and make sure your TV spots resonate with Gen Z.
In-store promos influence Gen Zs…a lot!
When it comes to offline sources of inspiration, the only thing that tops television is in-store.
In-store ranked well with both Gen Zs and Millennials as a source of wish-list inspiration. A majority of Millennials also said in-store influence their decisions on what gifts to buy. Almost 50% of people from both cohort also said that in-store influence their decoration ideas.

What this means for retailers: Test, test, and test again your in-store promotional materials. From package testing to missions, there's a lot of opportunities to use research to maximize your efforts in-store.
Gen Zs are NOT procrastinators
Only 9% of Gen Zs plan on doing their shopping last minute this year. In fact, many Gen Zs (44%) started their holiday shopping before Black Friday. And an additional 33% said they'd start when Black Friday deals hit the stores.
What this means for retailers: Retailers such as Walmart and Target started their holiday campaigns early this year. That's certainly the right call. Having compelling offers throughout the season will help ensure that you get the attention of Gen Z shoppers.
YouTube and Instagram are highly popular with Gen Zs
As we mentioned above, most Gen Zs look online for holiday shopping inspiration. But which online sources do they check out the most?
The answer is quite overwhelming: Instagram. The photo- and video-sharing site ranked number one among Gen Zs when it comes to inspiring wish lists, decoration ideas and gift purchases. YouTube also ranked a close second among these young consumers.
It's important to note that the online sources Gen Zs look to for inspiration differ slightly from Millennials. While Facebook and Instagram share similar results for both generations, YouTube didn't rank as high for Millennials.

What this means for retailers: Don't lump Gen Zs and Millennials together! While these young consumers have similarities, they're not exactly identical — as we found out in this study. Research can help identify the channels that will influence purchasing behavior of your target audience.
Gen Zs also shop for themselves during the holidays
One interesting finding is that Gen Zs are more likely than other cohorts to shop for themselves while they're doing holiday shopping for others.
We asked research participants if they ever buy things from themselves while holiday shopping. 71% of Gen Zs said they do this "all the time." In contrast, 67% of millennials and 59% of the general population said the same thing.
What this means for retailers: Do you have marketing campaigns set up to entice people to buy for themselves? Holiday shopping isn't just for the purpose of gift giving.
More about our research methods
Reach3 Insights conducts scientifically validated consumer research via modern mobile messaging networks instead of email to maximize both the representativeness and richness of insights. This method captures stream-of-consciousness attitudes, opinions and feedback via conversational qualitative and quantitative research techniques leveraging immersive chat, video, photos & videos that a reveal both decision dynamics and underlying emotions. The result produces insights that are equal to, if not more accurate than traditional survey responses provided by unengaged respondents. Reach 3 Insights results represent a range of ages, genders and geographies and are projectable to the U.S. population.
For more information on our approach, visit www.reach3insights.com.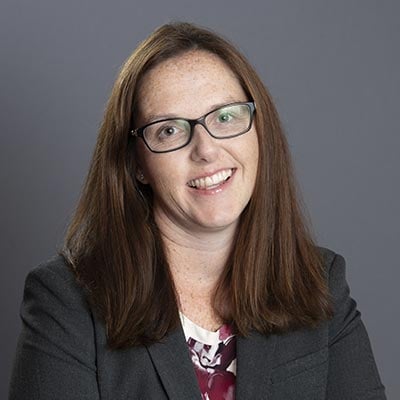 Dara St. Louis
SVP & Founding Partner, Reach3 Insights