The real issue many companies face when it comes to insight-gathering has to do with the status quo.
For many gamers, September 27 this year was a big deal. This was the day when Fortnite: Battle Royale premiered its highly-anticipated Season 6.
For the uninitiated, Fortnite is an online multiplayer game that allows up to 100 gamers to battle it out in an ever-shrinking area. The goal is to scavenge weapons and resources and fight it out to be the last person, duo, or squad standing.
Released by Epic Games, Fortnite has become a phenomenon, spawning memes, an overwhelming amount of online chatter, and even celebrity participation. An estimated 125 million people play Fortnite worldwide, and the game has reportedly reached $1 billion in revenue. Thanks to its simplicity, fun design, and being free-to-play, the game has captured the imagination of players from all generations—and as a recent Time article points out, a sign of what's coming to gaming in the future
The meteoric rise of Fortnite also got our attention at Reach3 Insights. Our research consultancy is always examining new and innovative ways of uncovering insights, so we used this opportunity to test conversational techniques and technology to engage younger consumers. Using software from our sister company, Rival Technologies, we were able to reach hundreds of Gen Z players and learn about their expectations and reactions on Fortnite's Season 6 premiere. Rather than using traditional surveys, we deployed chats for this study. (My colleague Leigh Admirand shared more information about the approach and technology we used, if you're interested in learning more.)
As a gamer myself and an insight pro that's focused on gaming and tech, I found the findings from this study fascinating, and many of the key learnings are applicable to both gaming and other companies. Here are some highlights.
Building Anticipation and Intrigue
Leading up to Season 6, Epic Games got players talking by sending out clues on what players could expect. About a month before Season 6, a purple cube (which the Fortnite community took to calling Kevin) was seen moving around the Fortnite map, eventually stopping and melting into Loot Lake. Fortnite also tweeted a few mysterious clues on social media in the days leading up to the new season, each of which sparked new speculation and discussion in the community of what might be coming.
We sent chats to players before Season 6 to see how excited people were and what they were most looking forward to. Our findings show that "Kevin" worked well in building anticipation—nearly everyone (89%) said they paid attention to it since it first appeared and most thought it was "great" or "pretty cool" when the cube melted into Loot Lake. This led to another hot debate among the community around what would happen to the newly purple lake when Season 6 launched. Would this be where the rumored volcano would go? Well, no, turns out that volcano rumor ended up being false—but leading up to the season, players we spoke to were evenly split in opinion that this then-rumored volcano would be the final transformation for Loot Lake.
All of this mystery helped build hype and keep Fortnite at the top of the attention pile. Most players told us they planned on logging in to the new season right away, with a third saying that would be the first thing they did after waking up that day. That excitement also leads to higher engagement, with nearly half anticipating they'd play Fortnite even more once Season 6 launched.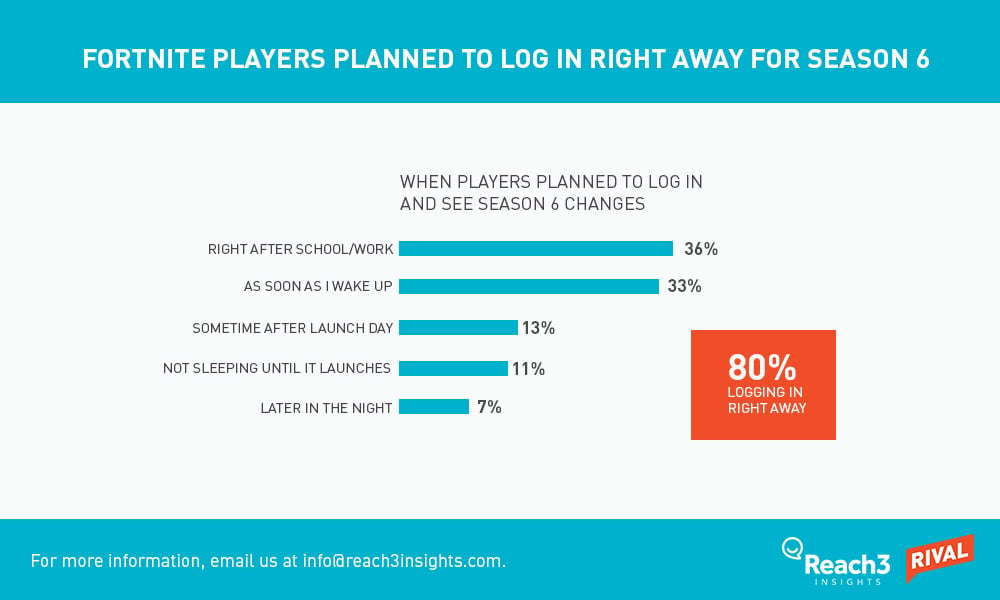 ​​​​​​​​If you're not in gaming, you might be saying, "so what?" However there's a key lesson here about building word of mouth. One could argue that gaming naturally lends itself to intrigue and mysteries—that's true. But while you may not be able to create your own version of the wandering purple cube in your product, it's still possible to create a sense of mystery in your promotional and marketing campaigns that gets your fans talking. Whether it's through your social media updates or a bigger marketing campaign, look for opportunities to tease people about the exciting things you are working on.
Living Up to the Hype
Overall Fortnite players were happy with Season 6: a day after the launch, 62% said it lived up to the hype, and almost no one (6%) said it missed the mark. The new season provided new fun map features and personalization plus some surprises—all of which helped drive player excitement and loyalty. And as you'll see below, players responded positively to the new additions and changes for Season 6.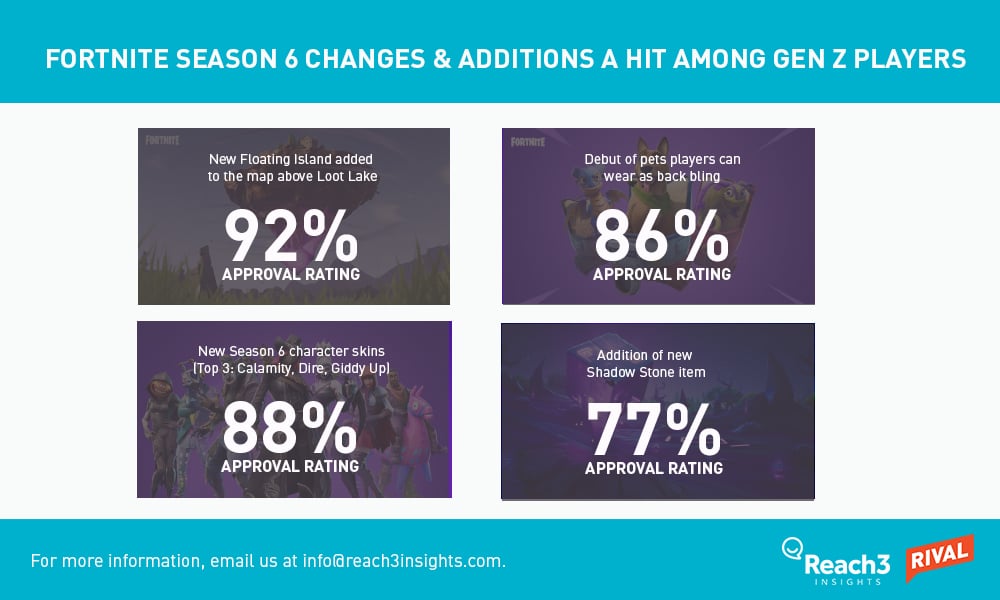 ​​​The new Floating Island location above Loot Lake was the end result of a lot of the Season 6 build up. It's where Kevin the cube ended up, turning the lake purple and bouncy in the process. It's also where players expected a volcano to be added, which is notable in that even though they did not get the volcano they expected, they're still overwhelmingly happy with the alternative. The mysteries never end though, as the new Floating Island continues to act strangely ever since first appearing and with the latest developments pointing to another map alteration any day now. This constant of change and evolution in Fortnite is a big part of why they're able to keep players engaged at such a high rate.
Approval for the Shadow Stones on the other hand was somewhat lower but was likely skewed by the fact that it was initially broken in-game. A few hours after the season launch, keen players discovered a bug that allowed them to use the Shadow Stones to be permanently invisible for the entire match. Epic Games temporarily disabled this new item—an "oops" for sure, but through quick action in addressing the issue and open communication with players by the developers, players did not hold any grudge about it and began looking forward to the item being re-added.
Skins, which are essentially costumes in the game, are exceedingly popular. Players reported that they've spent $25 on skins in an average month, with 1 in 5 saying that they have gone out of their way to source money for their skins with a second job or chores. Through chats, the players we engaged submitted photos of their favorite skins. (Interestingly, many boys who engaged in our chats selected female skins as their fave.)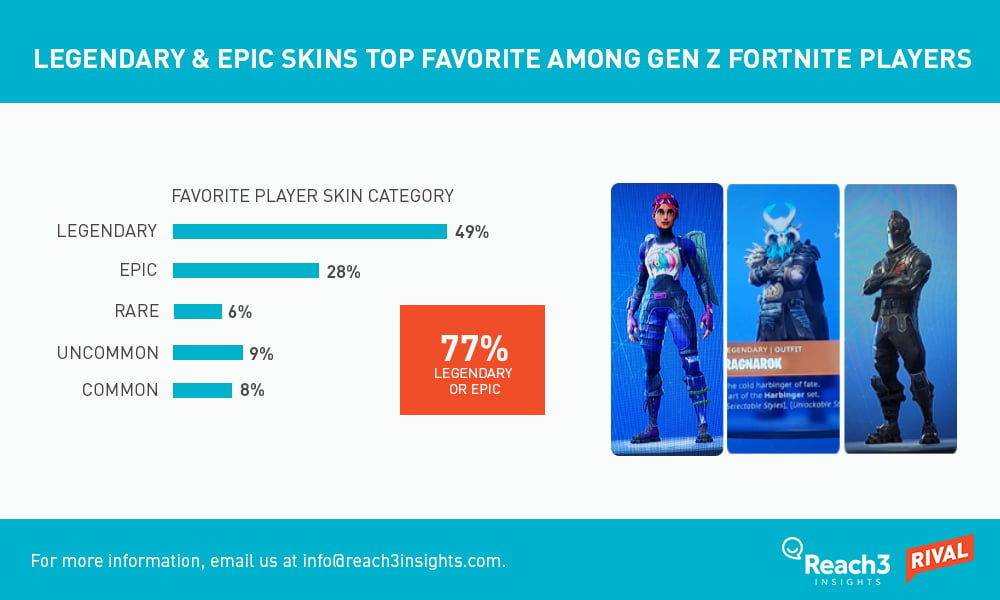 When looking at an extended list of all the new additions in Season 6 and which players were most excited about, these character skins also came out on top there with more than one-third (35%) telling us the new skins are the updates they like the most. Dire and Giddy Up in particular were the most popular character skins from Season 6, while Swarm is by far the top fave for glider skins (93%). Players picked Bonesy the Dog and Scales the Dragon as their fave pet skins - a brand new type of skin added this season.
The popularity of skins is interesting, beyond simply looking cool. They do not give players any special powers or strategic advantages, but skins arguably play an even more important role: they allow players to show off their status and achievements. Players unlock new skins as they progress (some of which are only available for a limited time), so higher rarity skins are a sign of someone's expertise, longevity, and experience in game. (The default or other common-level skins are dead giveaways that someone is a newbie.) It's not uncommon to get compliments from other players on their skins or even have more unscrupulous players offer to buy a player's entire Fortnite account just to get a hold of valuable skins.
What's remarkable about Fortnite's Season 6 launch is that the developers managed to introduce fun new features while staying true to the game's promise. This is a reflection of Epic Games' deep understanding of its community and something that other companies can emulate as they evolve their offerings and brands. Creating skins and different visual styles may not be something you can do with your own products, but you may be able to open up a genuine dialog with your customers that leads to introducing new elements that address their needs or pain points beyond what raw sales data might say. Fortnite players had a strong desire to show off their identity, status, and accomplishments in fresh ways—and this was a want that new skins continue to help meet and that drive conversation. Companies should look to uncover their customers' desires and evolve their brands and offerings to meet those needs.
Will Fortnite Continue to Deliver?
Our study shows that Fortnite's Season 6 is off to a fantastic start, but that doesn't necessarily mean this wildly popular game will continue its dominance. For one, some experts, citing declining Twitch viewership, are speculating that the game has already reached its peak. Others are pointing to Call of Duty: Black Ops 4's massive day one sales— which introduced the Blackout game mode, Call of Duty's riff on the Battle Royale genre—as a sign of a rockier path ahead for Fortnite.
It's too early to determine COD's real impact or if Fortnite is really past its golden days, but one thing is for sure: Season 6 shows that Epic Games is still capable of building buzz and delivering game elements that meet players' expectations and foster an organic community. By bringing innovation to the space, Fortnite has already carved a new path for the gaming industry, but it also turned itself into a target. Ironically—or perhaps appropriately—Fortnite now faces a challenge very similar to its players': be the last one standing in an very competitive space.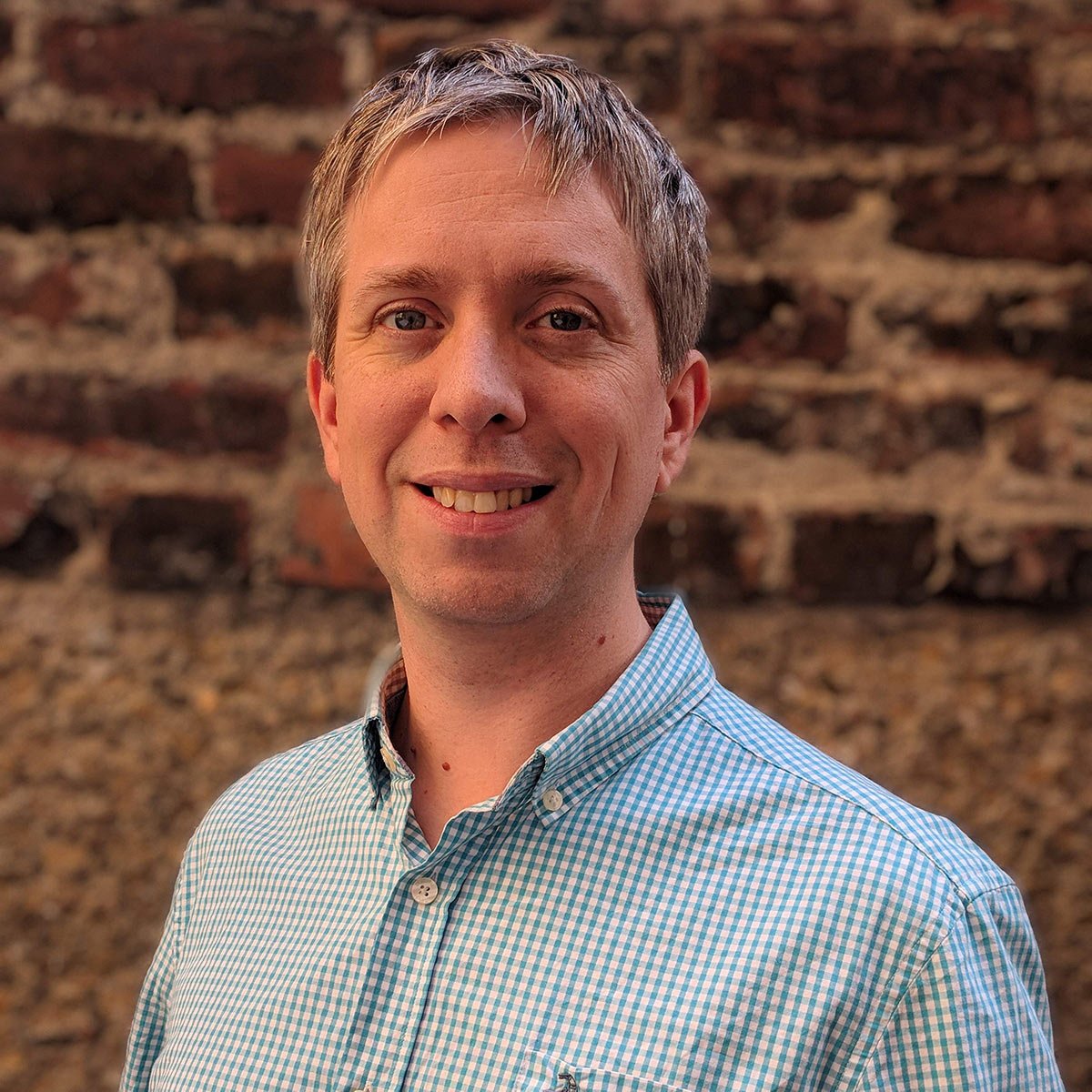 Sean Campbell
VP, Tech & Gaming, Reach3 Insights