Gaming companies are rethinking their strategy as a result of Fortnite.
Over $1 billion in revenue from in-game purchases. More than 78 million monthly players. Consistently on the top of the PlayStation, Xbox, PC and iTunes charts.
These stats show the unbelievable popularity of Fortnite: Battle Royale, the free online shooter game where 100 players fight it out to be the last person, duo or squad standing. Created by Epic Games, the player-to-player battle game has become a phenomenon, captivating the imagination of gamers and generating countless memes and online chatter.
Fortnite isn't just popular—it's bringing true disruption to the gaming industry. Battle Royale has become its own genre of game, combining elements of first-person shooter (FPS) and the immediacy of a constantly shrinking map. Even the game's player count of 100 is a big innovation; previously most FPS games capped at around 24 players.
While Fortnite may not have been the first in battle royale genre, it has quickly become the most popular and the most influential innovator in the space. The game's fun and colorful design, along with its unique addition of allowing players to build walls and stairs, has helped push its popularity among players of all ages, including pre-teens and teens. Some experts have gone on to dub Fornite as an "engineering marvel."
Not surprisingly, gaming companies are rethinking their strategy as a result of Fortnite. The game's popularity has forced Sony Interactive to change a long-standing corporate policyaround cross-platform compatibility. Previously, players playing on Playstation 4 could not play online with gamers on other systems like Xbox, Switch and PC. Players were also forced to have a separate Fortnite account on PS4, where purchases, skins or battle passes could not be used on any other platform. Sony has since reversed this policy, primarily due to pressure from Fortnite's large player base.
The inescapable popularity of Fortnite has captured our attention at Reach3 Insights. As an insight consultancy, we use conversational techniques and technologies to engage the mobile-first generation, so it made a lot of sense for us to examine Fortnite's popularity. I also had personal interest in uncovering exactly what's driving its rise and what we can learn from it because my young son is so obsessed with the game.
Our study shows that Fortnite's rise is driven by the unique expectations of members of Generation Z, the cohort after millennials. But perhaps more surprisingly, Fortnite also seems to be evolving the attitudes, expectations and behaviors of these young consumers—shifts that have implications beyond the gaming industry.
Using Conversational Techniques to Reach Gen Z Players
Reaching the right people for this study posed an interesting challenge: it's hard to reach Gen Z people on emails. Many of these young consumers only use their email to sign up for accounts or apps that require it. Otherwise, they don't make it a habit to check their inbox. We had to find a way to engage them outside of email.
Fortnite's rise is driven by the unique expectations of members of Generation Z, the cohort after millennials.
To that end, we decided to leverage software from Rival Technologies, our sister company. Rival specializes in conversational surveys that can be deployed via social media and messaging apps.
Our study had two phases. The first stage engaged 50 kids, aged 9 to 18. We sent players a series of six chats leading to the launch of Fortnite's season six, asking them about game play, their friends, hobbies, brand perceptions, and their expectations and their experience afterwards with video and image uploads. Ninety-five percent of them also participated in a multi-day diary and shared their daily game play, wins and in-game purchase activity.
The second phase was bigger, engaging 860 Fortnite fans in the process. For this phase, we partnered with TheSquatingDog, a popular Twitch broadcaster and Fortnite player, who shared a link to our first chat on Instagram. This phase involved four chats. Insights from these chats provide a rich picture of the typical Fortnite player and uncovers some crucial insights on how this game is changing different aspects of Gen Zers' lives.
Redefining Family and Leisure Time
People who play Fortnite play it a lot. Nearly half (44%) of the players we engaged with said they play 11 or more hours a week. Fifty-seven percent report playing the Battle Royale mode exclusively, ignoring the non-competitive Save the World game mode that pits players against CPU-controlled zombies.
Nearly 50% report playing on only one platform, but 33% say they use at least two platforms. Overall usage is split between the main two consoles with PlayStation 4 (46%) slightly more popular than Xbox One (42%).
Through photos submitted by players, we found out that gaming is becoming a central part of home and family life today. Most are playing on a large TV screen in a central living or family room in their house. A few older teens play on a PC monitor in their bedroom.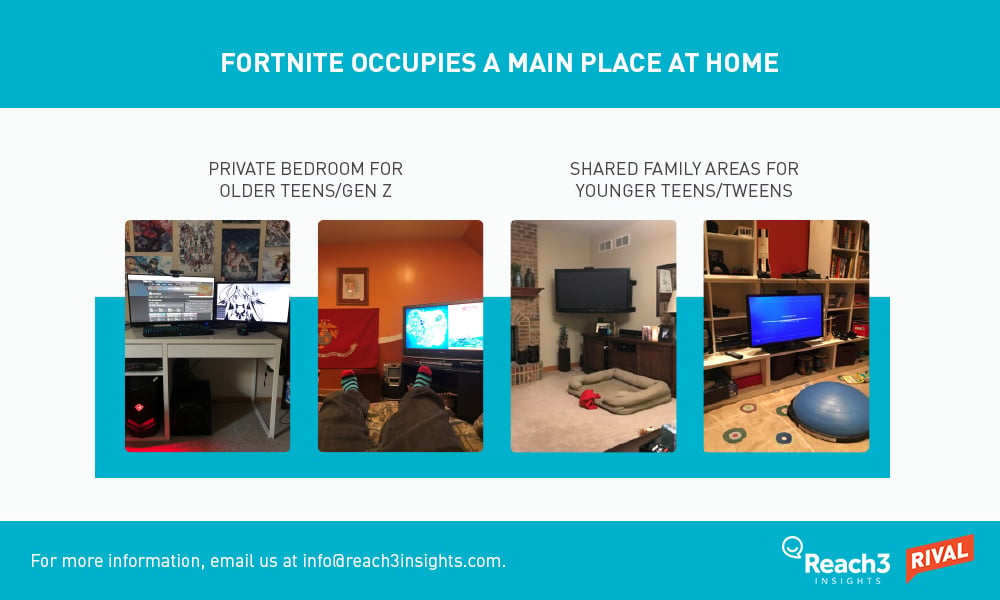 For media and entertainment companies, this evolution of how families use their living room is important to note. In the past, broadcast TV was an effective way of reaching families at scale, but the fact that gaming has replaced TV-watching means companies must find other ways of marketing.
And it's not just TV-watching that's being replaced. Fifty-four percent say they play other games less frequently as a result of Fortnite, 52% don't watch as much TV and 36% read fewer books. These numbers show just how quickly and significantly media-consumption habits can change and reiterates the need to constantly talk to your customers.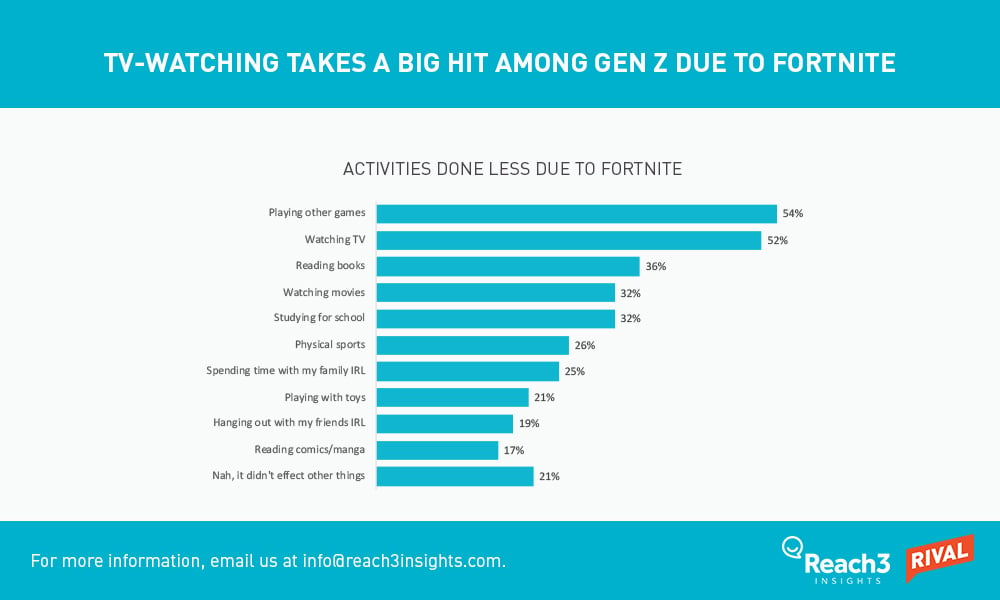 Redefining Friendships
In the chart above, you'll notice that 19% of the players we engaged with said they hang out less frequently with their friends. But it is wrong to assume that Fornite is damaging Gen Z players' social relationships.
In fact we found the opposite: Fortnite, as it turns out, helps strengthen friendships. Most players said all of their friends also play Fortnite, and that they are better friends today as a result of the game.
On surface, this finding may seem surprising, but it makes sense if you think about how Fornite builds its community and generates word of mouth. Something is always changing in Fortnite—small changes happen every week or two and usually a moderate change or event every month. These changes generate intrigue and gives players something to talk about.
Just like the generations before them, Gen Z people are looking for a sense of belonging and friendship. Fortnite provides an immediate common ground. And while Gen Z players don't hang out in person frequently, their friends are online to play whenever they want. Voice chat allows them to chat and joke around while playing online with their friends, just as if they were hanging out together in real life.
As a brand, you need to think about ways of fostering community among your consumers, just like Fortnite has. Think of ways of creating "oh my gosh, did you see that" moments in your products and marketing, and giving your Gen Z consumers something to talk about.
Redefining Celebrity
Fortnite is one of the only video games that has truly crossed over into the celebrity world with famous people like Drake getting in to the action. Major athletes are also playing, streaming and wearing Fortnite gear.
But Fortnite isn't just attracting celebrity attention—it is also creating celebrities itself. Players who stream their Fortnite games are attracting huge following among Gen Z.
Fortnite isn't just attracting celebrity attention—it is also creating celebrities itself.
A majority (82%) of the players we engaged said they actively watch streamers such as Ninja, TSM_Daequan, Tfue, DrLupo and dakotaz. Many say they follow streamers for the entertainment value, but they also learn from better players. Just over half agree that famous Fortnite streamers, like Ninja, are on the same level as "normal" celebs like, Stephen Curry, Cardi B, Ariana Grande or The Rock. Forty-five percent selected a streamer (Ninja, NICKMERCS, dakotaz) as their favorite over Curry, The Rock and other celebs.
Now is the time for marketers to evaluate the celebrities they work with. As our findings suggest, for some audiences, working with online influencers may make more sense than partnering with more mainstream celebrities. But you also have to tread carefully and ensure that your campaigns are authentic to your brand, the influencers that you partner with, and the audiences you're trying to reach.
Redefining Brand Relationships
Relative to other brands, Fortnite was the most preferred, according to our study, with the game besting social networks like Instagram and Snapchat and gaming consoles such as PlayStation and Xbox.
The Gen Z crowd is seeking out brands they can call their own, that listen to them and grow with them.
Fortnite is barely a year old, so seeing it best established brands so quickly is not something to take lightly. Even more remarkable is how this brand growth is largely the result of the game's viral nature. Outside of gaming events and expos, Epic Games doesn't need to spend much on marketing when the fans do it for them.
The Gen Z crowd is seeking out brands they can call their own, that listen to them and grow with them. Nike and Star Wars have decades of history and success behind them, but they don't engage and morph at the level Epic Games and Fortnite does with its audience. While some of that may be the nature of Fortnite being a video game that can be quickly updated, there is still a lesson to be learned here for established brands. It comes down to the relationship and the honest give-and-take that comes from those ongoing conversations that prove a brand is worthy of Gen Z's attention.
You Can Learn a Lot From Fortnite Players
Whether Fortnite will remain the phenomenon that it is today remains to be seen. The release of FPS juggernaut Call of Duty Black Ops 4, which includes their first foray into the battle royale game mode, might slow down Fornite's momentum. But one thing is clear: the rise of this game provides important clues to the changing habits and attitudes of the next generation of consumers and brands from all industries should pay attention.
There's so much to unpack from our recent study of Gen Z Fortnite players, and we've just scratched the surface here. We'll be sharing more over the next few weeks. In the meantime, follow Reach3 Insights on LinkedIn to get our updates. You can also reach out to me directly for more information.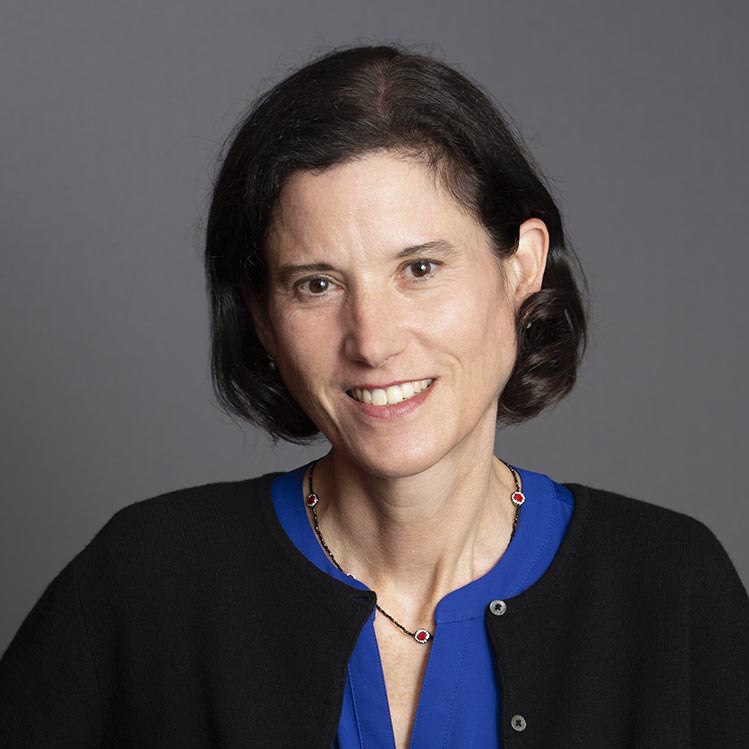 Leigh Admirand
SVP, Reach3 Insights